---
Dixie State University students seem to have their winter wardrobes sorted out so they can always look snazzy, no matter what the weather might throw at them.

Combat boots and scarves are a few of the fashion trends that you will see around this winter's ever-changing weather on DSU's campus. I talked to a few DSU students who had their winter style on point, and I asked for some tips for those of us who need a little help in the fashion department.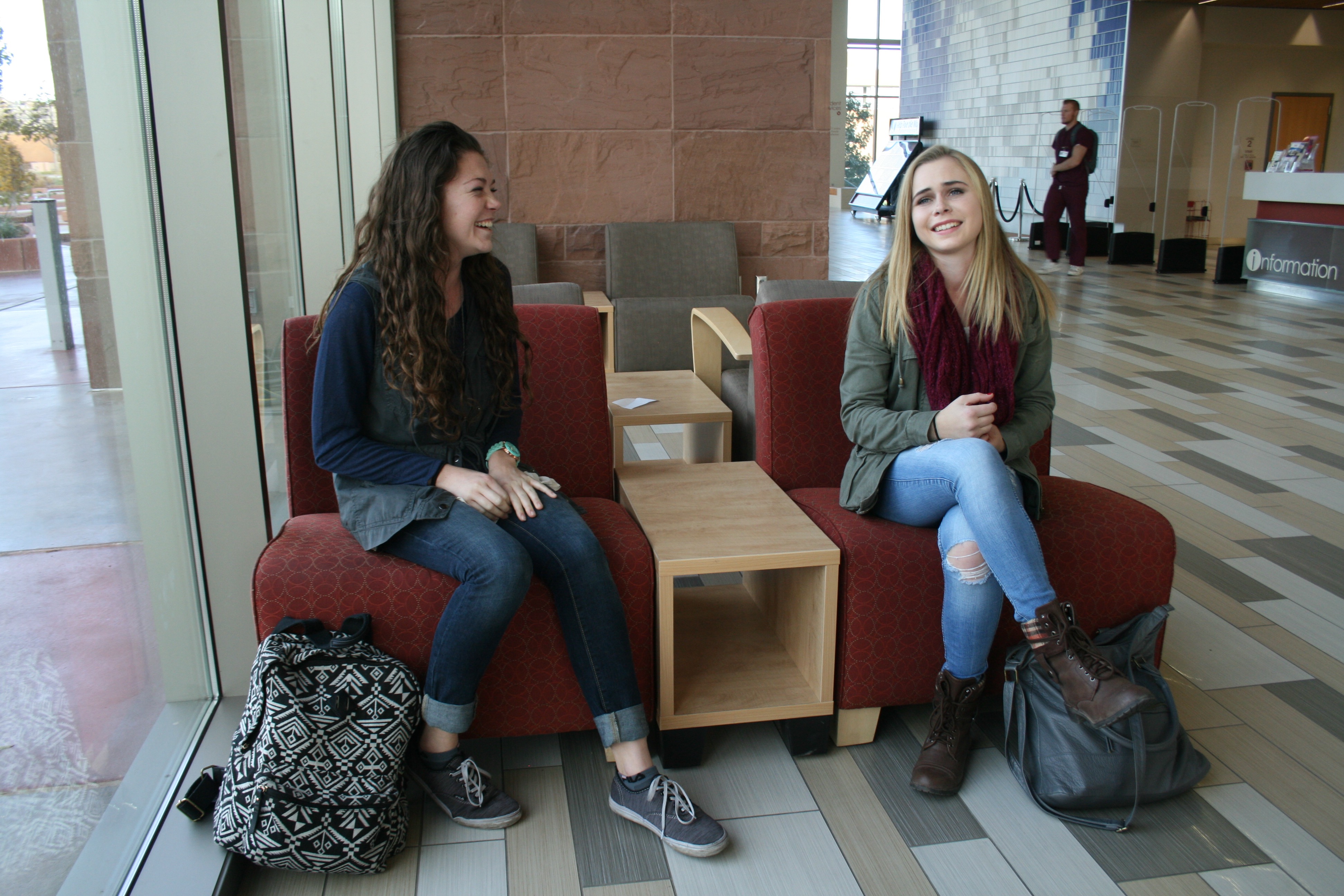 Fashionable friends Marieta Wright, a freshman elementary education major from Las Vegas, and Alyssa Haring, a freshman elementary education major from Riverside, California, said they get their "hipster-ish" fashion inspiration from family members.
"My sister inspires my style," Haring said. "I just copy whatever she does."
Wright and Haring said knit sweaters, combat boots and vests are some of their favorite fashion trends this year. They said trying new things and branching out are two important ingredients if you want to step up your fashion game.
"If you feel like something doesn't work, ask for advice," Wright said. "Take a picture and send it to your friends or ask someone. Get some help until you feel comfortable."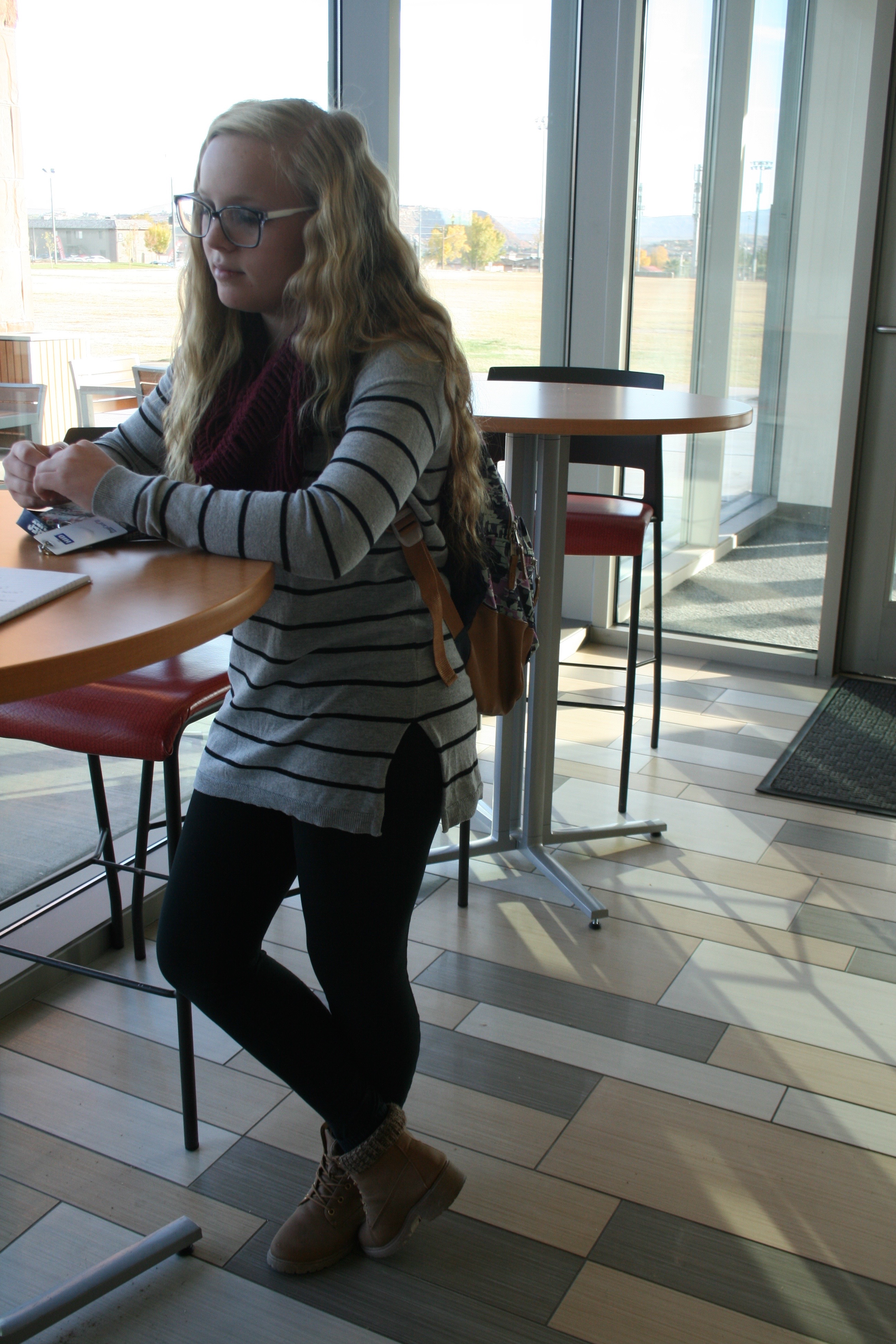 Alyson Arnold, a freshman special education major from Branson, Missouri, said she has a simple style and inspires herself with her wardrobe that shows her personality. In the winter, one of her favorite trends is wearing scarves.
Arnold likes to shop at American Eagle, PacSun and Victoria's Secret to find most of her wardrobe.
"Just be you, and make your own style that makes you happy," Arnold said.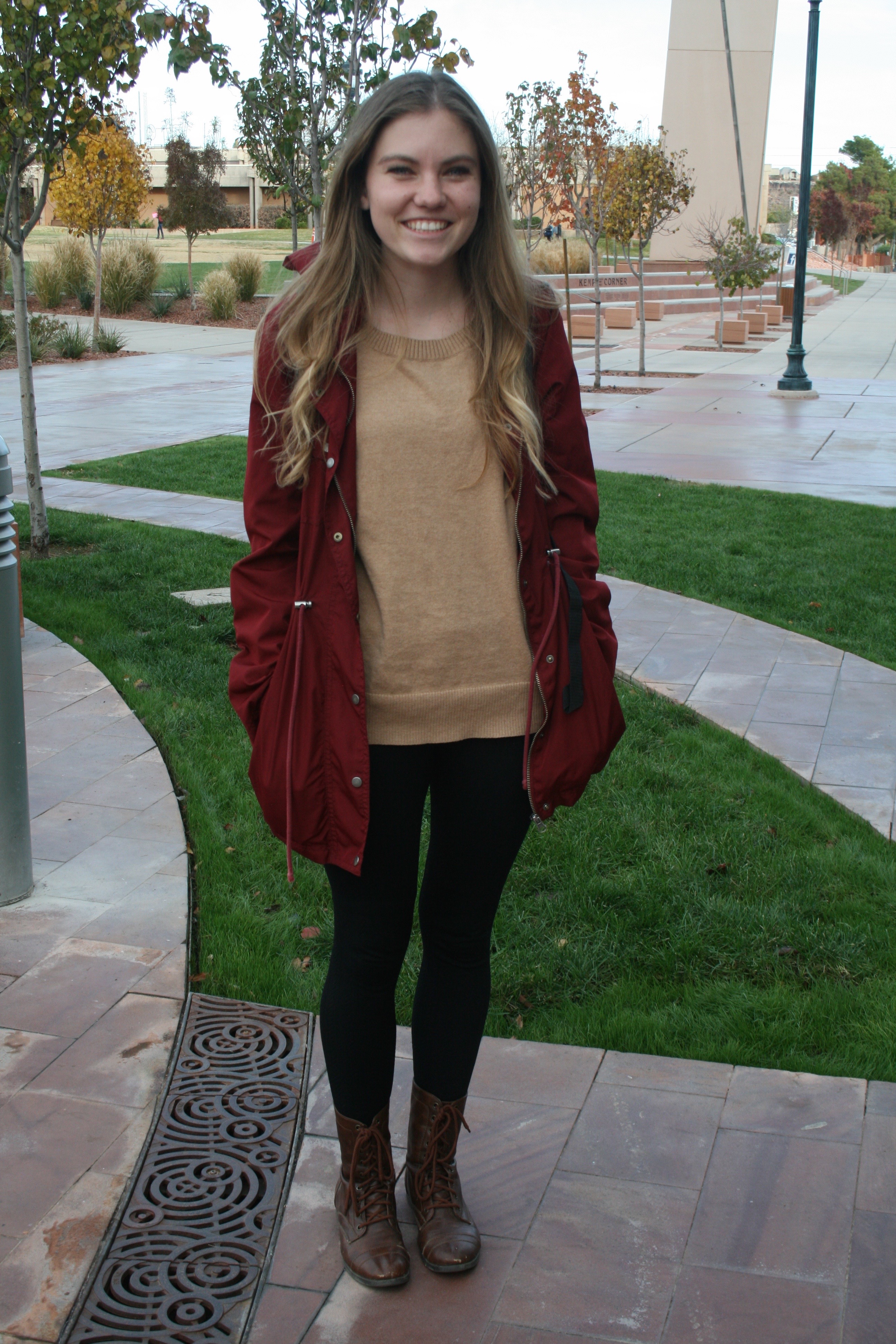 Japanese style influences Brooke Lacey, a freshman business major from Apple Valley, California.
Lacey said she lived in Japan growing up, so she likes many of their different clothing styles. She sported a typical winter outfit for her: combat boots, leggings and a red windbreaker to combat the cold weather in St. George. She likes to shop at Ross because their clothes are cheap but still cute, which is perfect for college students.
Lacey said the most important thing when it comes to style is being comfortable.
"Wear comfortable [clothes] because it is important that you're comfortable with what you're wearing," Lacey said. "I like neutral colors, not really bright colors, because that is what I am most comfortable in."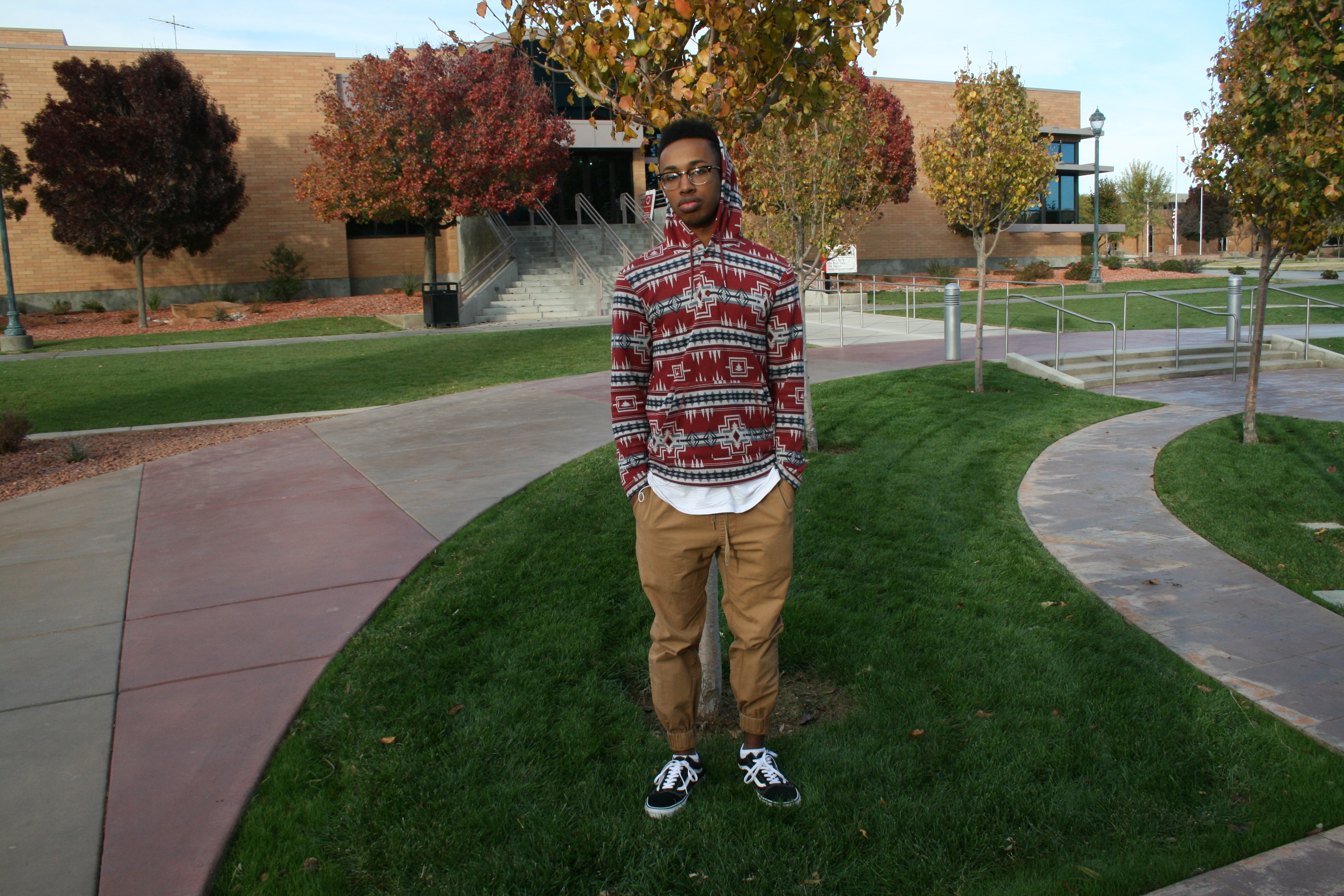 Josh Lawrence, a freshman dental hygiene major from Los Angeles, is inspired by Odell Beckham's style. He likes to shop at PacSun and H&M and likes Rihanna's new shoe line through Puma.
Lawrence said living in St. George affects his winter style because it is warmer in Los Angeles than it is here, so he has to dress more for the cold weather. He does this by wearing more hoodies, jackets and long pants.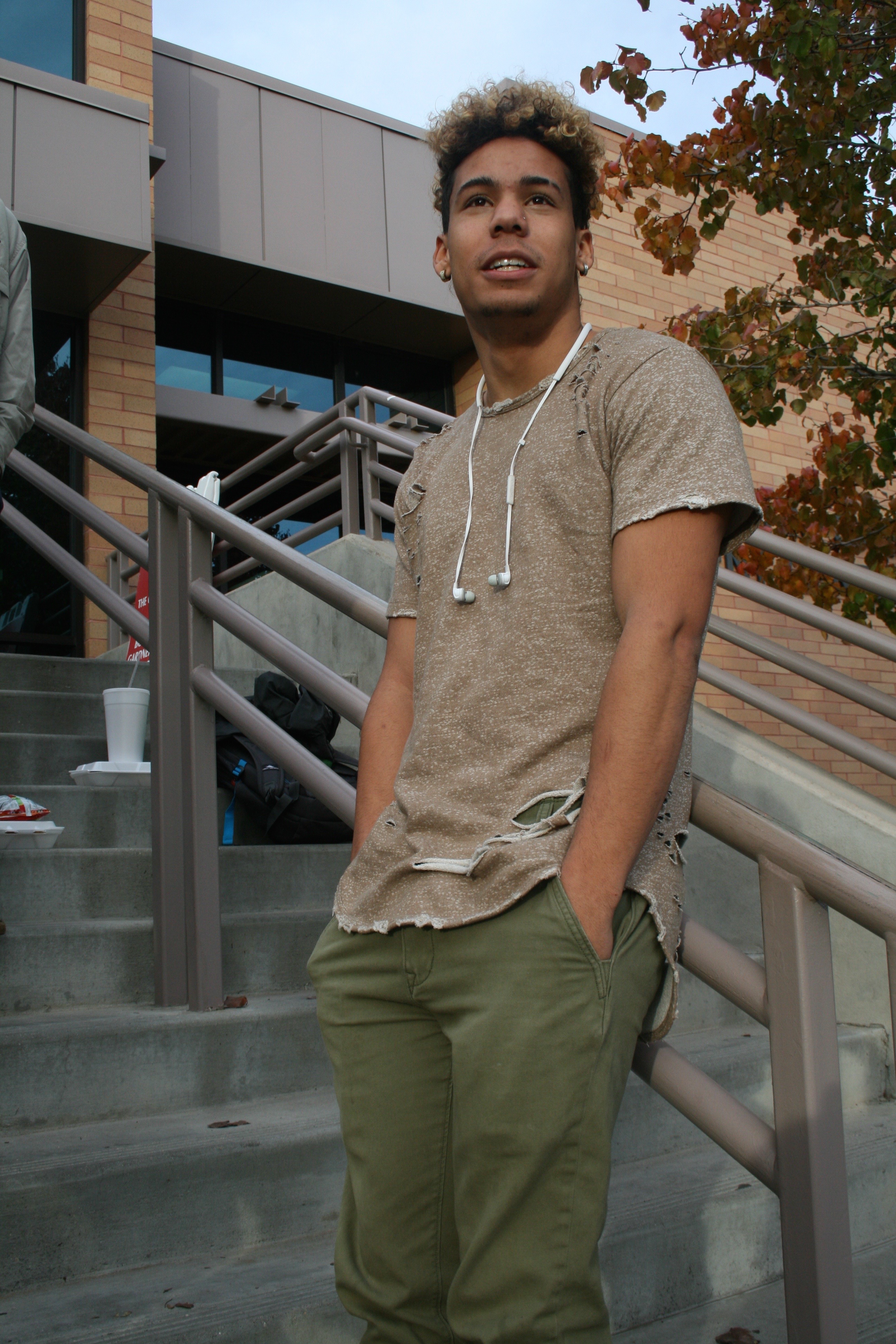 Kanye West is a style icon for Jordan Williams, a freshman nursing major from Waipahu, Hawaii. He showed off his Kanye-esque style in army-green pants and a tan distressed shirt. Williams said most of his favorite stores aren't in St. George, but he likes to shop at Zumiez, Hollister and Burberry.
Williams said he and his friends always make sure they are fashionable, no matter the weather.
DSU students know how to dress for the indecisive weather in St. George while still looking stylish. Some keep up with the trends while others inspire themselves. If you need help with your wardrobe this winter, look to your fellow students for some fashion advice or check out some of these websites for inspiration: The 10 most wearable winter trends, cute winter outfits, comfortable winter clothes.