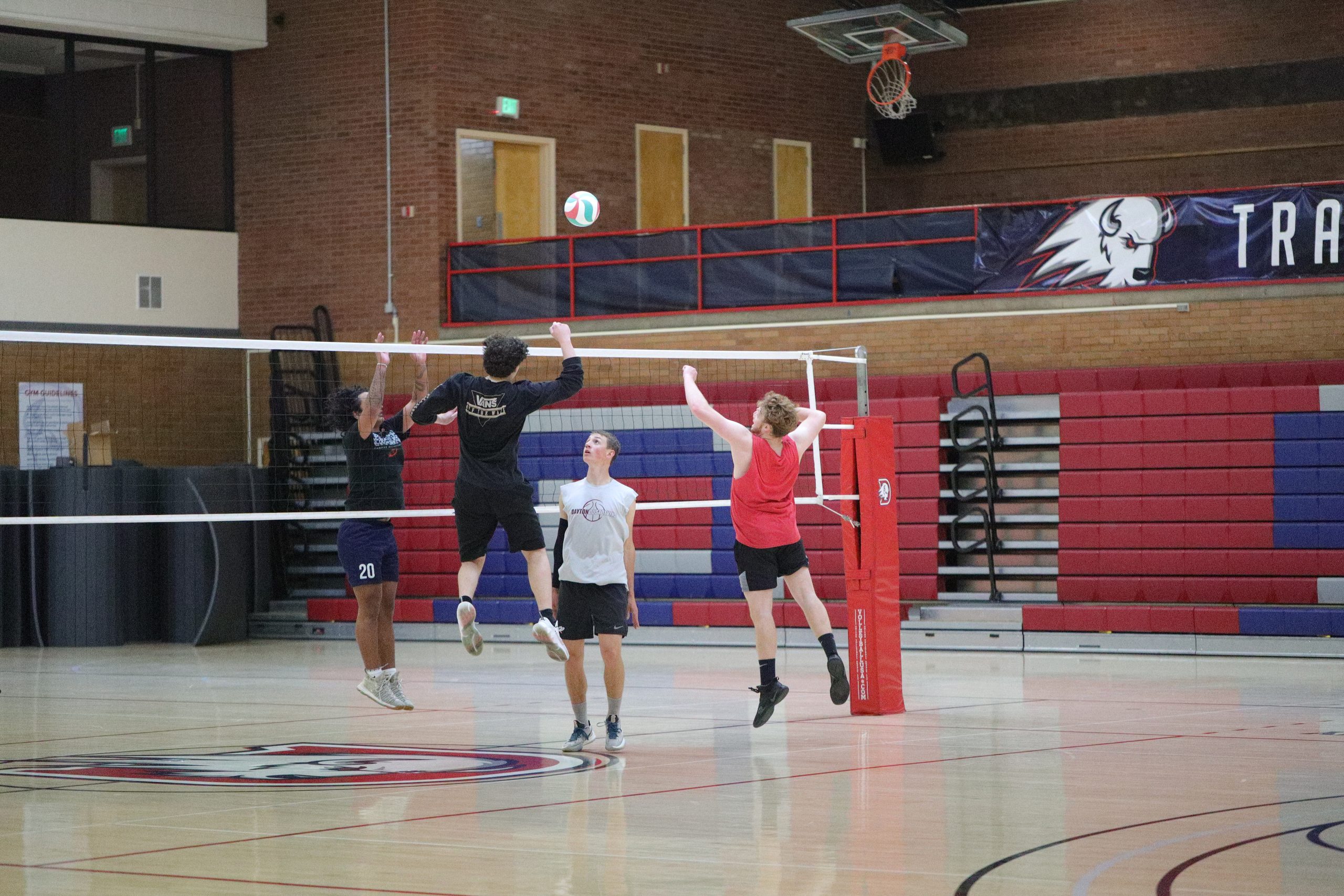 DSU's men's volleyball team prepares for the upcoming tournaments this year. Misha Mosiichuk | Sun News Daily
---
Dixie State University offers student-run club sports for students to join and compete.
A couple of the club sports training and practicing right now are men's lacrosse, volleyball and competitive climbing.
Men's lacrosse club
Mathew Barahona, a sophomore criminal justice major from San Diego, California, is the president of the men's lacrosse club. He has played lacrosse since sixth grade, and wanted the opportunity to play in college.
Barahona said he had a couple of offers to play competitively in New York and Texas, but they were to expensive. Therefore, Barahona decided to start the men's lacrosse club his freshman year to allow other lacrosse athletes the opportunity to compete without traveling far and pay cheaper tuition.
"There are so many guys that play lacrosse, so I started the club to give them the opportunity to play at the next level," Barahona said.
Being a part of a club allows athletes to create a closer bond and memories with guys who share the same passion, Barahona said.
Garrett Hobbs, a freshman exercise science major from Prescott, Arizona, is the co-president of the men's lacrosse club. Hobbs said his favorite memory of being on the team was when the team went to dinner.
"We went to Applebees and saw Dixie State cheerleaders, we got this guy who was super shy to go up and get all of their numbers on a napkin, it was a fun time," Hobbs said.
Competitive climbing
DSU competitive climbing club started training once a week to prepare for competitions. Club coach, Jonathan Frei, said the team prepares by working on different aspects of climbing, like movement, finger and grip strength and climbing conditioning.
The club has qualifiers that will start on March 5. The winners of the eight categories will go on to compete in the state boulder championships April 10 in Salt Lake City.
The team is working with other climbing walls in the state to grow as a sport and create a bouldering series together for the fall.
"Collegiate climbing is growing, so we are looking at four to five competitions at the collegiate level each semester against other universities in the state," Frei said.
Men's volleyball
DSU men's volleyball is another club sport that is currently training. The team is registered for two tournaments this season and will compete in the national tournament in April.
Rhett Smith, a sophomore independent studies major from Queen Creek, Arizona, is the co-president of the club. Smith said his favorite part of being on the club is "making new friends, staying in shape, competing in tournaments and watching his teammates improve and develop skills."
The men's volleyball team is searching for a coach, and whilst doing so, the practices are open gym, developing personal skills and scrimmaging peers.
DSU has these club sports available to give athletes an opportunity to compete at the next level, make new friends, get involved on campus and enjoy life at college more.