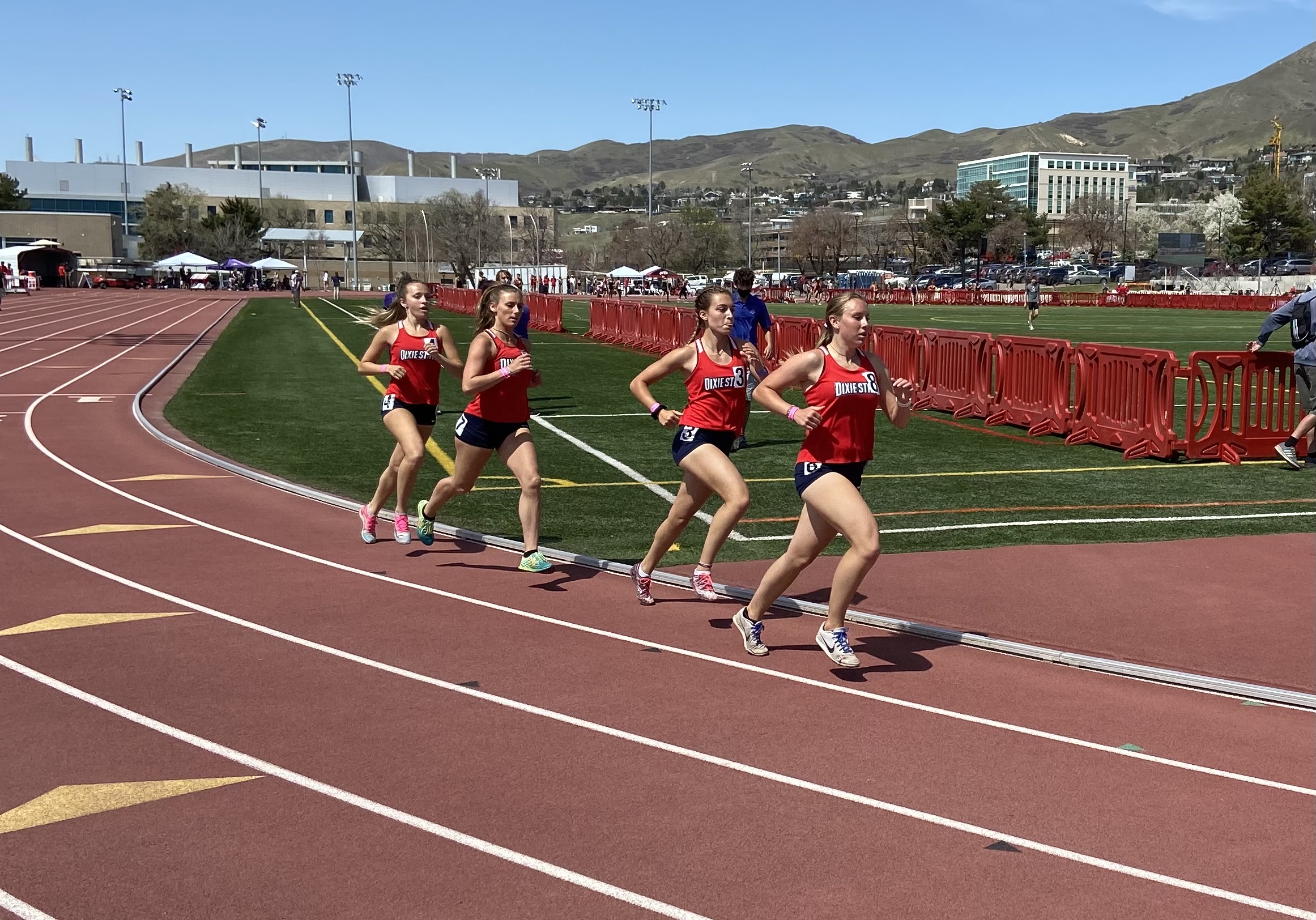 Dixie State University's women's track and field team raced at the Utah Spring Classic April 10. The Trailblazers set three of the records broken this season at the Utah Spring Classic. Photo courtesy of DSU Athletics.
---
By: Kallen Webster
Competing during a pandemic and transitioning to Division I, the Dixie State University track and field team had a new head coach brought on in the middle of the school year. Despite all those challenges, the team has managed to have a record-setting season.
This winter, the team hired head coach Derrick Atkins to lead the program. He comes with a decorated background in the sport as a two-time Olympian, world silver medalist, and Bahamian national record holder in the 100-meter dash.
Having a new coach certainly can be a challenge, but for the team, it seems to have been a jumping off point for the most successful season in program history. The team has seen nine new team records set across all disciplines.
One of the athletes that has helped set those records is Gwyndalynne Romrell, a sophomore exercise science major from Riverton. She set the team record in the 400-meter hurdles.
"It's been really good with coach Atkins; he is knowledgeable and motivating," Romrell said. "It was tough to have a new coach come in in the middle of the year, but if he wasn't here, we wouldn't be close to where we are today."
As much as a coach can do for a program, Atkins said he gives the credit to the athletes. He said they have believed in themselves and believed in the program. Romrell said they have "been putting in the most work that they can."
Another part of the transition has been moving up to Division I, but coming from the Rocky Mountain Athletic Conference, it may not have been the same leap it was for other teams across campus.
"We were coming from the No. 1 running conference in DII," said Justin Decker, head cross-country coach and distance assistant for the track team. "The RMAC is probably a tougher conference, at least for distance, which I coach. There were three programs in our conference in DII that would probably be ranked in DI."
Other athletes said it hasn't felt much different. Sara Fish, a senior exercise science major from Cedar City, also the lone senior on the team, said she and her teammates have faced the same teams in most meets they had while competing at the DII level.
The biggest challenge is competing while dealing with the challenges presented by COVID-19. The limited action in the fall 2020 semester made training tricky, especially for those athletes who — in addition to track — compete in cross-country. While cross-country is typically a fall sport, this year it was held in the early part of the spring semester.
Latest in Sports:
Decker said: "The adjusted season didn't give our distance team much time to specialize in different events. We were going through the end of February running cross-country, which is 6K and 8K distance. In a normal year, we have a lot more time to have some speed focus to prepare runners for the 800 and 1500."
Along with the challenges of training, sprinter Rachel Myers, a freshman exercise major from St. George, said it has created unique challenges mentally.
"One thing that has made it hard during COVID is not being able to see your family after meets," Myers said. "Track is very mental, so it's always nice to go up to your mom and dad after your event, so that's what's made it hard for me, and I know some of the other girls have felt that way too."
While the season has already included record-setting performances, there are still more chances to perform. The team will travel to Provo this coming weekend to compete at the Brigham Young University Robison Invitational, then travel to Rio Grande, Texas with a team of 16 runners for the Western Athletic Conference Championship May 13-15.
"I think the best is yet to come," Atkins said. "We have a meet this weekend, and I think [the runners] can continue to drop their times."
When the team competes at the conference championships, Atkins said as much as they want to score in every event they enter, if they walk away with 16 personal bests, that will be a win in his eyes.
Seeing records beaten is something the coaching staff hopes to continue in years going forward. Atkins said it will be the trend for a few years until they get to a point that the records are very hard to break.
The record-setting performances shouldn't come as a surprise either. The track program at DSU is still very new. Decker, who has been here since its creation, has seen it trending in this direction.
"The track program has been here since 2017," Decker said. "We didn't compete last year, so this is year four of the track teams, [and] each of those four years it has grown more and more every year, taking huge steps forward. And with the recruits for next year, it's going to be another big step forward."
The program is looking to make strides to keep this momentum going. They have already committed seven new athletes who will join the team next spring, including some whose high school marks would already put them in contention to make the medal stand in the WAC. Atkins said with the additions, the talent level will only increase.
It has been a successful season so far for the program, but when looking to the end of the year and seasons to come, as Atkins said, "The best is yet to come."