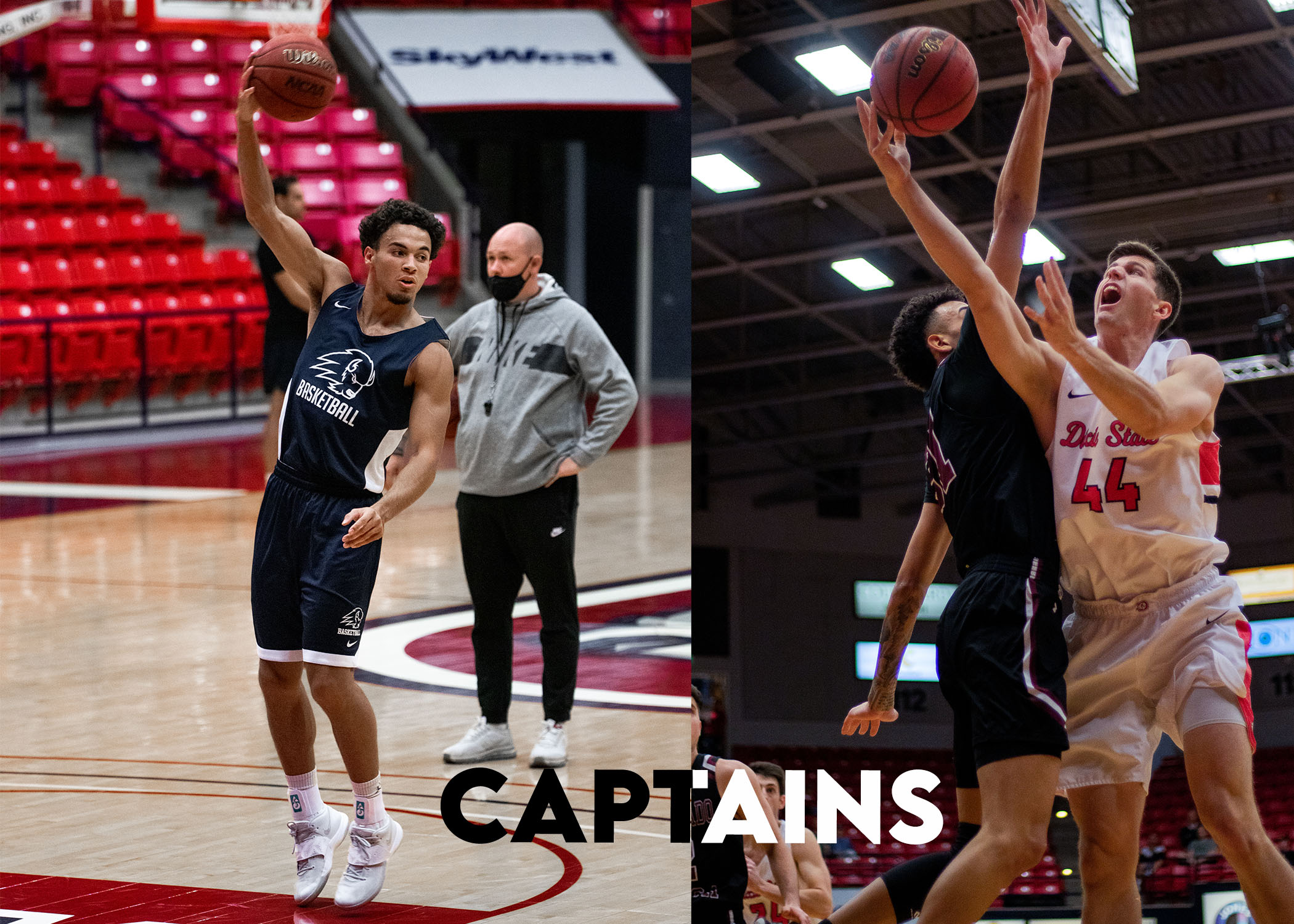 Dason Youngblood, a senior communication studies major from South Jordan, and Hunter Schofield, a senior exercise science major from Spanish Fork, were named the two captains. Photo illustration by Breanna Biorato.
---
The Dixie State University men's basketball season opener is just days away, and the 2021 captains have been announced.
Dason Youngblood, a senior communication studies major from South Jordan, and Hunter Schofield, a senior exercise science major from Spanish Fork, will be leaders for this seasons squad as they debut in DSU's first Division I season.
"They've done a great job of teaching the new players the stuff we are implementing and trying to learn," head coach Jon Judkins said. "I love coaching them because of that."
Judkins said the captains aren't selected by the coaches, but rather by a team vote. The process of the team vote allows for each player on the roster to submit two names, and the names with the most two votes are the captains for the team.
"I give the example of 'who do you want on your team or boat when your boat is starting to sink,'" Judkins asked. "Do you want the guy that is taking care of himself or the guy that is willing to grab the rope and pull the boat in with everybody on board?"
Youngblood was an All-Rocky Mountain Athletic Conference honorable mention for the Trailblazers last season and tallied in 15 or more points on six different games last season.
"On the court I'm always looking to make our team better," Youngblood said. "The primary objective is to win, so whatever is needed to make the team better I'll do." Youngblood also finished with 102 total assists last season.
"Dason has been with me for 3 years now and to see his growth from his sophomore year until now is unreal," Judkins said. "He understands what we want, and he understands what he's good at in our offense and defense, and overall does a great job of being successful."
If the Youngblood name sounds familiar, Daylor Youngblood, Dason's brother, was also a guard for the DSU in 2015-2018. Youngblood's father, Kendall, was also a collegiate basketball player at Utah State University and graduated in 1992.
"[The family name] means a lot," Youngblood said. "My dad played at Utah State, my brother played here, so it's fun to have that tradition. I'm the last one to play in college, so my family is really having a fun time and coming to all the games they can; it's surreal."
As Youngblood strives to have another big season for the Trailblazers, he will be accompanied by co-captain, 6"8' forward Schofield.
Latest in Sports:
Schofield is another captain for DSU. Schofield transferred from Salt Lake Community College in 2018, so this is only his second season with the Trailblazers.
"When I came in, I had the goal of stepping in and [proving] that I was the hardest worker on the team," Schofield said. "I encourage the guys to always be in the gym, to be working hard and putting the work in so we can be successful on the court."
The work was noticed by Judkins, and the rest of coaching staff, as the improvement was visible.
"Hunter has worked on his outside game very well by shooting the threes, and I thought he did quite well," Judkins said. "He was first team all-conference last year in the RMAC." Schofield averaged 16.4 and just over 6 rebounds per game last season.
Schofield not only looks to be a good leader in the gym, but also looks to help the team outside of basketball is well.
"I try to have a good relationship with all of our guys [by] making sure they're doing good and feeling good about how practices are going," Schofield said. "From doing that and always being a good teammate by gaining their respect, I feel like this has been what I've tried to do since transferring to Dixie."
Along with Schofield and Youngblood, Judkins is still looking to add a third captain for the 2020-21 season.
"We are going to get one more, and we are going to pick someone that is going to be a little more vocal because we need to have hard workers and vocal leaders," Judkins said
Want to read more? Follow us on Twitter and Facebook for daily articles and updates!