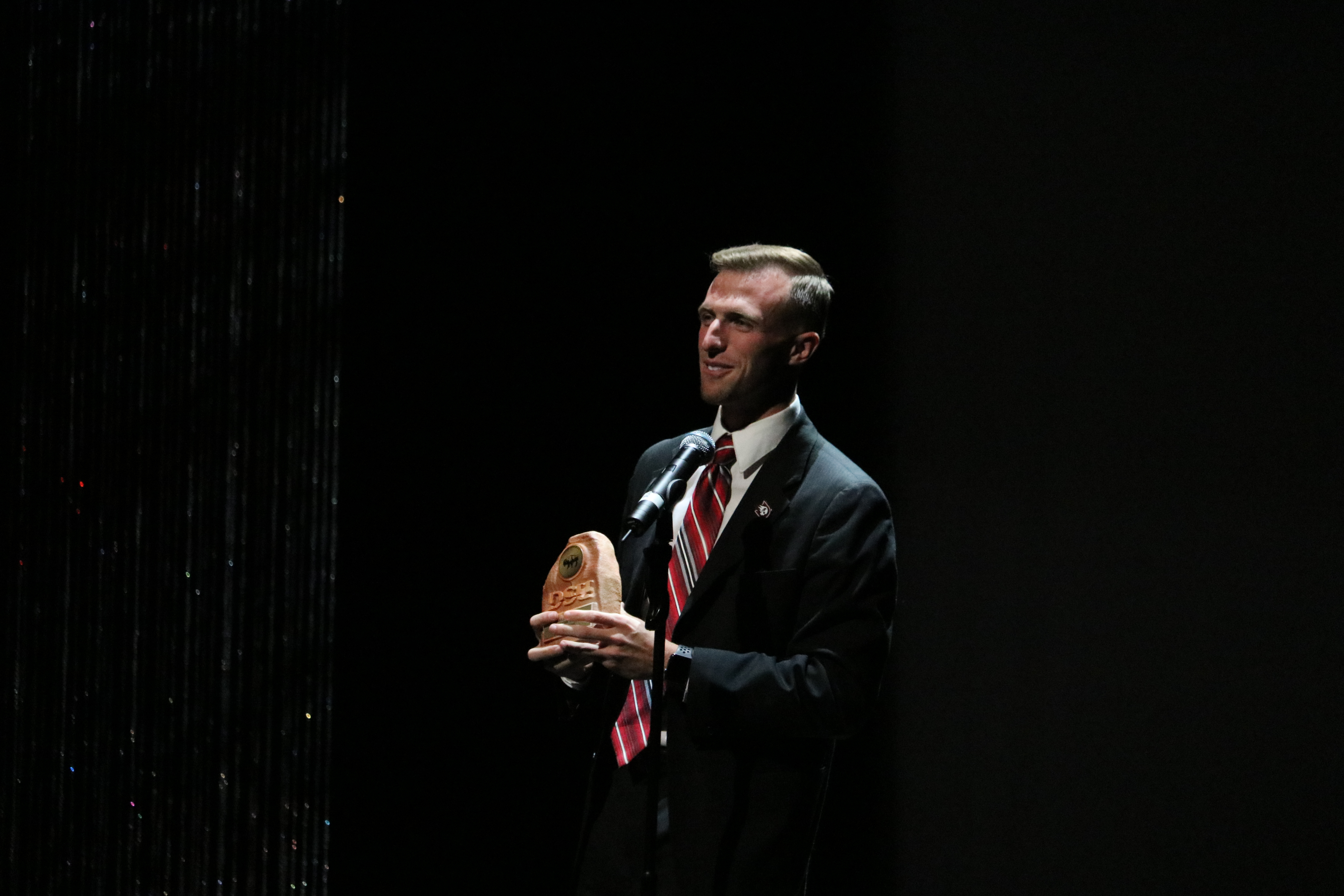 Cajun Syrett, a junior communication major from Bryce Canyon, accepts the Male Student of the Year Award at the Eccles Theaters. Photo by Madison Anderson.
---
The annual Dixie Awards recognized honorable St. George community members and Dixie State University students, faculty and staff just days before the 2019 DSU graduation ceremony on May 1.
There were 14 categories and 28 total winners who each excelled in their efforts in being leaders and prime examples of what it takes to be a true Trailblazer. The following is the list of winners and their respective categories.
Dixie Spirit award winner: Brett Coleman
Club of the Year award winner: American Medical Women's Association
Stafford Student Involvement award winner: August Barlow
Heart of Dixie award winner: Felicia Morris
Businesses of the Year award winners: Chartway Federal Credit Union, DATS Trucking, McMullin Legal Group, Sunroc, and Utah Food Bank
Staff of the Year – Rising Star award winner: Chandler Whitlock
Staff of the Year award winner: Ali Threet
Commitment to Diversity award winner: Doajo Hicks
Dixie 11 Award winners: Jace Buxton, Jennifer Clark, Rashe Elliott, Erin Hakoda, Kaden Jordan, Olivia Lee, Alec Meyerhoeffer, Darian Murdock, Bergen Nelson, Hanna Pollock and Scott Powell
Entertainer of the Year award winner: Jaidyn Harris
Teacher of the Year – Rising Star winner: Travis Ficklin
Teacher of the Year award winner: Olga Pilkington
Male Student of the Year award winner: Cajun Syrett
Female Student of the Year award winner: Jane Lo