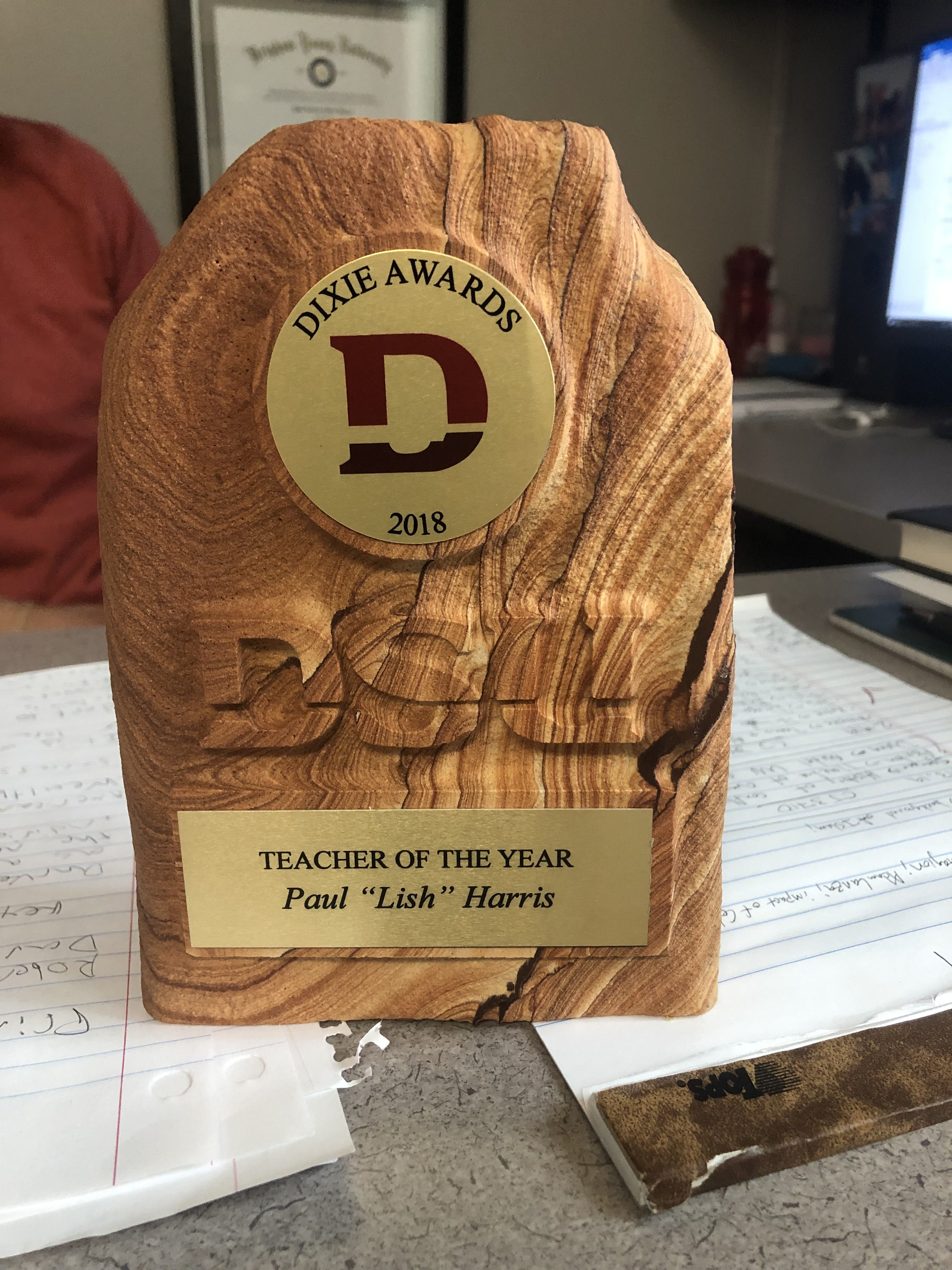 Photo by Jessica Johnson.
---
The annual ceremony at Dixie State University, which celebrates the accomplishments of students, professors and staff who exceed expectations is again upon us. These awards are known as the Dixie Awards.
This year, the Dixie Awards differ from past years with a ceremony for students and a separate one for faculty. Nominations were available on the Dixie Awards website until March 31 at 5 p.m.
Some of the categories include female student of the year, male student of the year, teacher of the year, and the "Dixie Spirit" award.
Del Beatty, assistant vice president and dean of students, said the reason for having separate awards ceremonies is because the ceremony was getting too big with academic and Dixie Awards combined.
"Each college will do their own academic awards in conjunction with their graduation open houses," Beatty said. "We will just do the Dixie Awards at the Dixie Awards [ceremony]. It's going to be great."
According to the Dixie Awards website, nominations can be submitted by anyone and only a single nomination is needed to qualify for consideration. When nominating someone, be sure to include information for the person being nominated so they can be contacted for interviews and be sent notification of their nomination and a questionnaire.
"I think the purpose [of the awards] is recognizing the good efforts of the faculty and staff across campus," Mike Peterson, interim chair of the English department, said.
Peterson said he likes the nomination process because it isn't about things the administration sees, but what faculty and students see working with each other daily, such as seeing something commendable that administrators might not be aware of. He said being able to make nominations online could make people more likely to submit a nomination.
"The way the awards are set up is they identify five finalists for the awards and then you're invited to the awards ceremony and you don't find out that you win until they call your name during the announcement of the category," said Lish Harris, associate professor of criminal justice.
Harris said when he received "Teacher of the Year" it was a special experience for him because there were students in the audience who had nominated him. He said for him, knowing that he had made enough of a difference in their lives for them to choose him for the award and applaud him while accepting the award made the experience more meaningful.
"I'll always associate that particular award with those students that were there," Harris said.
If there is a student, professor or staff member who has been a good influence or made a lasting impression, you can still nominate them for an award. Categories for academic and Dixie awards are listed on the website and the ceremony for the Dixie Awards will be held May 1 at 7 p.m. in the Eccles Mainstage Theater.