---
Since Kris Johnson arrived at Dixie State University and joined the Gay Straight Alliance four years ago, he said the attitude toward students who identify as LGBT has changed.
Johnson said, for the most part, inclusion at DSU for students who identify as lesbian, gay, bisexual or transgender has improved, but it's the "ingrained homophobia" he said he still experiences regularly at DSU.
"You might not see anyone at [DSU] outright saying they hate gay people, but there is almost an underhanded homophobia here," Johnson said.
Johnson said, for example, many students would steer clear of the GSA table at Club Rush and avoid making eye contact with its members. The GSA table was even placed behind a tree at Club Rush by organizers, Johnson said.

"I've heard stories of how much discrimination there was at DSU before, and it has definitely gotten a lot better," Johnson said. "There used to be a lot of barriers to do anything as a club. But now, DSU administration wouldn't overtly do anything against us because we know how to call the [American Civil Liberties Union]."
Eli Aguirre, a freshman general education major from St. George and member of the GSA, said it's hard for students who identify as LGBT at DSU because "St. George is such a closed-minded, Mormon city."
"Some of the things I'd like to see are transgender-inclusive bathrooms at DSU and for the GSA to not be grouped with the [multicultural diversity center]," Aguirre said. "Right now, the [GSA] is a subset of a subset. We need to be our one entity."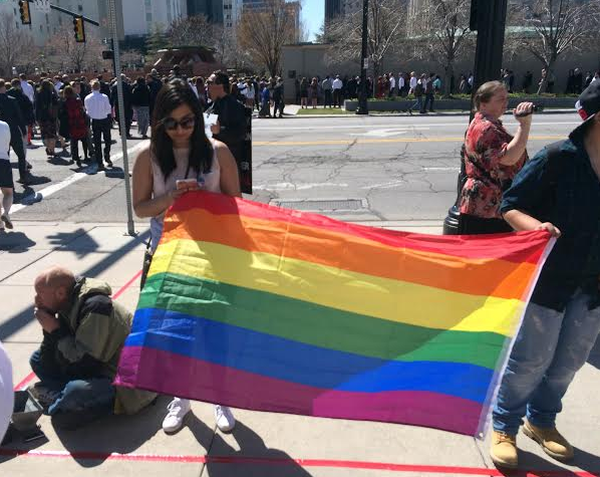 People hold a LGBT Pride flag in Salt Lake City during the Church of Jesus Christ of Latter-day Saints' General Conference April 2. Eli Aguirre, a freshman general education major from St. George, said people are less open-minded toward students who identify as LGBT at Dixie State University because of the large Mormon population in St. George. Photo by Spencer Ricks.
Christina Duncan, DSU's new inclusion and equity fellow, said there are new programs and initiatives on the way for LGBT students to feel more included at DSU.
A major part of DSU's strategic plan is to increase diversity on campus among students and faculty, which includes students who identify as LGBT, Duncan said. Having previously worked as the assistant director for the MCDC, Duncan said she now works directly with President Biff Williams toward achieving his goals to boost diversity at DSU.
Duncan said she hopes to increase recruitment and retention programs for students who identify as LGBT by adding a LGBT scholarship and creating an LGBT center on campus. She said DSU officials are also trying to advertise open faculty and staff positions to more people who identify as LGBT.
"There are already quite a few faculty members at DSU who identify as LGBT, even if they aren't out yet," Duncan said.
The LGBT center would eventually be separate from the MCDC and be staffed by additional faculty members who identify as LGBT.
"It's important for students to be able to have a place where they can meet others similar to them and feel comfortable in that setting," Duncan said. "[The LGBT] center will be the place for these students to go."
Duncan said the LGBT center will be especially helpful for the GSA, which receives no extra support or funds from the university. She said the GSA is one of the most active and involved clubs within the MCDC.
Additional ways DSU administrators are planning on improving openness toward people on campus who identify as LGBT include creating additional gender and sexuality classes, trainings for faculty members, and a more open dialogue about sexuality on campus, Duncan said.
She said Williams and other administrators are also planning on having an open dialogue with students later this month about how they can improve inclusiveness for different races and people who identify as LGBT.
"We may not be perfect, but we are moving in the right direction," Duncan said.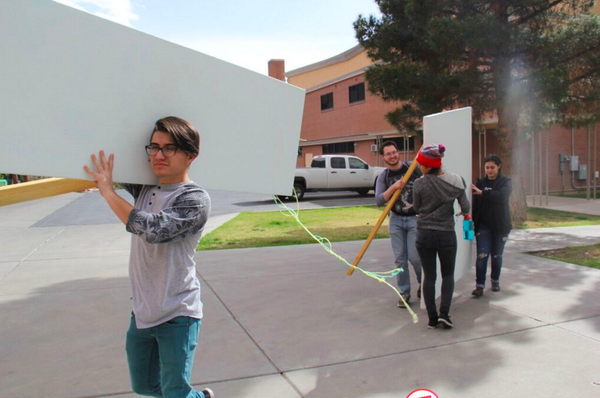 Members of the Dixie State University Gay Straight Alliance set up the Diversity Wall for students to write on about what makes them diverse. Increasing diversity at DSU, including among students and faculty who identify as LGBT, is part of the university's strategic plan. Photo by Jess Arruda.