---
After months of planning and formulating strategies, Dixie State University has a new five-year strategic plan—Dixie 2020: Status to Stature.
President Biff Williams presented the strategic plan at the Cox Auditorium Wednesday. The presentation included the six main goals of the strategic plan, how they are going to be implemented, and how they coincide with the DSU's values.
The goals are to promote student and faculty success, broaden and enhance academic programs, invest in faculty and staff recruitments, engage with the southern Utah region to strengthen cultural and economic life, and establish a strong brand and identity for the university.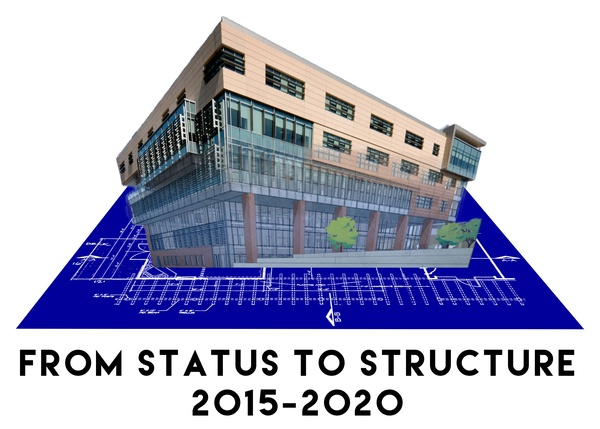 Graphic by J.C. Collier.

Williams said the strategic plan outlines many things DSU hopes to accomplish in the next five years.
"The plan systematically identifies what we want to do first, what we want to do second, and what we want DSU to look like," Williams said. "We all know what the plan is (and) we all know what our roles are, so here's how we want to implement it."
The plan's responsibilities are separated into committees that will be designated to implement each goal of the plan. Goal leaders will have the desired outcomes and strategies on how to make them a reality, Williams said.
The most important people in the process of creating the plan were students and the community, Williams said.
Student Body President Matt Devore, a senior integrated studies major from Mesquite, Nevada, said the strategic plan was done right because it involves the students.
"It took a year to make," Devore said. "They took the time to go talk to the students. It is shown in the plan that it is all about the students."
Williams said there are many changes planned for DSU including new buildings and new programs. It all comes with a new tag line for DSU, "active learning, active life."

The new honors program was announced to be named after Craig and Maureen Boothe, who have donated half a million dollars to the program.
The plan also laid out a goal for DSU to be No. 1 in community engagement.
Williams said there is a committee in place that will be searching for a new mascot to better identify DSU within the next year. As a part of branding DSU's identity, Williams said he also wants St. George to be a university town by displaying DSU spirit all over St. George.
"We want something that makes Dixie something we can grasp on to," Williams said. "Our campus belongs to our community."
A structured enrollment plan, student success center, community engagement center, new commencement center, partnership program with the University of Utah, and a compensation plan for teachers are all parts of the strategic plan.
Jordan Parker, a freshman communication major from Hurricane, said he was most excited for the new facilities that will be a part of our campus.
"I'm very excited about a new football stadium," Parker said. "I think the fact that they are utilizing the resources [unique to southern Utah] is an amazing part of the plan."
The outline of the strategic plan can be viewed online.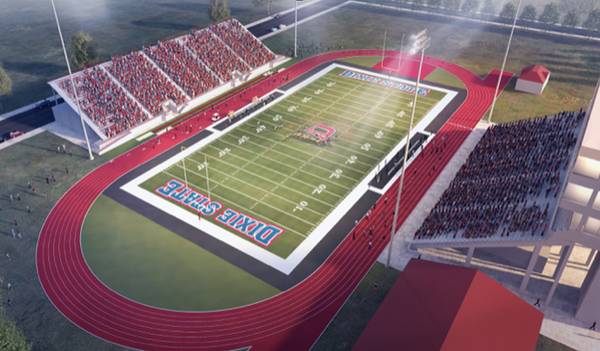 An artist's rendering shows what the new Hansen Stadium will look like once renovations are completed. These plans are included in Dixie 2020: Status to Stature.