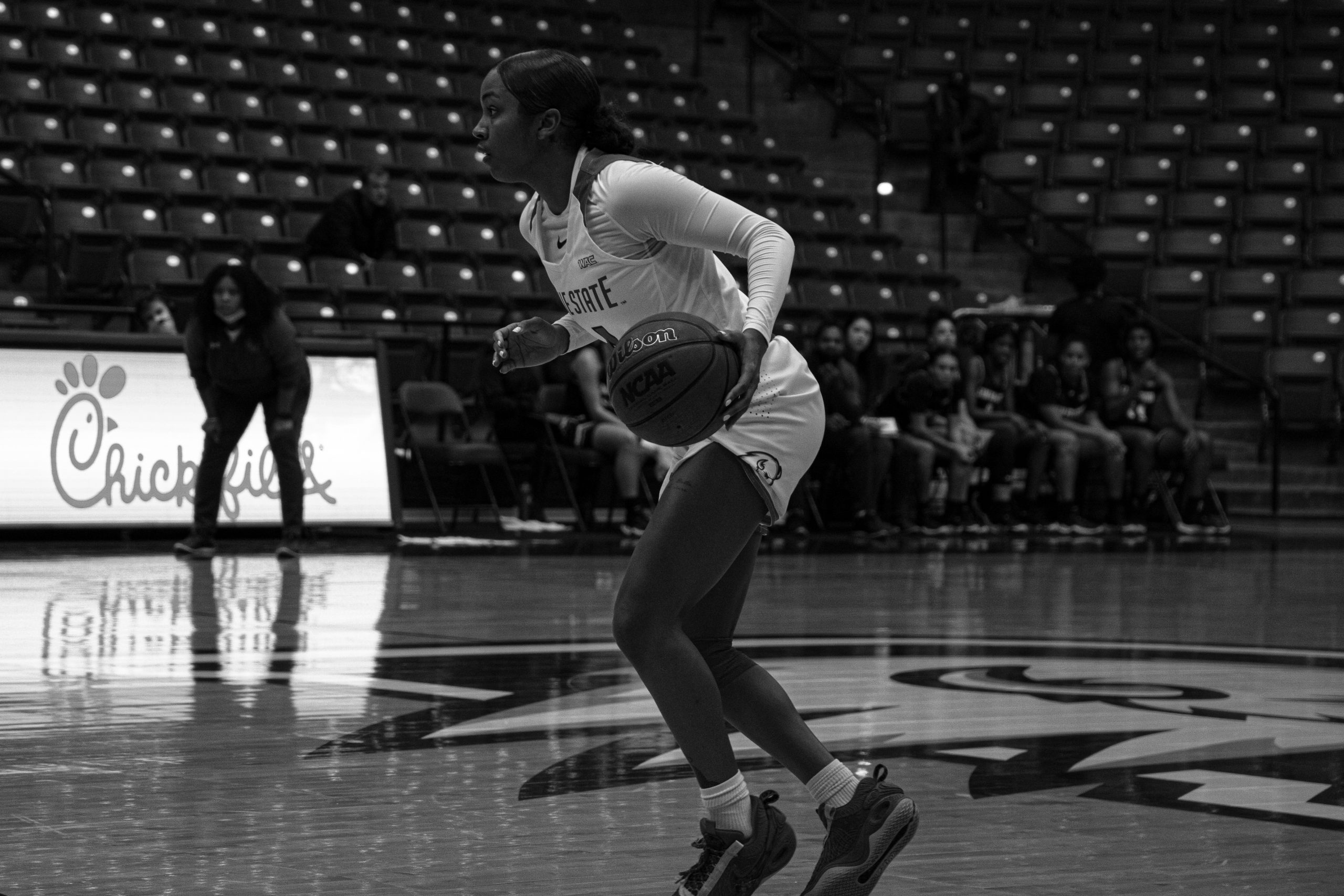 Shanaijah Davison, a senior communications major from Woodland, California, dribbles down the court at their home game on February 3rd. Trailblazer's ended the night with a score of 72-74 against Sam Houston. Photo by Annie Sorensen.
---
Dixie State University women's basketball team fell short against Sam Houston in an overtime thriller on Feb. 2.
The game opened with both teams battling. Within the first 4.5 minutes, Sam Houston made three shots from beyond the arc.
Matt Legerski, associate head coach of the women's basketball team, said one way they adjusted to this was to use the screener defender to attempt to take away the three point shot. This defensive adjustment resulted in just that.
The rest of the first half consisted of outstanding effort from both teams, but the Trailblazers remained behind Sam Houston.
The second half of the game opened with the Trailblazers down in a score of 36-25.
Teammates Shanaijah Davison, a senior communications studies major from Woodland, California, and Breaunna Gillen, a junior biology major from West Jordan, said that they hyped each other up during halftime which picked up momentum.
"We have two choices, we can either just give up, turn in, or fix it and play our best game," Gillen said.
The Trailblazers chose to play their best game.
Davison said, "One of the goals was getting inside to the post, I think we did a very good job of doing that."
Gillen said a turning point of the game was breaking the press and Davison assisting Brooke Vance, a sophomore general studies major from Salem, in the paint multiple times.
These big plays, along with many others, brought the lead to less than 10 points with seven minutes left in the third quarter.
The Trailblazers fought back in the fourth quarter, outscoring Sam Houston 25-9.
The intensity was at a whole different level with more shots being made and more urgency on defense.
Legerski said consecutive stops and less turnovers allowed the team to get easy baskets at the rim.
The intensity and effort led to the final regulation score being 64-64, which sent the game into overtime.
Overtime consisted of both teams fighting back and fourth for the win. Although the Trailblazers closed an 18 point deficit in regulation, they fell short in the end with a score of 72-74.
The DSU women's basketball team has won one of its last five games. They will return to the Burns Arena on Feb. 5 at 3 p.m. They play New Mexico State in Las Cruces, New Mexico on Feb. 10.