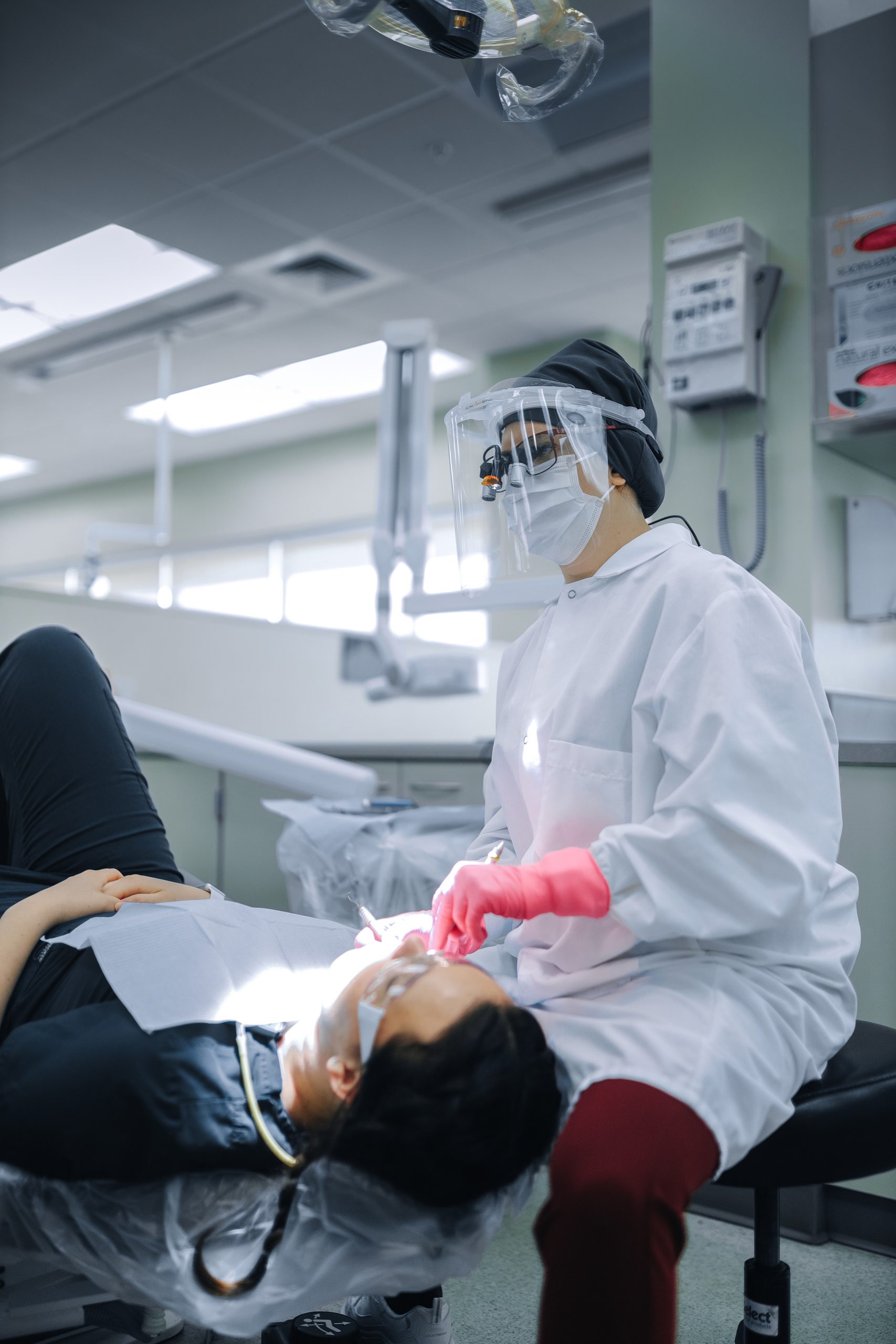 Caitlin Reed, a junior dental hygiene major from St. George is treating Marlee Smith's teeth, a senior dental hygiene major from Gilbert, Arizona. Photo by Misha Mosiichuk.
---
Their schedule is not the average 12 credit load of classes, going to class from 9 a.m. to 2:30 p.m., and studying for a couple of hours in the evening. Dixie State University's Dental Hygiene Program prepares its students to become registered dental hygienists. Which involves a hefty amount of grit, mind power and determination.
Savannah Thomson, a junior dental hygiene major from Henderson, Nevada said: "I have to be to the school by 7:45 [a.m.] and then we start at 8 [a.m.] in class and then we go until 12. We have lunch from 12 [p.m.]-1 [p.m.] and then we go back to school from 1 [p.m.]-5 [p.m.]."
Thomson said the work doesn't end here though. Similar to DSU student athletes, once a DSU dental hygiene student is done with a full day of classes the rest of the day is spent studying.
"It's definitely the most challenging semesters I've ever had of school." Thomson said. "If you are not willing to go to school from 8 [a.m.]-5 [p.m.] everyday, and then right when you get home start studying for five to six hours, it probably isn't for you, but it's super rewarding and it's going to be a great job."
Thomson said the dental hygiene students are enrolled in at least 20 credits every semester they are in the program. The Bachelor of Science in Dental Hygiene degree consists of credits in lectures, labs and clinics.
Mariella Mancia, a dental hygiene major from St. George, said they have days with regular classes and labs and other days are clinic days which is when they get to work hands on with patients.
"Every course in the program directly applies to the field, and we have different instructors for each course," said Ali Stum, a junior dental hygiene major from St. George. "We spend the majority of our days in the Taylor Health Science Building."
Stum said in their first semester they practice requirements on each other and in their second semester they get to treat real patients.
"I'm challenged and pushed so that when I step foot into private practice I'll be more than prepared," Stum said. "We have some of the greatest instructors out there, who are experts in the field of dental hygiene."
The program prepares its students to become registered dental hygienists by providing students with hands-on experience. The public can book appointments to get services done by the students at a discounted price. The students primarily do the work with faculty supervision. The full list of services offered is on the program's website.
Mancia, Stum and Thomson all said they love how hands-on school is. Their instructors are super involved, they get to work with real people, and they get to practice on each other.
"One of our instructors always says, 'With our training we expect you to be better than all of us combined,'" Stum said.
Dental hygiene students are expected to complete the program prerequisites and then are eligible to apply. Once accepted, students will be enrolled in the program for two years including summer semesters.
"I would like to say that if anyone is interested in pursuing a career in dental hygiene you will not regret it," Mancia said. "You'll be making a difference in the life of others and providing a living for you and your family."