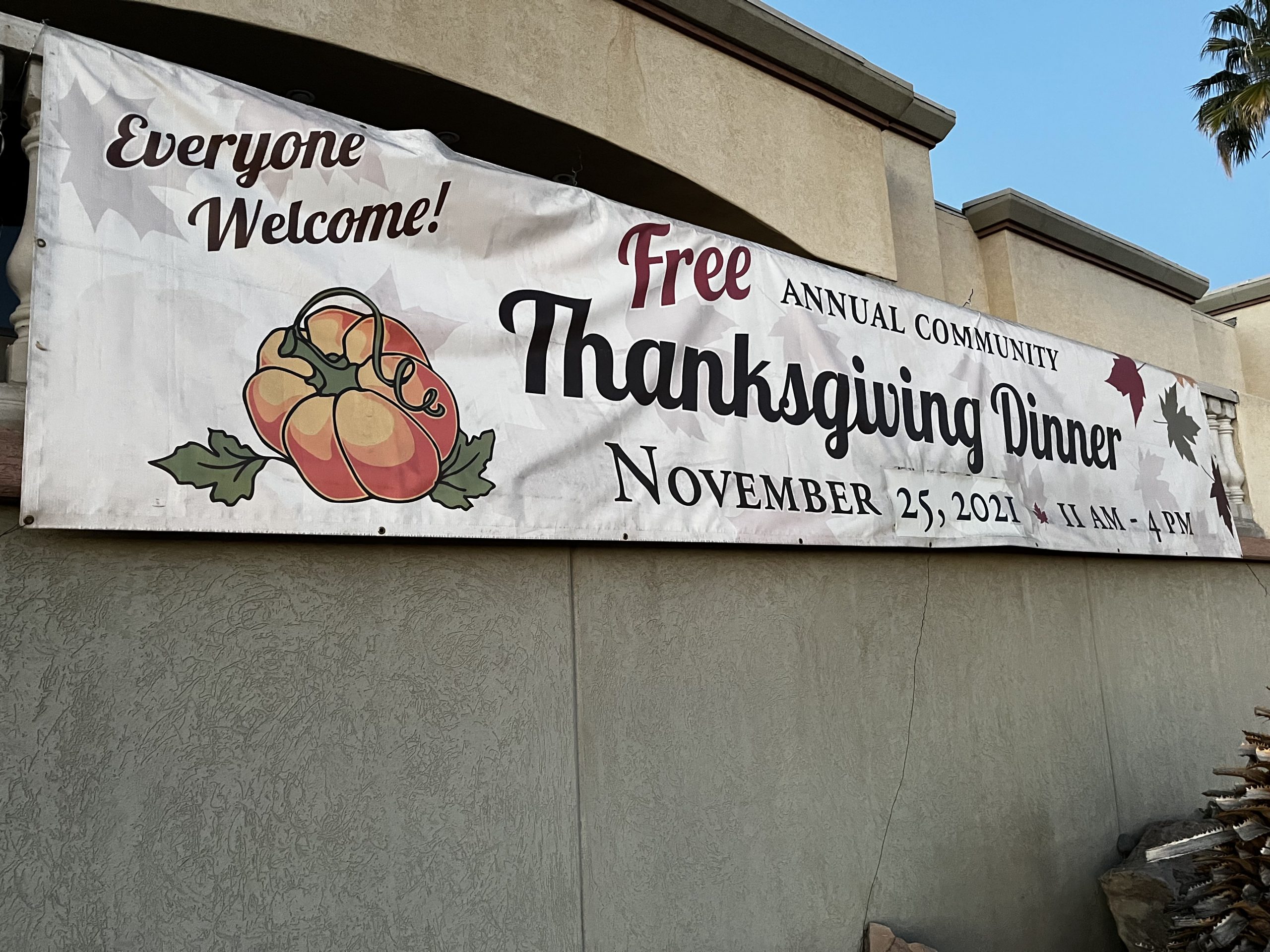 Red Rock Canyon School is hosting its annual Thanksgiving Celebration. Photo by Kristi Shields.
---
A 48-year long community tradition serves free Thanksgiving meals to anyone who attends.
The event will occur Nov. 25 where food will be served from 11 a.m. – 4 p.m. Simply show up at Red Rock Canyon School located at 747 E. St. George Blvd.
Food will be available to-go or if you would like to experience a community meal, sit and enjoy the food at Red Rock Canyon School.
Event founder Frank Habibian said: "There is a lot of positive feeling here. No. one: Be a servant to other people, that's the most important part. Second: We bring the people united together as one… it's just no different than any big family."
The event started by Habibian serving friends and neighbors in his own home. The event outgrew his home and Red Rock Canyon School has been the new location for the community Thanksgiving for 22 years.
People come from Salt Lake City, Arizona, Nevada and southern Utah for this event.
"If you come to my place you eat as much as you want, and then you take home as much as you want," Habibian said.
Habibian's family, members of the community, and local stores have worked together throughout the years to achieve the accomplishment of serving 2,500-3,000 people each Thanksgiving.
Sherman Hibibian, Frank's son, said:" We have a ton of people that help donate. A man by the name of Dave Wilkey, he donates 20-40 turkeys every year."
Stephen Wade, Croshaw's Gourmet Pies, Village Inn, Denny's, Costco, Lin's and Harmons also assist by donating food or funds. All leftover costs are funded by Frank Hibibian.
"I want to make sure everybody knows, I am not the super star, I'm just the cause," Frank said. "It is really a community coming together as one."
Preparation begins at the end of July every year and continues until Thanksgiving day. Preparation starts by sending Emails and planning where to get food and supplies.
Melanie Hibibian, Frank's wife, said: "The hardest part of this year is the many items we need that are in shortages from the pandemic. I've looked all over town for plastic tablecloths but no one has them."
Each year, the fire department and the health department check to make sure the location is safe and ready for the thousands of people.
Each year there are around 150-200 volunteers who help with setting up, cleaning and cooking. There are always more opportunities to serve at the event.
Dixie State University students attend and volunteer every year. For students who aren't going home for Thanksgiving this event is the opportunity to get a traditional Thanksgiving meal. DSU Student Association is also holding a drive-thru Thanksgiving meal today in the Hazy parking lot free for students at 7:30 p.m.
Frank told DSU students, "Come to serve or come to eat, just come over anytime you want with whoever you want."
To get more information about volunteering, call Sherman Habibian at 435-229-7091.