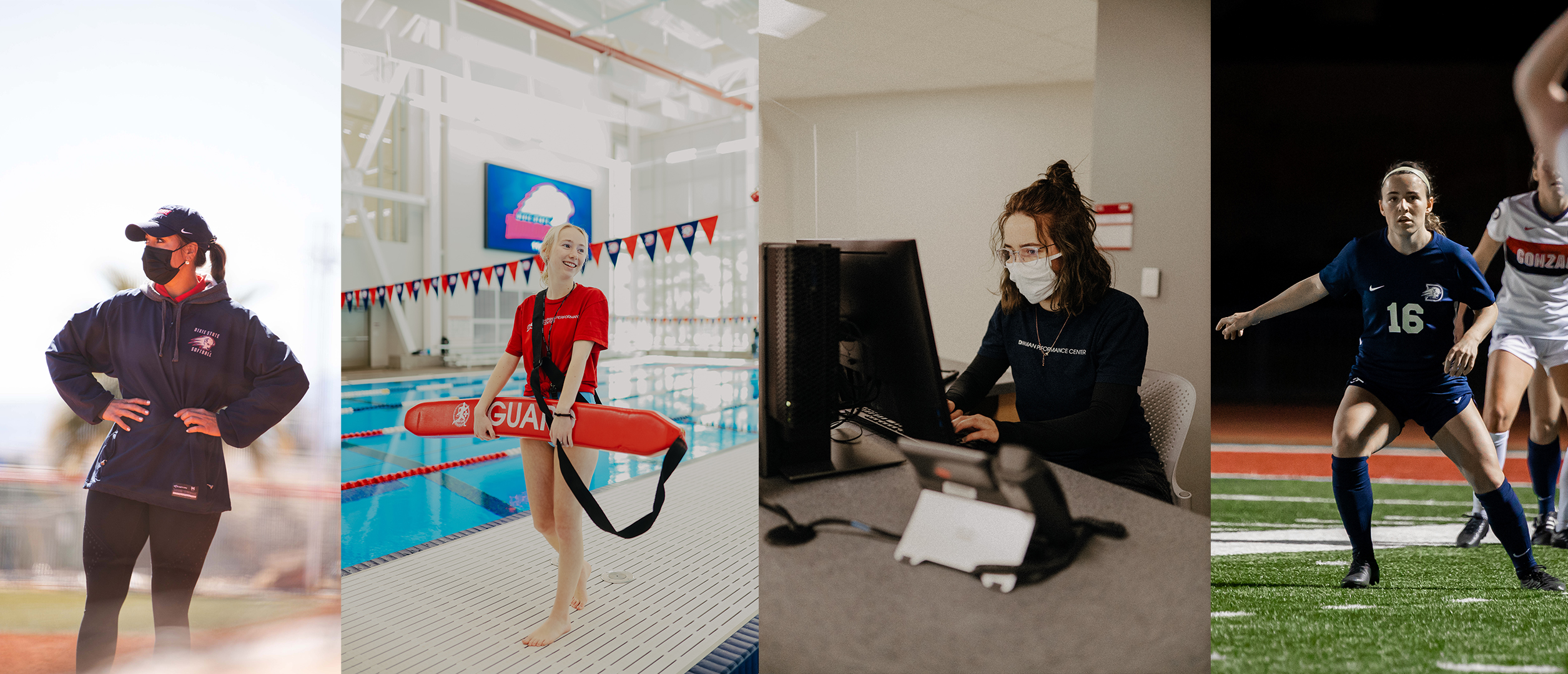 Local St. George women are breaking barriers for women nationwide. Your age and past do not define you, these women said in honor of International Women's Day. Photos by Misha Mosiichuk and Breanna Biorato.
---
"A woman belongs in the kitchen."
"Men are far superior leaders than women in the workplace."
"Women do not belong in STEM programs."
The stereotypical myths about women working to meet their professional goals or furthering their education could go on and on, but the blatant truth is that there are plenty of examples of successful women who have surpassed those barriers and risen to the challenge.
"I think most people think these gender myths have gone away, but I don't think they have," Human Resources Coordinator Michelle Cabana said. "It takes strong women to prove that all these negative things society says about them are wrong."
Some of these "boss women" can be found leading, lecturing and mentoring at Dixie State University and around the St. George community; here's how they defied the status quo and debunked gender myths:
Your age does not define you
Jennifer Harrington, CNA program director and assistant professor of nursing, said women have a natural superpower of caretaking and empathy — something she sees often in the DSU nursing program.
Although women have these natural abilities that make them great leaders in any field, they are still faced with the challenge of being compared to their male counterparts, Harrington said.
"These stereotypes continue to persist whether we like it or not," Harrington said. "We as women in higher education who are seeking degrees need to stick together by resisting these gender stereotypes and continue to break through that glass ceiling on all levels."
Harrington said the only way women can overcome these kinds of challenges is by persevering and furthering their education despite what society deems as "acceptable" for women.
"These stereotypical messages are all around us; they are in the media, in popular movies, all over social media, [and] sometimes they may feel inescapable," Harrington said. "We have to condition ourselves to become nonbelievers in the machines that crank out these false messages."
Harrington said she knows what it's like to be doubted and felt "late to the game" when it came to finally embarking on her journey through obtaining a college education. Not only was she faced with stereotypes because of her gender, she also had to face the challenge of being judged because of her age.
She became a nurse at 40-years-old.
"I'm 50 now; you can reach your goals at any age, there is no time limit," Harrington said. "There is no age or gender barrier that completely bars you from achieving any of your goals. Nothing will stop you if you continue to persist and know who you are."
Your past does not define you
Casey Kuckert is a local CEO and entrepreneur who also mentors and coaches women all around the U.S. about business growth, transforming key areas of their small business, creating their brand, and more. She said she focuses on coaching and empowering women to beat the gender stereotypes they constantly face.
"I am so passionate about helping other women become financially independent," Kuckert said. "I feel like it gives them a great sense of confidence when they can make their own money and have some sort of source where they can make a difference in their community."
Though she is widely successful now, she did not have the easiest path on her journey to becoming a "boss woman."
She started as a single mother, taking care of her daughter while trying to make ends meet. Her safety net was the job that initially paid her $7 per hour, but she yearned for more to ensure a brighter future for her child.
"The driving force behind that was I had a daughter, and I wanted to set a good example for her that even though life doesn't necessarily go the way that you plan it to, that you can still use that challenge as a great driving force; rise above it and make something out of it," Kuckert said.
Kuckert said she faced her fair share of gender stereotypes and degrading comments, especially working in a male-dominated industry.
"[Gender stereotypes] are what fuel me and empower me to do more and offer more for other women," Kuckert said. "I've seen how male-dominant the industry I worked for was and learned how women learn differently, process things differently; we're wearing a lot more hats during the day, so we need different training."
This is what led Kuckert to become the motivational business coach she is now. She said she even offers retreats for women and a group Facebook page where anyone, especially female college students, is welcome to network, connect and inspire others.
As we celebrate International Women's Day on March 8, take the time to recognize the superwomen around you as they blaze new trails and seek to uplift others, Cabana said.
"It all starts with you, female students," Kuckert said. "Get really clear on who you are and what you want to go after, and just do it. You got it, girl."