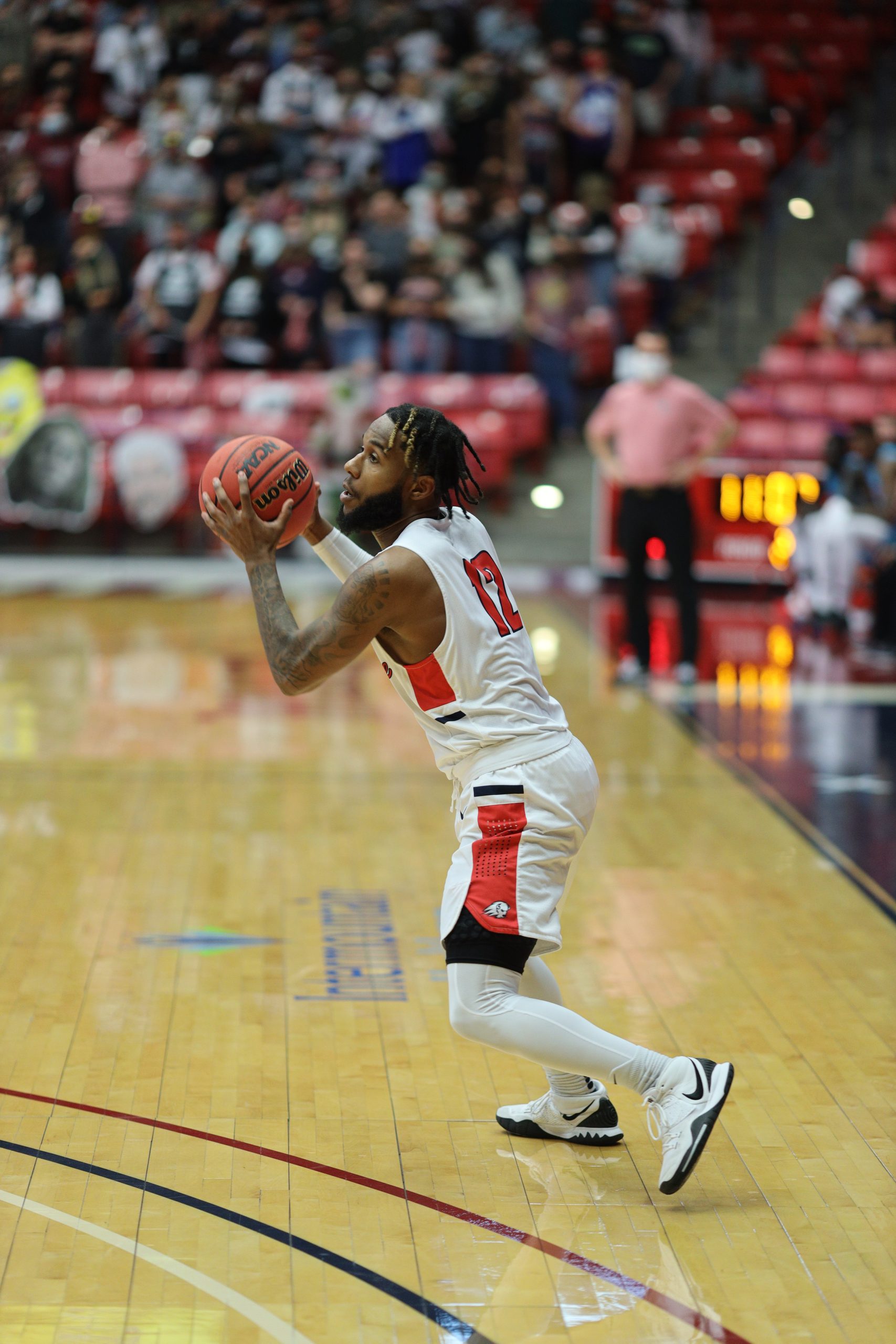 Cameron Gooden, a junior sports management major from Frisco, Texas, demonstrated considerable skill in keeping the ball during the Jan. 13 game against the New Mexico Lobos. Photo by Misha Mosiichuk.
---
At the end of the 2019 basketball season, Dixie State University lost its senior and first team Rocky Mountain Athletic Conference point guard Jack Pagenkopf. With big shoes to fill as a point guard, the Trailblazers found Cameron Gooden.
Gooden, a 5-foot-11-inch guard, played two seasons at junior colleges and has since transferred to DSU and made himself a regular starter for the Trailblazers, but the story starts far earlier than this point.
Gooden, a junior sports management major from Frisco, Texas, grew up playing basketball with his two older brothers in Texas.
"I picked up a ball when I was 3, and ever since I've just been rolling with it," Gooden said. "I made the goal to play ball at the Division I level."
After continuing to work on his game and standout at the high school level, Gooden signed on with Chipola College in Florida. Gooden fell just short of his goal of doing DI since Chipola is a junior college.
"It was definitely tough," Gooden said. "I felt like I put in a lot of work and effort to play at the DI level, but I had to keep going forward and Chipola seemed like a good fit."
After a season of ball there, Gooden then transferred to Kilgore Community College in Texas where he felt he'd get a better opportunity to stand out and reach his goal of becoming a DI basketball player.
Toward the end of the 2019 season at Kilgore, Gooden was in contact with head coach Jon Judkins and the rest of the DSU coaching staff.
"It was hard to replace [Pagenkopf] on our team last year, but we thought Cameron was close to that," Judkins said. "[Gooden] catches onto things really fast."
Gooden signed with DSU with its inaugural DI season about to begin. This was a big moment for both the university and Gooden.
"Getting here meant a lot," Gooden said. "I've put in the work and I've earned it, and being able to show that I belong. I've been waiting for this moment to show what I can do at this level, and it's been great."
As the 2021 season has a few games under its belt, Gooden has made an impact for the Trailblazers and they've welcomed him to the squad.
"I feel very welcome here," Gooden said. "At first I wasn't sure how I was going to fit in here, but the people here in general and my teammates that welcomed me have made me a part of their family."
Jacob Nicolds, a junior business major from Gilbert, Arizona, said, "[Gooden] will guard one of the best guards and not make many errors; he just does what a good DI point guard does."
Not only has Gooden quickly gained the respect of his teammates, but also his coaches.
"We knew he could come in and play right away," Judkins said. "But he's impacted us quicker than we thought."
Judkins said he attributes Gooden's ability to learn quickly and be a smart player to some of the success he's had so far.
"We could put a new play in today, and he would have it ready tomorrow," Judkins said.
Gooden has had a 20-point game against Gonzaga, a 23-point game against the University of Denver, and has averaged 3.5 assists for the Trailblazers on the season. After competing against junior colleges on the East Coast and now getting to play the No. 1 ranked team in the nation, Gooden has seen all levels of basketball.
"It's been fun to see, going from level to level," Gooden said. "Being able to play against Gonzaga was amazing. Not too many people can say they've played against the No. 1 team, so that was very cool."
As Gooden continues to work and attend college far away from home, he doesn't want to take any credit for the success he's had and would rather highlight his family.
"My family has been with me from all the highs and lows," Gooden said. "They could have easily stopped putting time and effort into helping me develop as a player, but they kept pushing me."
With conference play in full swing, we can look forward to Gooden making progress the rest of the season.
"He's going to be a fun one to watch," Judkins said. "The sky is the limit for [Gooden] here at Dixie State."