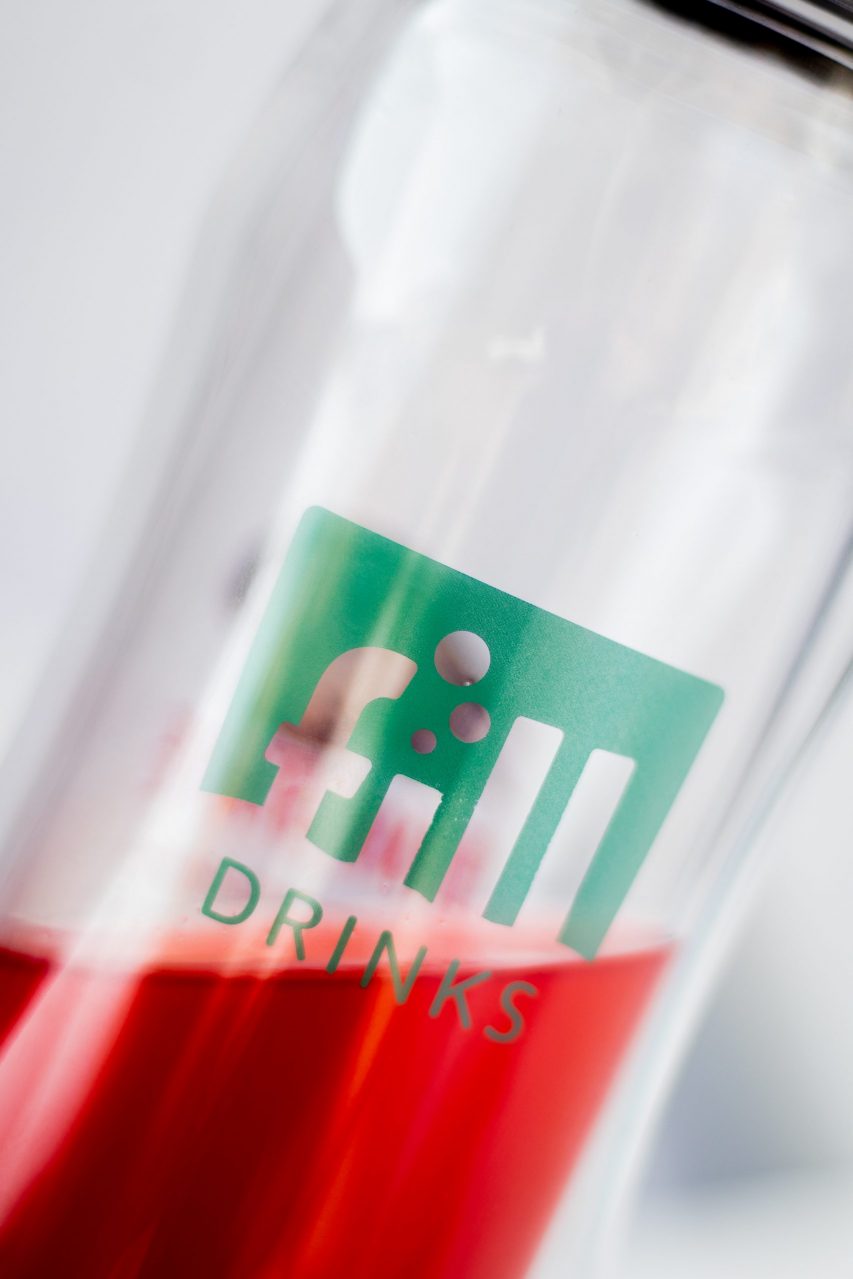 A new soda subscription service called Fill Drinks has come to Dixie State University. Fill Drinks launched at Brooks' Stop, and students signed up for the subscription and received their official Fill Drinks cups. Photo by Breanna Biorato.
---
On a dry, hot day at Dixie State University, it's not uncommon for temperatures to reach over 100 degrees. To a student walking from building to building, the heat can be unbearable and dehydration is inevitable. You buy 2 fountain drinks a day and there goes $60+ a month. Imagine a way to get unlimited refills, with hundreds of drink options for less money.
Created by three students at Dixie State University, Fill Drinks is a soda subscription service where subscribers get unlimited use of a Coca-Cola Freestyle machine for $19.99 a month.
The Coca-Cola Freestyle machine lets you choose from different drinks and drink flavors, and it offers technology that allows you to scan a QR code and fill your drink from your phone. There are also options for healthier non-soda beverages such as Powerade, Vitamin Water, sparkling water, and lemonade.
It all started in August 2019 when Devon Dickson, a junior information systems and analytics major from St. George; Stuart Baker, a senior finance major from Santa Clara; and Braden Bringhurst, now an experience design and management major at BYU from Santa Clara, were eating in the Trailblazer Café. Dickson told Baker and Bringhurst his idea for a subscription soda business after noticing how the drinks on campus could add up and become pretty expensive in the long run.
"All three of us have had previous businesses," Baker said. "We're always looking for different ideas and different ways to start new businesses, and when this one was presented we all just jumped on it because we thought it was a great idea."
The three all said they very naturally found their place in the business. Dickson, who came up with the concept initially, was a great fit for the organizing and planning roles.
"Devon is great with just organizing things and making things run smoothly, so he was the obvious pick for the CEO," Baker said.
Baker, being the finance major, naturally fell into his finance and data role because of his experience working with numbers. Bringhurst works well doing marketing, networking, sales, and website and social media management for the business.
As they told people about their business idea, some people would ask about investing, but Fill Drinks is completely self-funded.
"It's a little nerve-racking because you're like, 'Woah, that's my money,'" Bringhurst said. "But we wanted to make sure that we kept our ownership and we were in control of what was going to happen."
Fill Drinks is currently available in Brooks' Stop on DSU's campus. The Fill Drinks trio had to work with DSU to find a good place for the Coca-Cola Freestyle machine.
"We wanted to make sure it was beneficial for the school and us," Dickson said. "Really, the school doesn't have any headache with it. We decided to propose that we would take over one of their existing soda machines and basically reimburse them for what the profit was on the machine so they don't have to worry about it as much, so it's kind of a win-win for the school and for us."
Major steps started happening around November 2019 as the business began to form a relationship with Coca-Cola.
"We faced a ton of major obstacles," Dickson said. "We didn't think we'd really get the machine was the biggest one because mainly it's for franchises."
It's very difficult for a small business like Fill Drinks to get the attention of a multinational beverage corporation like Coca-Cola. Emails would go unanswered, but the Fill Drinks trio continued to reach out. Dickson, Bringhurst and Baker all said they attribute their success with Coca-Cola to the support they received from the university and its faculty members.
"We had to have people like Don Watkins, who is an entrepreneur in residence at DSU," Dickson said. "He had to contact them and really kind of get them to help. And also Colby Jenkins, who is the director of [the Business Resource Center], he really helped too with getting Coca-Cola to listen to us and give us a chance really."
Now, subscribers to Fill Drinks can enjoy unlimited drinks for only $19.99 a month and single-use drinks are available for people who aren't subscribed.
Refilling your cup has never been safer with the new technology that comes with the Coca-Cola Freestyle machine. You can scan a QR code on the machine, then pick your drink and fill your cup all from your phone for a completely touch-free experience.
"The machine is constantly being updated by Coke," said Baker. "There are new flavors that are constantly being introduced to it."
After over a year of hard work, Fill Drinks is open for business in Brooks' Stop on DSU's campus. For a refreshing treat, stop by and enjoy a beverage.
Want to read more? Follow us on Twitter and Facebook for daily articles and updates!