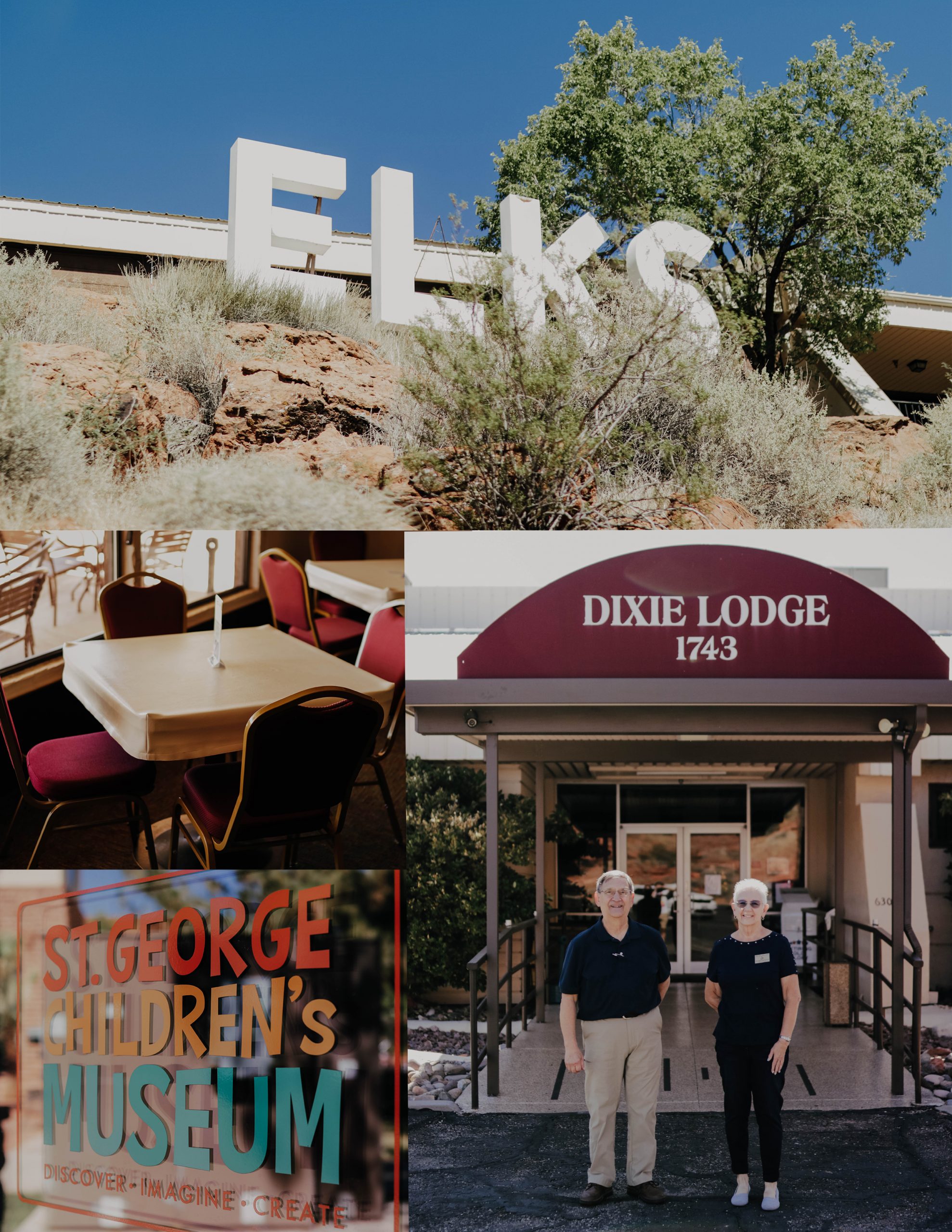 The Dixie Elks Lodge and St. George Children's Museum are two nonprofits in St. George that partner with Dixie State University to provide opportunities for students. Even while being closed during lock down, the organizations were able to continue supporting people. Photo by Misha Mosiichuk.
---
Nonprofit organizations throughout St. George work toward keeping the town stable and supporting Dixie State University students through their various resources.
The DOVE Center, Dixie Elks Lodge and St. George Children's Museum are organizations created by people who love, care about and cherish the St. George community. The money donated to these organizations goes right back into helping the community.
The DOVE Center provides 24-hour support — shelter, support groups, counseling and a 24-hour helpline — to those who are victims of abuse, violence, sex-trafficking and stalking.
Markee Pickett, the DOVE Center's communications manager, is in charge of notifying the community about the center as well as providing victims with the support they need.
"College age adults are at high risk for experiencing sexual violence," Pickett said. "We want them to be aware of our services, and to know that they have a safe and trauma-informed place to go to."
The organization continued to help victims through the worst stages of the COVID-19 pandemic by serving and counseling them through TeleHealth. The organization is now slowly getting back to normal.
Another organization is the Dixie Elks Lodge, which claims to be the premier charitable and patriotic organization in the nation. The services at the lodge all come from volunteer work, including college students.
Bob Matteson, the chair of the public relations committee, said the Ladies of Elks offer scholarships to women in their sophomore year at DSU. The scholarship amount is based on the desires the student has. To become eligible, the student must volunteer at the Elks Lodge during their freshman year of college.
Not only does the organization support DSU, it also supports the youth and veterans of St. George. During the lock down, the lodge closed for three months and lost its main source of income, but President Sharon Goetzman said closing the lodge and losing money did not stop them from helping and supporting others.
The Elks Lodge is slowly getting back to normal — hosting more dinners and events, and giving money to charities — but has certain protocols to be followed. Goetzman said social distancing and sanitizing every day is required to gear up for normal activities.
Another well-known nonprofit organization around town is the St. George Children's Museum.
"The St. George Children's Museum's mission is to provide vibrant and engaging interactive activities that invite children and their caretakers to discover, imagine and create," said development coordinator Riley Brown.
The St. George Children's Museum is a place where parents take their children to play and create interactive learning experiences; however, when COVID-19 came, the museum took a hit. During what was supposed to be its busiest months, the museum didn't receive much funding, yet it managed to make it through and is still in business.
The museum's executive director Anita Wotkyns said she is looking for volunteers and additions to the board of directors; these additions and volunteers can be DSU students.
"We feel that there are not enough opportunities for young professionals and students to be involved in nonprofits and in shaping community organizations from around the boardroom table," Wotkyns said.
The St. George Children's Museum needs more volunteers and support from larger businesses, and it wants that support from DSU students who are willing to help the community.
A DOVE Center advocate is available in the Jeffery R. Holland Centennial Commons in room 489 every Monday from 3 p.m.-5 p.m. The Dixie Elks Lodge is available at 435-673-1743. To reach out to the St. George's Children Museum, email info@sgchildrensmuseum.org or call at 435-986-4000.
Want to read more? Follow us on Twitter and Facebook for daily articles and updates!