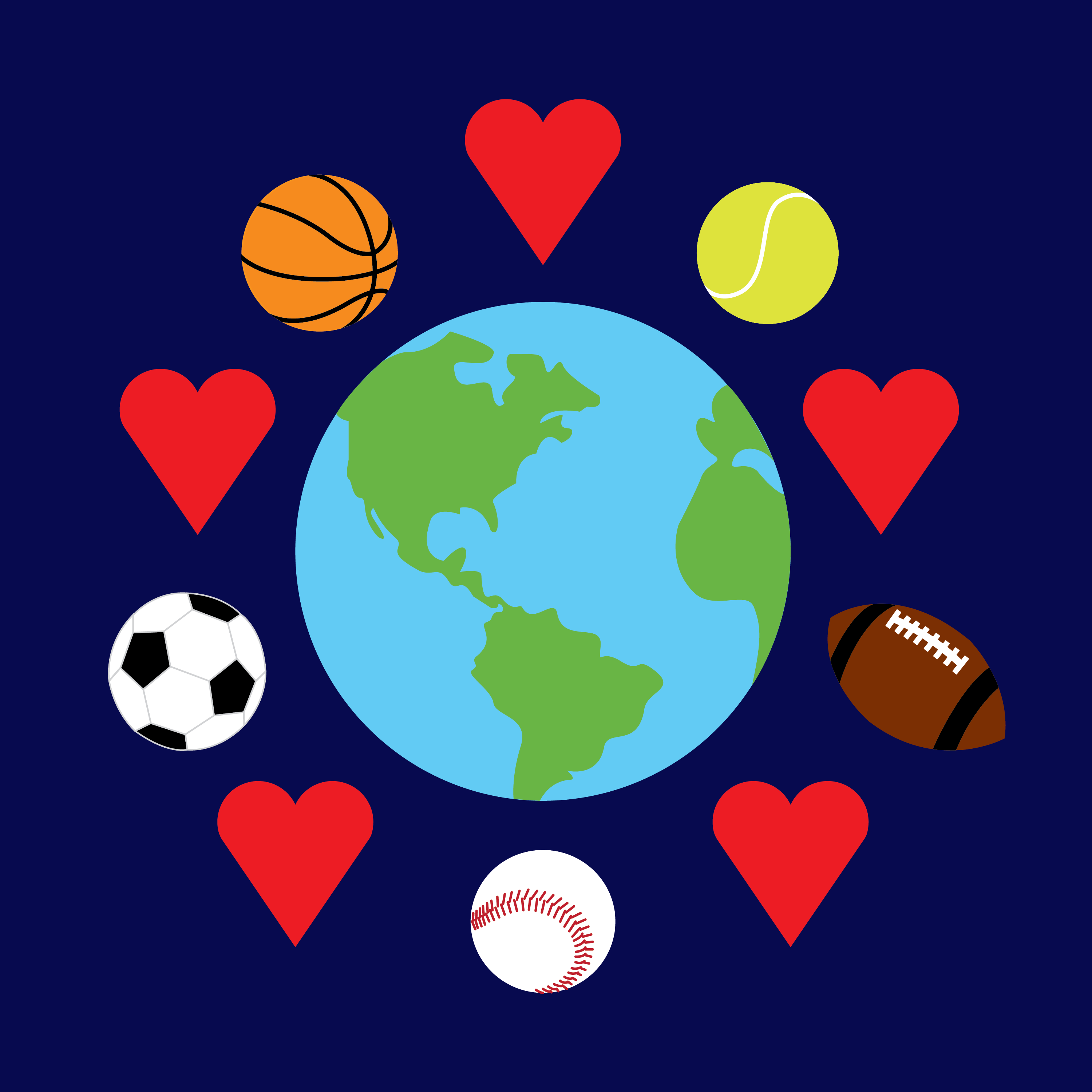 Sports programs o all levels are working to help the world as it continues to deal with COVID-19. The NFL, NBA and DSU athletics are just a few of those making an effort. Graphic by Kelsey Jackson.
---
As the number of confirmed COVID-19 cases continue to rise globally, professional sports organizations and athletes are putting fear aside and using their platform and funds to help their communities.
NFL
Houston Texans defensive end J. J. Watt and his wife, Chicago Red Stars forward Kealia Ohai, donated $350,000 to the Houston Food Bank to assist in pandemic relief efforts. According to ESPN reporter Adam Schefter, this contribution will provide over 1 million meals to those in need.
Another NFL player supporting his team's home city is Seattle Seahawks quarterback Russell Wilson and his wife, Ciara. The couple announced their donation of 1 million meals with Seattle Food Life Line on Instagram March 17.
Down in Louisiana, New Orleans Saints quarterback Drew Brees and his wife Brittany Brees have committed to donating $5 million to the state.
Brees said, "The priority now is helping our communities get through this tough time."
NBA
Utah Jazz center Rudy Gobert is donating over $500,000 to support various pandemic relief causes. $200,000 will go to the Vivint Smart Home Arena employees, $100,000 each will go to Utah and Oklahoma City families who have been affected by the virus, and 100,000 euros will go to his native country of France.
Detroit Pistons forward Blake Griffin, Cleveland Cavaliers forward Kevin Love and Milwaukee Bucks forward Giannis Antetokounmpo all pledged to donate $100,000 to the staff and employees of their home arenas as well.
Dallas Mavericks owner Mark Cuban, and players Luka Dončić and Dwight Powell are collaborating to donate $500,000 to the University of Texas Southwestern Medical Center and Parkland Hospital.
Dončić said: "Thank you to our amazing healthcare workers. They are sacrificing so much to care for others, and I am honored to help."
Aside from Cuban continuing to pay all of the American Airlines Center staff, the Mavericks released a statement that employees will also be reimbursed for breakfast and lunch purchases from independent, local restaurants in the Dallas area.
MLB
The MLB announced that it will continue to send paychecks to players despite the season being suspended. Houston Astros pitcher Justin Verlander and his wife Kate Upton, announced via Instagram April 4 they will be donating those funds to a different organization each week. The first they chose to support was the Houston Foodbank.
"We recently announced that we will be donating to and highlighting a new non-profit each week and we're excited to shine a light on the incredible work being done at @houstonfoodbank," Verlander wrote on Instagram April 10. "We learned that they are giving over 750,000 lbs. of food EACH day, to many people who are experiencing hunger for the first time. We're so grateful for their tireless work and the ability to reach so many people who are struggling to feed their families."
The league itself has donated $1 million to be split among Feeding America and Meals on Wheels America. Each team also pledged $1 million to assist ball park employees whose jobs were affected by the shutdown for a total of $30 million.
Chicago Cubs right fielder Jason Heyward donated $200,000 to be evenly split among the Greater Chicago Food Depository and Mothers/Men Against Senseless Killings, a Chicago based organization that focuses on violence prevention, food insecurity and housing.
Heyward wrote on Instagram: "I'm partnering up with both MASK and Chicago Food Bank to help kids in Chicago get what they need while schools are shut down. I have been lucky enough to call Chicago my home for the last four years and it's in times like these that the city needs to come together."
NHL
The Las Vegas Golden Knights pledged to provide at least $500,000 to the T-Mobile Arena employees who are out of work due to the pandemic. Goaltender Marc-Andre Fleury will be donating $100,000 of that money.
"As players, we truly appreciate all the employees who work so hard in making The Fortress the best place to play in the NHL," Fleury said. "My family and I hope that these contributions not only help those in need but also inspire others who are in fortunate positions to step up and find ways to help too. We can't wait to see the employees and our fans again soon."
Arizona Coyotes CEO Ahron Cohen and general manager John Chayka are supporting the Arizona Coronavirus Relief Fund and other non-profit organizations by each donating 20% of their salaries. The ACRF focuses on providing resources to Arizona's most vulnerable population and essential personal protective equipment for medical personnel.
On of the most serious consequences of the COVID-19 pandemic is the lack of blood donations. The Los Angeles Kings have continued their support for Children's Hospital Los Angeles by launching the "Blood and Pucks" initiative. The Kings are giving away two free tickets to every healthy person who donates blood at the CHLA's clinic.
The United States Olympic and Paralympic Committee
The United States Olympic and Paralympic Committee had over 18,000 pounds of food prepared for Team USA to eat during the 2020 Olympics. Now, the food has been donated to the Care and Share Food Bank in Colorado Springs, Colorado.
Rick Adams, the USOPC's chief of sport performance and National Governing Body services, said: "These are incredibly difficult times for everyone. Our CEO, Sarah Hirshland, is someone who's always thinking about others and in this case when she became aware that we had this large volume of food she wanted to make sure we did all we could for the people in Colorado Springs who need it."
Dixie State University Athletics
Dixie State University Athletics showed their restaurant partners some love on social media by encouraging the community to support the businesses who support Trailblazer Nation.
DSU Athletics also lit up the D on the hill blue on April 9 to honor all healthcare and essential employees who are currently on the frontlines of the coronavirus pandemic.
The post reads: "Dixie State Athletics is honored to #LightItBlue in support all of the healthcare, front line, and essential workers in Washington County, Utah and around the country who are putting their lives on the line every day to fight this pandemic. #DixieBlazers #WeAreInThisTogether"
These are only a fraction of the chain of good deeds, donations and support that has came from individual leagues, teams and players. May this serve as a reminder that we must unite to help others where and when we can.
Want to read more? Follow us on Twitter and Facebook for daily articles and updates!