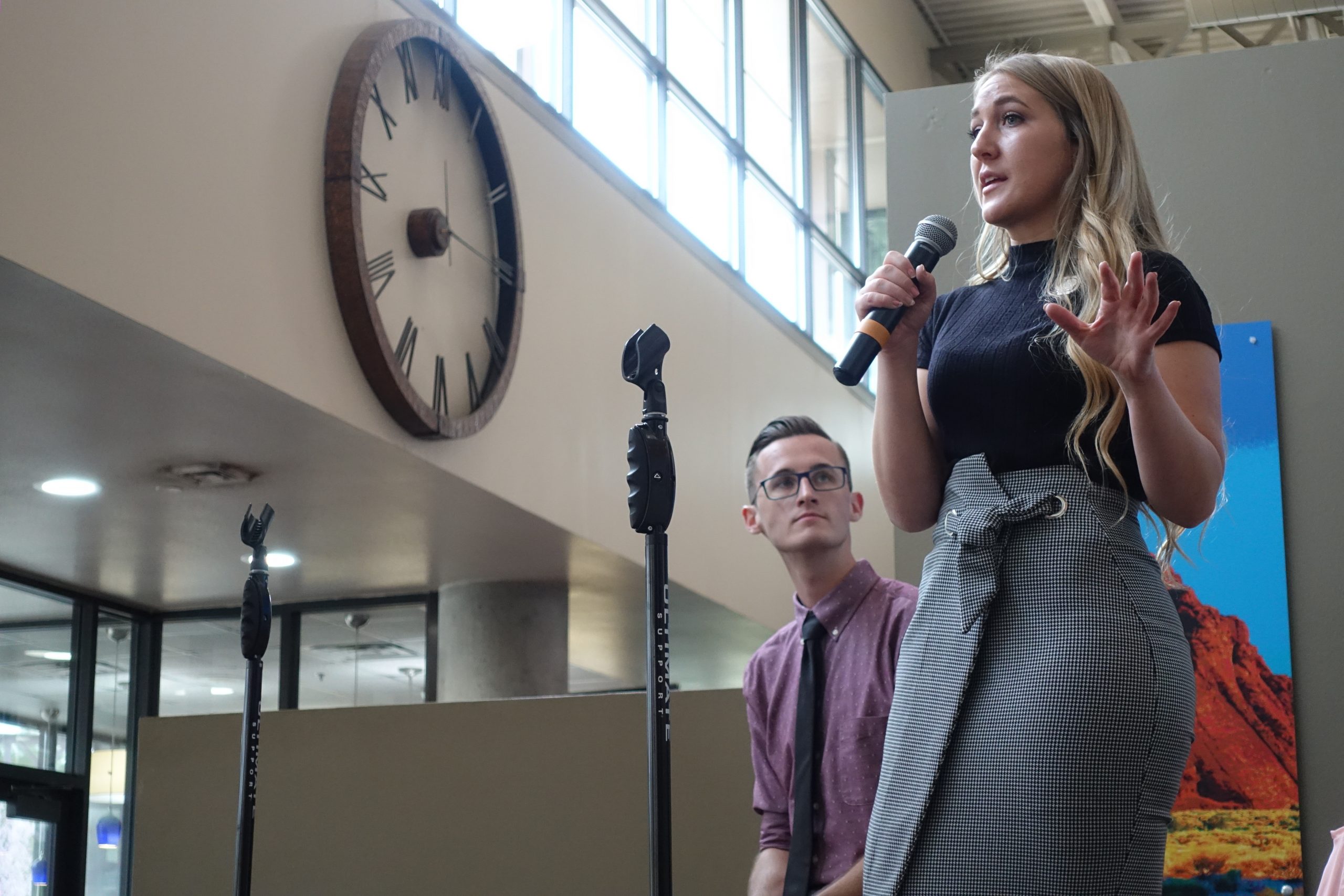 Penny Mills, a junior communication studies major from Orem, and Ryan Miggin, a junior accounting major from Syracuse, debate in the Kenneth N. Gardner Student Center on March 10 for the position of student body president. Voting ends on March 12 at 1 p.m. Photo by Abby Doman.
---
The 2020 student body president debate centered around topics such as equality, diversity and the reputation of Dixie State University.
Hosted in the Kenneth N. Gardner living room, Ryan Miggin, a junior accounting major from Syracuse, and Penny Mills, a junior communication studies major from Orem, debated to a mostly empty room mediated by current student body president, Taylor Godfrey, a senior polulation health science major from Buckeye, Arizona.
Miggin said he stands firmly behind making sure that all groups on campus will be heard.
"I hope to be very accessible so I can be your voice," he said during his introduction.
Since Miggin's entrance into the race, he said he has gone to the LGBTQ resource center, the Black Student Union and the Hispanic Student Association to hear their grievances and what changes they would like to see on campus.
In order to become an advocate for student groups on campus, Miggin explained his interest in learning about other cultures and his background in speaking Spanish as well as living in poorer areas.
Mills said she is similarly focusing on befriending these groups and getting to know them personally.
"If you don't know [student groups] how can you lead them?" She said.
Throughout the debate, the crowd was relatively silent holding their questions in till after. Notably, most of the crowd consisted of DSUSA members and previous student body presidents such as Cajun Syrett, a senior communication studies major from Bryce Canyon. Syrett questioned the candidate's Dixie Spirit.
Mills said her Dixie Spirit comes from her need to find a home; Miggin, on the other hand, has found his love of accounting at DSU and wants students on campus to be more opinionated and involved with what they want.
One of the few non-DSUSA students who was present voiced her questions during the Q&A after the debate. Kensey Crane, a junior English major from Tooele attended the debate for the first time in her career at DSU.
"Both candidates are completely eligible," Crane said. "I wanted to hear both sides and I had never been to this before,"
Latest In News:
Want to read more? Follow us on Twitter and Facebook for daily articles and updates!