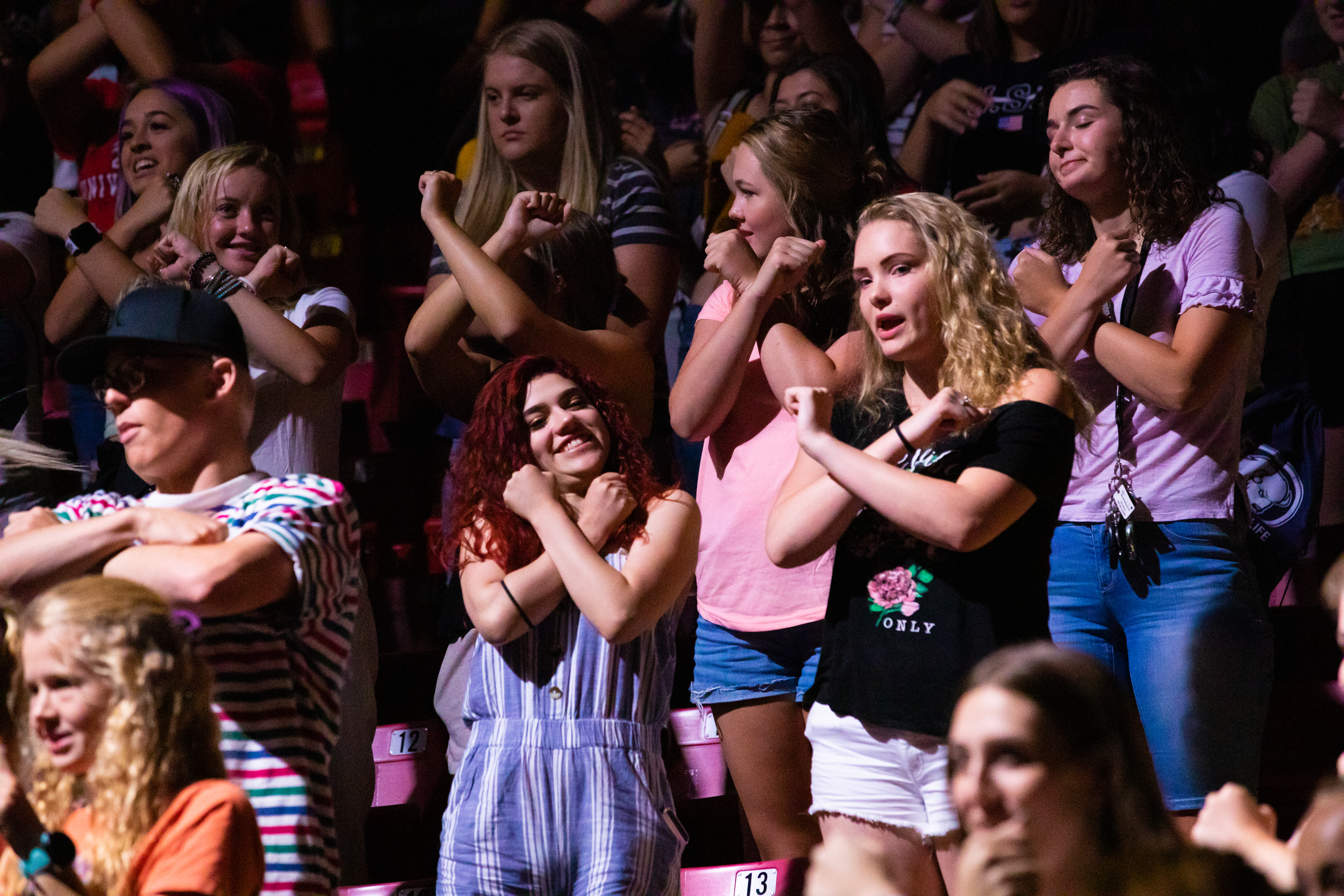 Students hold up an "X" with their arms during Freshman Friday on Aug. 16 in the Burns Arena. DSU's location makes it possible to have a lot of fun memories. Photo courtesy of UMAC.
---
Welcome, fellow Trailblazers. Get ready for a year of hard work and dedication, but most importantly, strive for a year full of exciting activities and great memories.
Students are excited about many different things this year.
Grace Henke, a freshman computer science major from Ivins, said she is excited to be attending DSU and absolutely loves the campus.
"I am looking forward to a lot of my classes," said Henke. "I am excited for my web design class mainly because it's something I've never done before."
Henke said she is also enthusiastic for the many events that DSU will be putting on throughout the semester.
"I would love to see DSU have more community events," said Henke. "A community carnival would be awesome."
Related Posts:
"I am excited about the social life and any of the social activities," said Ashlyn Boyer, a freshman general studies major from Salt Lake City.
Boyer said she was initially intrigued by DSU because a friend recommended it, but later discovered that she enjoys the change in scenery, and St. George is something different from her day-to-day life back home.
Firus Hanov, a senior information technology major from San Francisco, said, "I am most excited for programs and the projects [IOS development] that I am working on."
Hanov said he chose DSU because he received a great scholarship opportunity, but he also loves southern Utah because it is a good middle ground between a small town and a large city.
Because of DSU's location, there are many things to explore, and it is fairly close to all of the major travel destinations such as Las Vegas, Salt Lake City, and Los Angeles, Hanov said.
"What also brought me to Dixie State University is the space and the area that it is located," said Hanov.
Hanov said, "I would like to see more improvements on quality of food in the cafeteria, but they are already working on it by bringing Chick-Fil-A and other vendors, so I want them to keep going."
With this new year upon us, it is crucial to find what makes you most excited to be attending DSU and to help in making this year great.
Want to read more? Follow us on Twitter and Facebook for daily articles and updates!