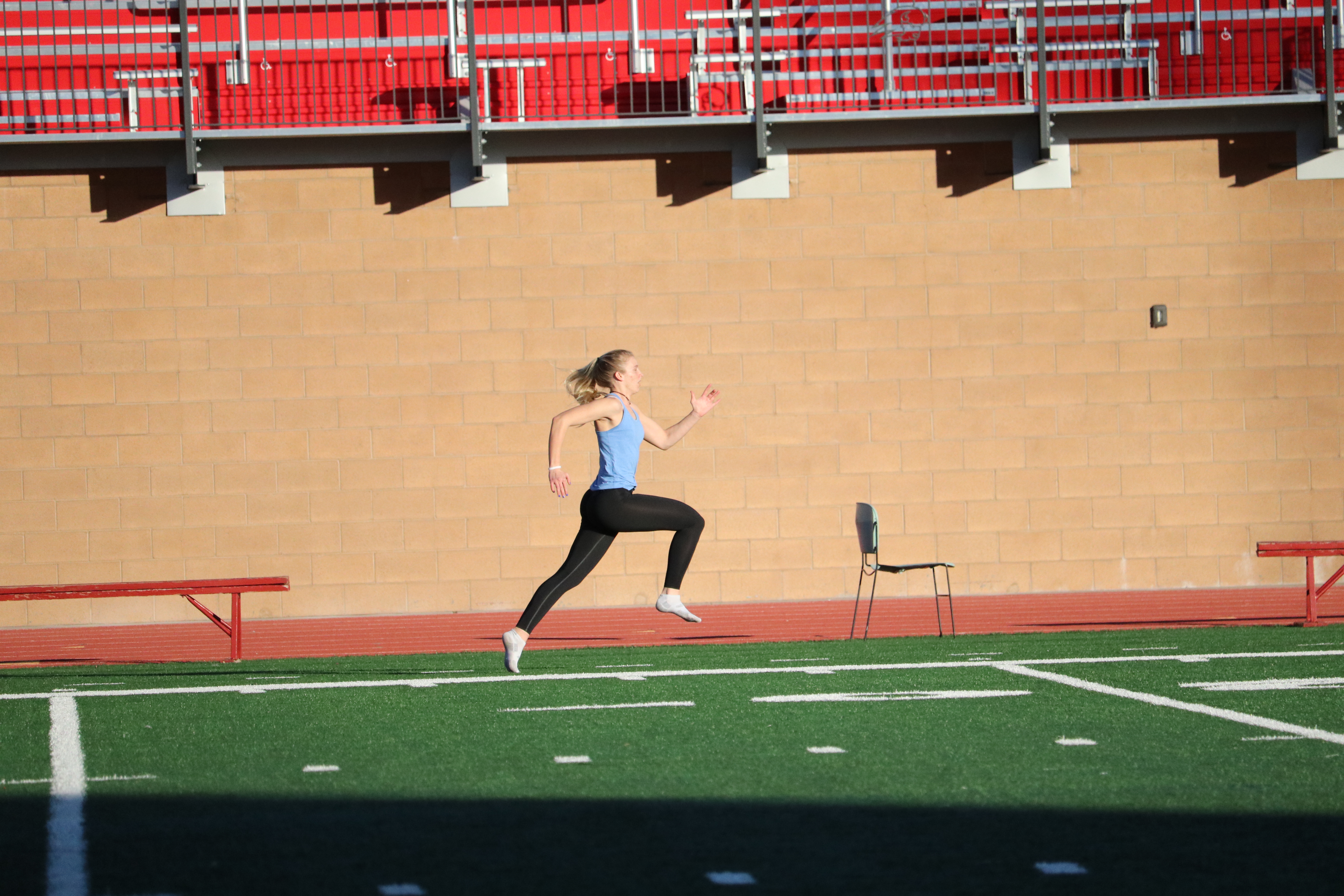 Photo by Madison Anderson.
---
The Dixie State University women's track team looks to close out the regular season as it prepares for the 2019 Rocky Mountain Athletic Conference Championships.
The Trailblazers competed at the Utah/Weber State Spring Classic on April 12-13. The meet was held in Ogden for the Weber State University portion and in Salt Lake City for the University of Utah portion.
In Ogden, Rachael Reeder, a freshman finance major from Weston, Idaho, set a DSU record in the 400 meter run with a time of 1:01.64 according to DSU Athletics website.
Reeder said she enjoyed her freshman year, getting to know her team and competing at the colligate level. She said she hopes to make the final in the 400 at the conference meet.
"It was a good first season, just kind of learning how college track is," Reeder said. "I want to just finish strong, and next year just improve."
The Trailblazers have two meets left before the RMAC championships. The two meets are the Mt. San Antonio College Relays which are held in Torrance, California on April 18 and the Azusa Pacific Bryan Clay Invitational in Azusa, California, on April 19.
The Trailblazers will then travel to Rapid City, South Dakota, for the 2019 RMAC Championships. The championship takes the top 24 individuals to compete in each event.
"We'll have about 10 athletes that will go to the conference championship for their events" head coach Justin Decker said.
Decker said the whole season has been focused on the athletes peaking at the right time for the championship.
"From the beginning of the season the training is set up to harder work at the beginning of the season, longer mileage and then start to taper off so that they're peaking at the right time here for the championship."
With the season coming to an end, Rebecca Anderson, a senior radiology major from Sterling, is closing in on her track career at DSU. Anderson said she hopes to finish out her senior year strong.
"I have senioritis really bad so I'm pushing to get a good time for this year and finish through. See what I can do on the last meet." Anderson said.
Anderson said her favorite thing about her senior season is making memories with her teammates.
"We have a good time," Anderson said. "We show up and we work hard. We do what we can out there which is really what it's all about."
DSU's next meet is in Torrance, California for the Mt. SAC Relays. The Trailblazers are taking just two athletes: Billie Hatch, a sophomore criminal justice major from Preston, Idaho, and Celeste Fiame, a freshman from St. George.
"This will be [Hatch's] best chance probably to get a national qualifying time in the 10K," Decker said. "That's the goal is to get her to nationals. And just place as well as we can."