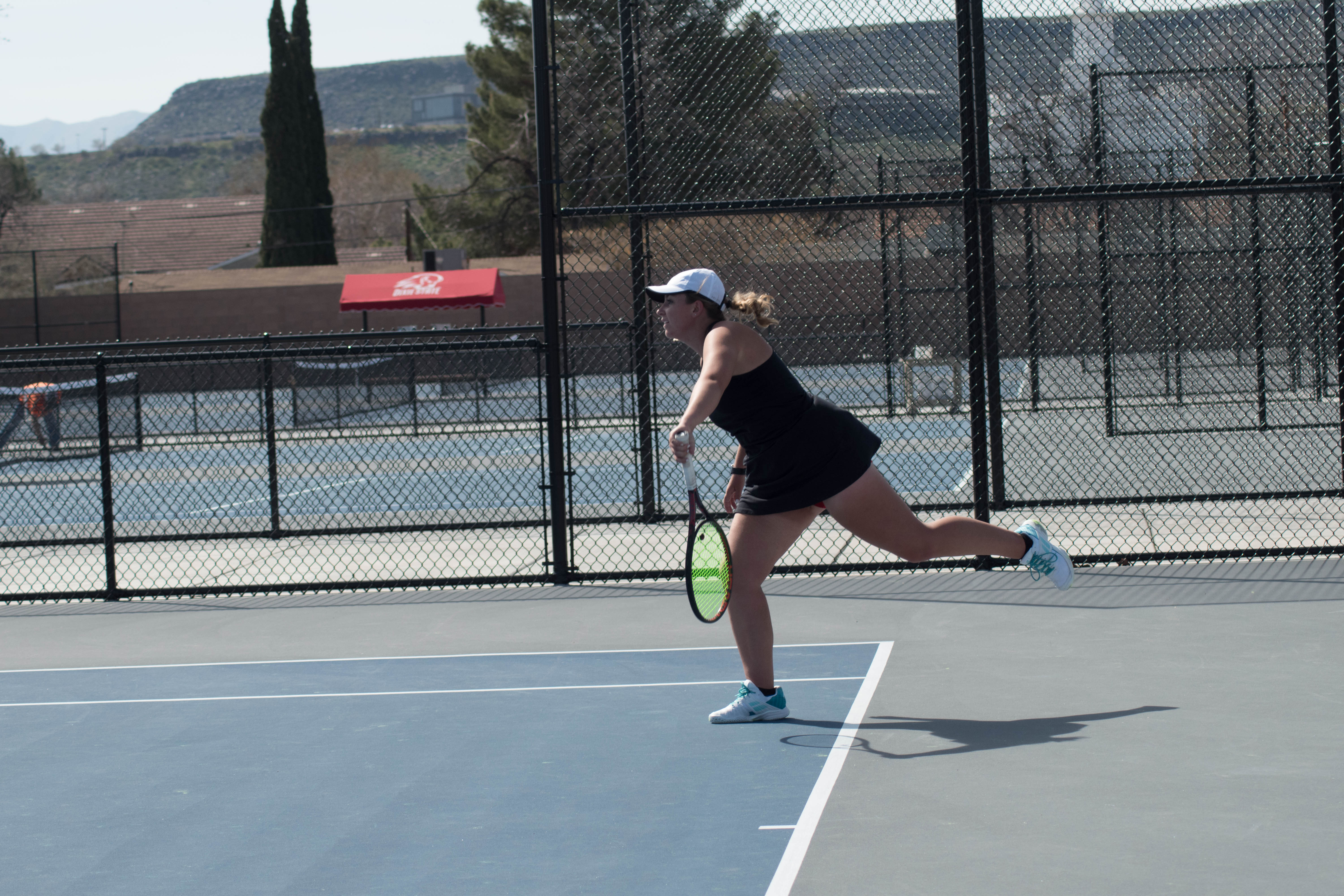 Photo by Tia Walker.
---
The Dixie State University women's tennis team's improvement in doubles play has given it a strong start to the 2018-2019 season.
The Trailblazers have won nine of the eleven matches played this season. Although they have only played a single conference game thus far, the Trailblazers are 1-0. DSU has two scheduled conference games left in the season.
DSU's 9-2 start to the season is a great improvement from last seasons 5-6 start. Head coach Eric Pelton said this season has been a good year and the team has dominated more so than they have in the past.
"It hasn't just been one or two players that have improved," Pelton said. "They've all improved overall which has helped their singles and its helped their doubles a ton. They're playing more aggressive and overall as a team."
In DSU's first four matchups, the Trailblazers won six out of the 12 doubles matches played. Since then, the Trailblazers have won 13 of the 18 doubles matches. Isabel Heras, a freshman exercise science major from Saipan, said one of the teams greatest improvements this season has been specifally their doubles play.
"In our doubles game we attack more at the net and we approach more," Heras said. "We've been doing a lot of drills during practice to help us."
Megan Lynch, a sophomore business major from Albuquerque, New Mexico, said the team has learned how one another plays in doubles.
"We learned what our strengths are, what are weaknesses are, and how to help the other player," Lynch said. "We've kind of synced up a little bit more."
Lynch said the team has also really been motivating each other more on and off the court.
"When we're watching other people's matches, we're cheering a lot," Lynch said. "It's helped pump up our players on the court. I think we've just gone out there and played our game and I think its been pretty successful so far."
DSU's next home match is on April 12 at 3 p.m. against Idaho State University.