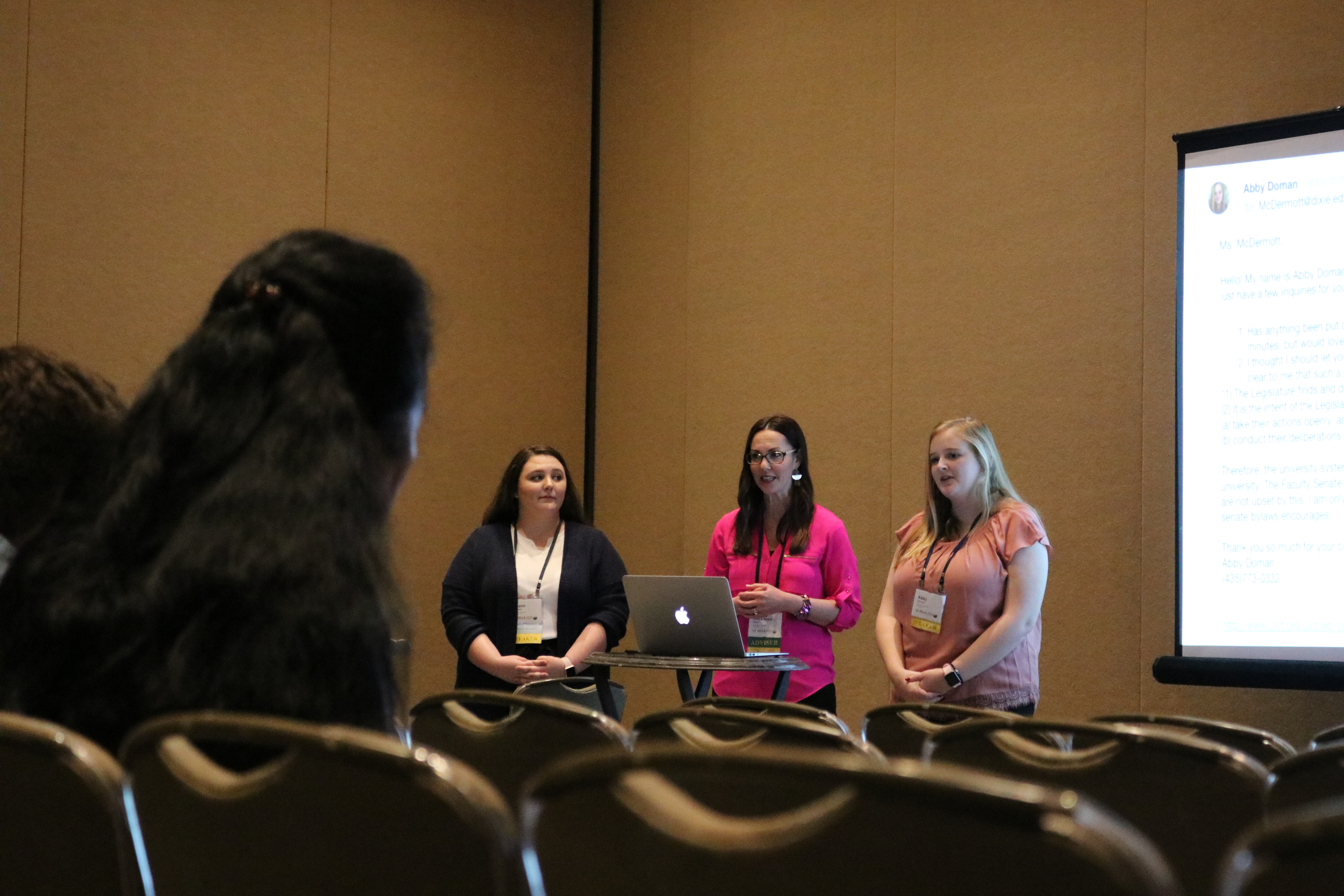 Photo by Madison Anderson.
---
The Dixie Sun News hosted a panel at the 2019 Associated Collegiate Press Midwinter National College Journalism Convention, tackling a variety of subjects regarding the Dixie Sun News' recent plights.
The panel, titled "Fighting for Your Rights: Battling with our University About Open Meetings," featured Dixie Sun News adviser Rhiannon Bent, editor-in-chief Ryann Heinlen, and news editor Abby Doman. The three discussed the events surrounding the unclear firing of three tenured professors and how this led the Dixie Sun News staff to a disagreement with the faculty senate over whether its meetings should be open to the public and reporters. 
Doman detailed her first experience in attending a faculty senate meeting, saying she was told she had to leave almost immediately. This, however, could be said to be in violation of Utah Code 52-4-102, which states:
"(1)The Legislature finds and declares that the state, its agencies and political subdivisions, exist to aid in the conduct of the people's business.
(2)It is the intent of the Legislature that the state, its agencies, and its political subdivisions:
(a) take their actions openly; and
(b) conduct their deliberations openly."
Bent said the inspiration behind the panel was the hard work the Dixie Sun News students have put in over the last eight months while this all unfolded. When the initial idea to create a panel was brought up to Heinlen, the idea to tackle the open meetings issue emerged. The idea was also close to Doman, so they proceeded from there.
"That was an excellent demonstration of active learning," Bent said. "For the students to really share with their colleagues across the country what kind of efforts they've been putting in in their pursuit of journalism."
The meeting also tackled the issue of Dixie Sun News' recent cut in student fees, introducing our #WhatWouldYouPay to various universities across both Utah and the rest of the country. The campaign encourages supporters to tweet what price they would pay for free speech.
With the launch of the campaign, the Dixie Sun News has also created a petition on change.org, encouraging anyone in support of the Dixie Sun News to sign.