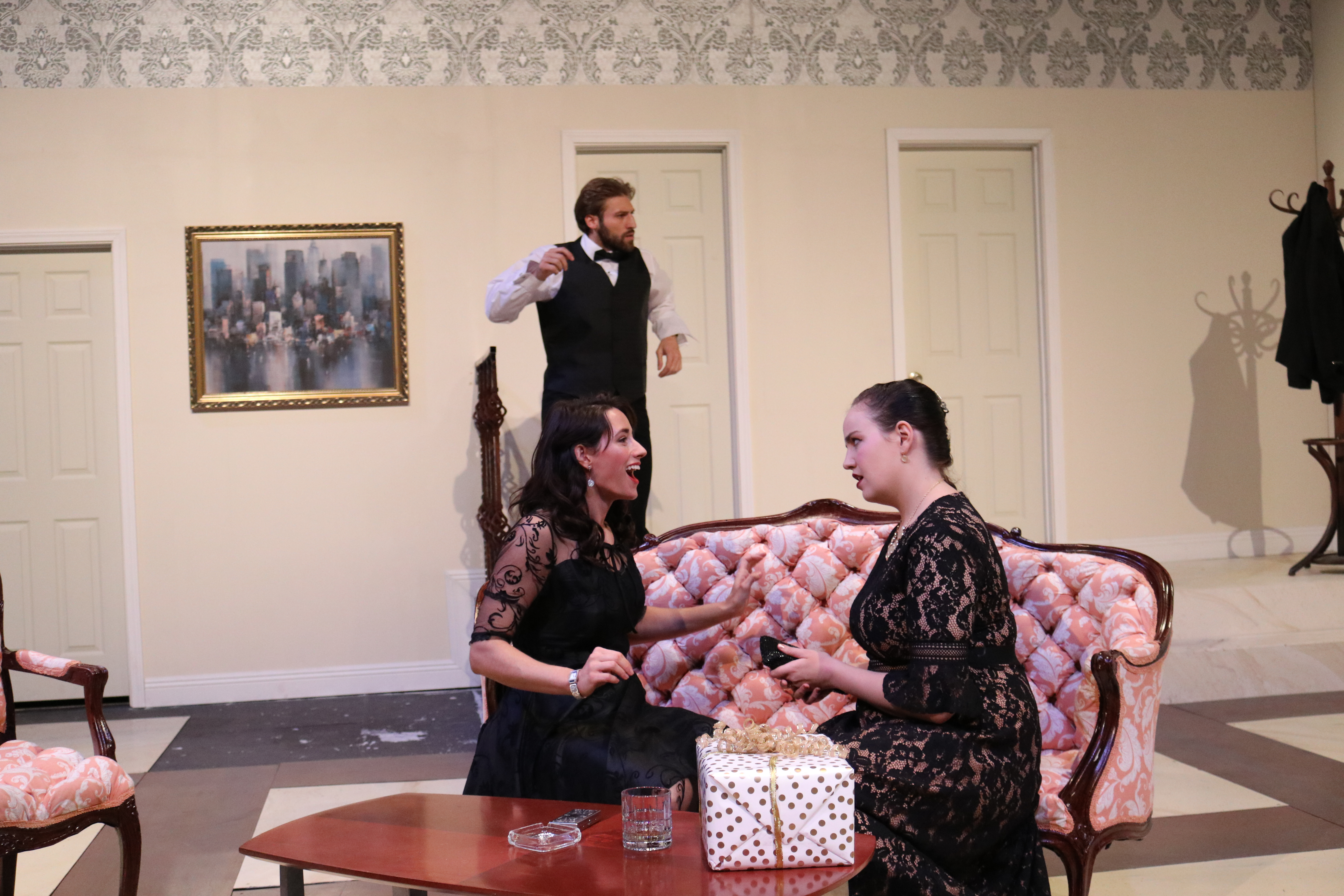 Photo by Madison Anderson.
---
Have you heard all the gossip about Dixie State University's play "Rumors?"
This production put on by the DSU theater department opened last Thursday and pays homage to the late Neil Simon, who wrote the play in 1988.
"'Rumors" is the only farce written by Neil Simon," teacher and director Michael Eaton said. "Neil Simon passed away last year, and he is one of the biggest playwrights produced in America."
"Rumors" is a fast-paced comedy rated PG-13 for occasional adult language, and is presented by special arrangement with Samuel French, INC.
"He has done it all," Eaton said. "See a play by him, because a lot of times people forget that America does have playwrights."
The production centers around Ken Gorman and his wife, Chris, at the 10th anniversary party of the deputy mayor of New York, Charlie Brock, and his wife, Myra. Things do not go according to plan as chaos and gossip unfold as Myra has gone missing, Charlie has shot himself in the head and all of the kitchen staff are gone. Ken and Chris must get the the story straight before other guests arrive to the party.
Misty Bills, a senior communication major from Idaho Falls, Idaho, also the assistant director for "Rumors" and the actress who plays Myra Brock, said, "We started rehearsals right after Thanksgiving break, then we came back and revamped it to make sure everything was nice, cut and clean." 
"Rumors" is showing in the Black Box theater, an intimate setting located in the Eccles Fine Arts Center. Kim Butterfield, the stage manager for "Rumors" and a junior theater major from St. George, said over 32 people have helped with this comedic play.
"Comedy takes timing, comedy takes delivery," Eaton said. "Comedy takes so much more thinking to do than drama."
Eaton said his favorite part about directing the play was working with the students and watching them grow as far as skill level and timing because comedy is tough.
"It talks about stuff that goes on now, that everyone can relate to with rumors and relationships and all of that," said Butterfield. "It's a very fun show."
Bills said it's great to support your fellow students in local arts, and that it is a really funny show for friends and family.
"Rumors" will be shown Feb. 19-23 at 7:30 p.m. General admission is $10, or $1 with a student ID. For tickets, visit www.dsutix.com, get them at the door, or contact the box office at (435) 652-7800.