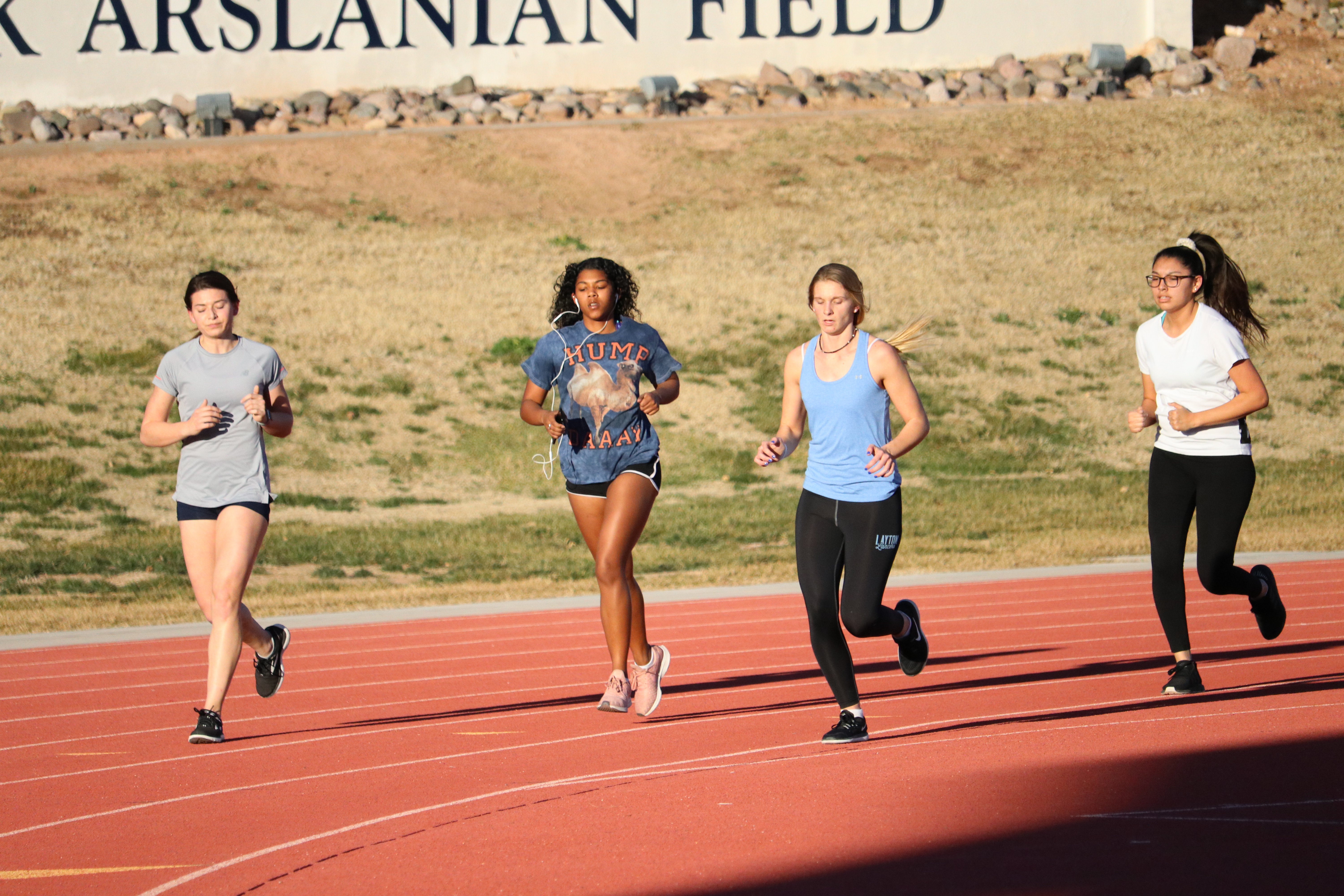 Photo by Madison Anderson.
---
Dixie State University women's track has new additions and a more developed program for its third season.
Sprint and hurdles runner Rebecca Anderson, a senior communication major from Sterling, said having another coach makes this season different from the last two years.
"For a long time I was the only sprinter on the team [and] coached myself," Anderson said. "Now we have a coach, which is nice, and there's other girls to run with, which is different."
Anderson said walking is important during recovery and rest periods in order to get the lactic acid out of her body.
Head coach Justin Decker said everybody on the team is improving week by week through their extensive training.
"We have more of a full roster of sprinters now where we'll actually be able to compete in more of the relays like the 1 by 100 [and] 4 by 400," Decker said.
To prepare for their meets, the team does mock meets at practice to get the feel for competing at race speed. The team practices five days a week for two hours each day in addition to their time in the weight room. This amounts to about 12 and a half hours of work per week.
Distance runner Erin Hurst, a sophomore physical therapy assistant major from Cleveland, said she came in this season with an attitude and knowing what to do, after having a year under her belt.
"I want to get a new personal record in the steeplechase, that's my event," said Hurst. "[My goals are to] get better every year, make my teammates get better and my main focus [is] getting us better as a team."
The steeplechase is an event where runners have barriers to jump that are about 30 inches for women, and one jump is into a water pit. A new event that is being implemented this season is javelin throwing.
Decker said: "We do have some javelin throwers. This is our third season of track, the first two seasons were primarily just the distance events with a couple sprinters and hurdlers. The team is growing, we will be competing in more events [and] there is a stronger team this year than the last two years."
The team's first meet is the Claremont-Mudd-Scrips-Rossi relays on Feb. 23 in Claremont, California. Decker said the Claremont meet will be an ice breaker to prepare for the bigger meets later on in the season.