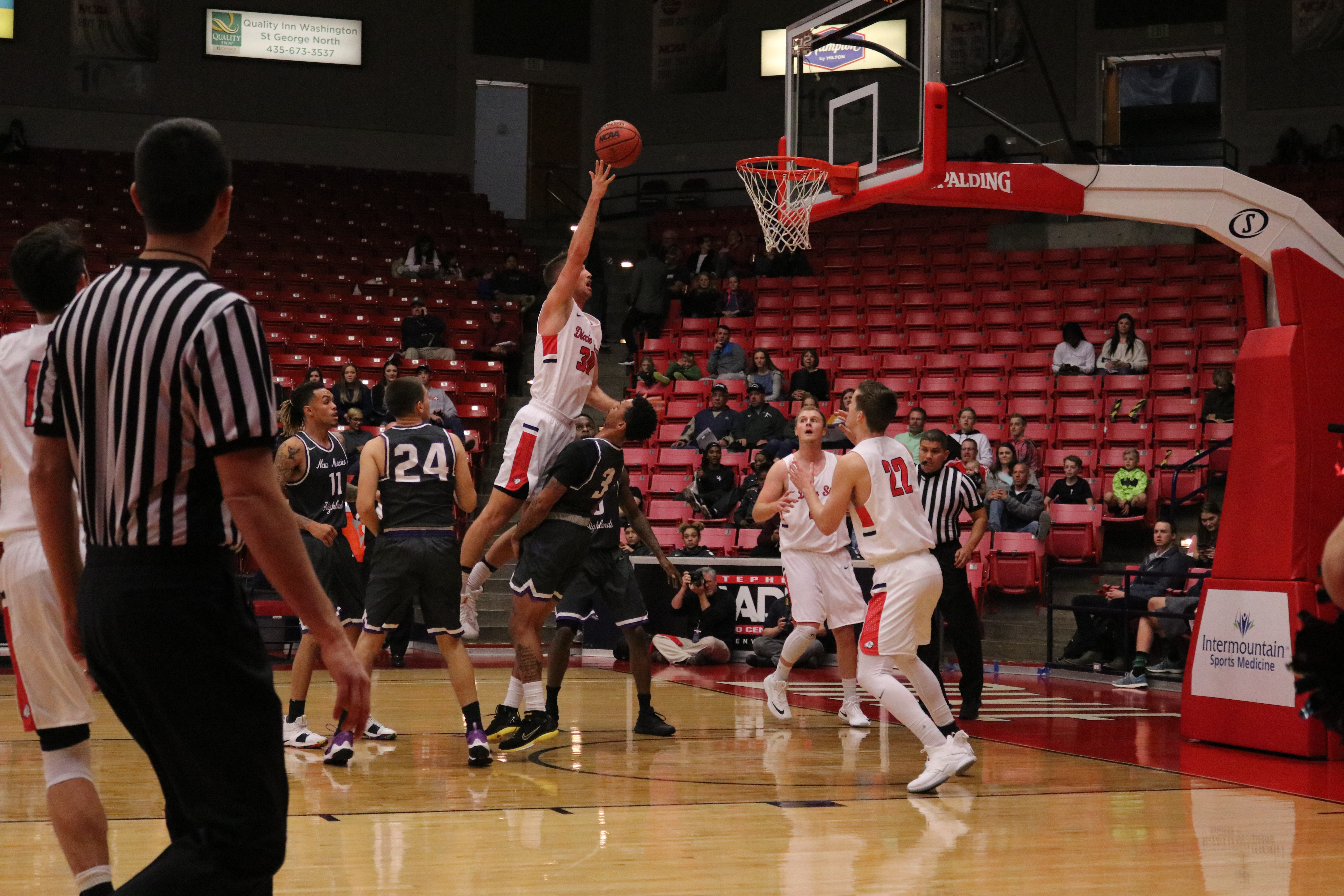 Dub Price, a senior graduated with a degree in Business Administration from Draper, jumps to shoot the ball against New Mexico Highlands at the Burns Arena. Photo by Madison Anderson.
---
The Dixie State University Men's Basketball team played eight games over winter break leading to their current 4-7 record.
The Trailblazers kicked off their series of winter break games with an 83-65 victory against New Mexico Highlands, ending the Cowboy's seven-game win streak. DSU's victory was short lived as they lost their following five games.
Among the rest of their new opponents in the RMAC, DSU played highly ranked Saint Martins, and the No. 1 team in the conference, Colorado School of Mines. DSU's closest game of winter break was their exhibition game against Division I University of Wyoming. The game was tied 30-30 at halftime and ended with only a two point difference.
Head Coach Jon Judkins said: "We had that game. We should have won. We were up one with 11 seconds and their kid hit a three-point shot at the buzzer to beat us."
Julien Ducree, senior business administration major from Rancho Cucamonga, California, said DI opponents have a lot more confidence.
Ducree said: "We always come out and compete. They think that we're supposed to be scared, but we're not scared."
Judkins said having a home-court advantage should be a big factor for their upcoming game against Metropolitan State University of Denver.
"These road trips, we're finding out in this new conference, are tough because you play back-to-back games on a Friday, and then you turn around and play again on Saturday," Judkins said.
Ducree said he is looking forward to see how far the team goes defensively this weekend.
Ducree said: "Our offense is not a problem, but I think this weekend will be a big defensive test for all of us. A lot of guys aren't used to back-to-backs, especially with our body and the way we're practicing. Now we don't know anyone in the conference. Coming to this conference was like coming in blind."
Wade Miller, senior chemistry major from Tremonton said his team has done some things a little out of character.
"I think if we can get back to playing basketball how we know how, and obviously getting everybody back, the support would be awesome," Miller said.
DSU plays Metropolitan State University of Denver on Friday and Chadron State on Saturday; both games are at 7:30 pm in the M. Anthony Burns Arena.