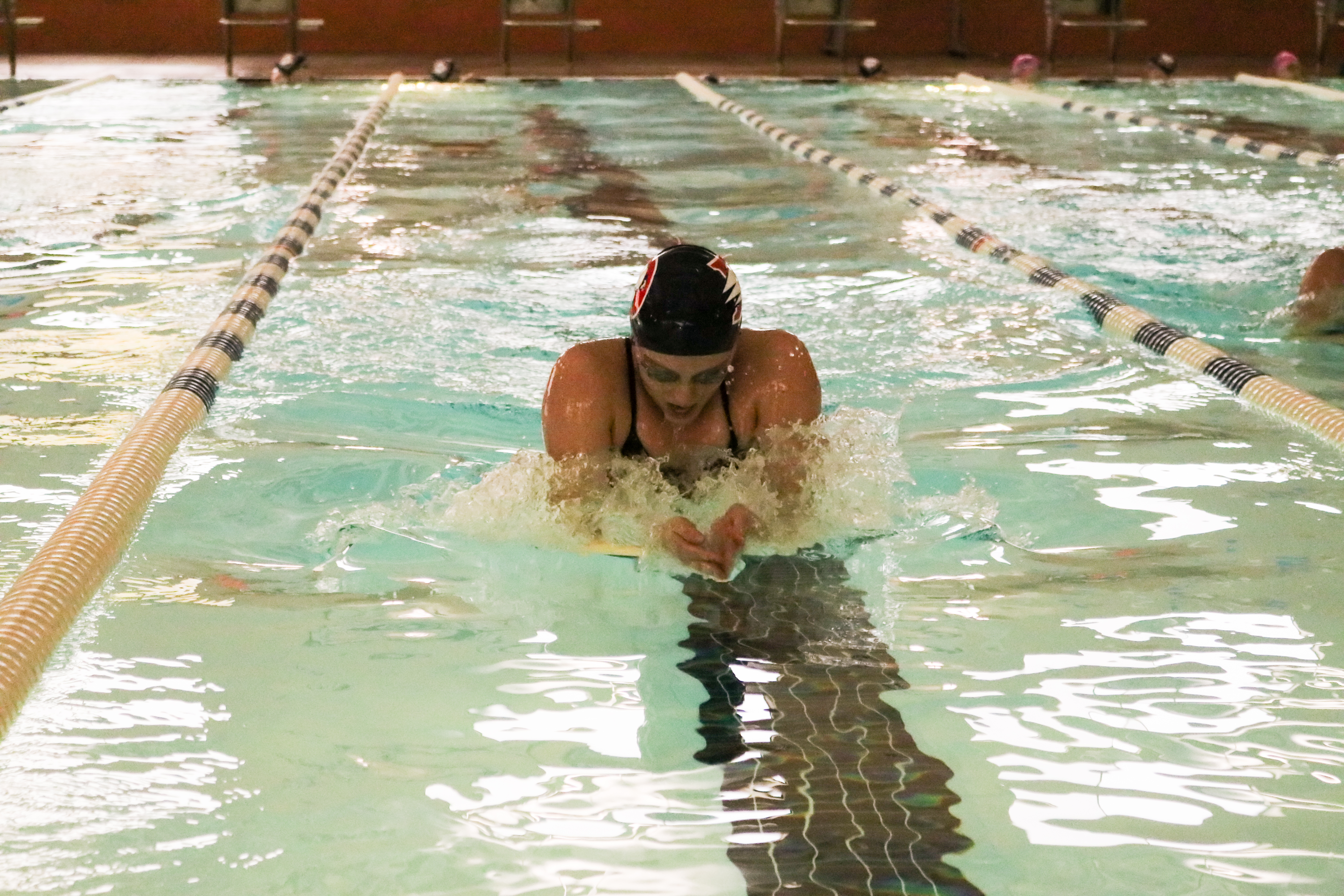 Photo by Madison Anderson.
---
Now in her second season with Dixie State University's swimming program, Hannah Hansen, a junior biology major from Lehi, has set new school records in the water and hopes to reach more goals.
Hansen began her collegiate career at Brigham Young University where she competed her freshman year and then served a mission for the Church of Jesus Christ of Latter-day Saints. Upon returning, she reached out to DSU for recruitment after she heard about the new program.
"It was kind of a two-way thing," Hansen said. "I reached out to [DSU] first, and then they offered me a scholarship."
In her first season with DSU in 2017, Hansen became the first Trailblazer to compete in the NCAA Division II Women's Swimming and Diving Championships, and she hopes to reach the championship again this season.
"I actually really want to make it back and make it into the top 16 for the finals," Hansen said. "That's the dream goal for me this year."
Hansen recently broke DSU's record time for the 100-yard breast stroke with a time of 1:03.81 at the Colorado Mesa A3 Performance Invitational on Nov. 17, and she set a personal record of 2:07.27 for the 200-yard individual medley. Hansen also competes in the butterfly stroke and freestyle. For individual events, she holds DSU's top record for the 100-yard butterfly, 200-yard breaststroke, and 50-yard butterfly.
"I think she's just naturally talented," assistant coach Jamie Beckstrand said. "I think she has a really good feel for the water."
Head coach Tamber McAllister, who previously coached Hansen at BYU, said Hansen is a great athlete because she knows how to overcome adversity and keep a positive attitude.
"I have enjoyed coaching her at both BYU and now [DSU]," McAllister said. "I was sad when she left [BYU] but happy when I saw I had the chance to coach her again. I've known from day one that she is talented, so it's kind of fun now on the back end seeing how far she has come as well."
Hansen's coaches said they have plenty of confidence that she will continue to do well this season.
"She's right on track of her goal of returning to [the] NCAAs," McAllister said. "She's already gotten her best time on her 100-yard breast stroke, and we're only halfway through the season. So, hopefully she'll keep pushing forward, and I'd love to see her score at [the] NCAAs, and I think she can definitely do that."
As for her future, Hansen said she plans on finishing her collegiate career at DSU and has enjoyed her overall experience so much that she would love to become a coach.
"I only have one year of swimming left, but yeah after I graduate, I'd love to come back and still be with the team," Hansen said. "I love the camaraderie; it's more of a team than I have ever been a part of. And I really like the coaches and the overall experience I've had here at [DSU]."
Hansen will be competing alongside her team next at the San Diego Shootout on Jan. 5.