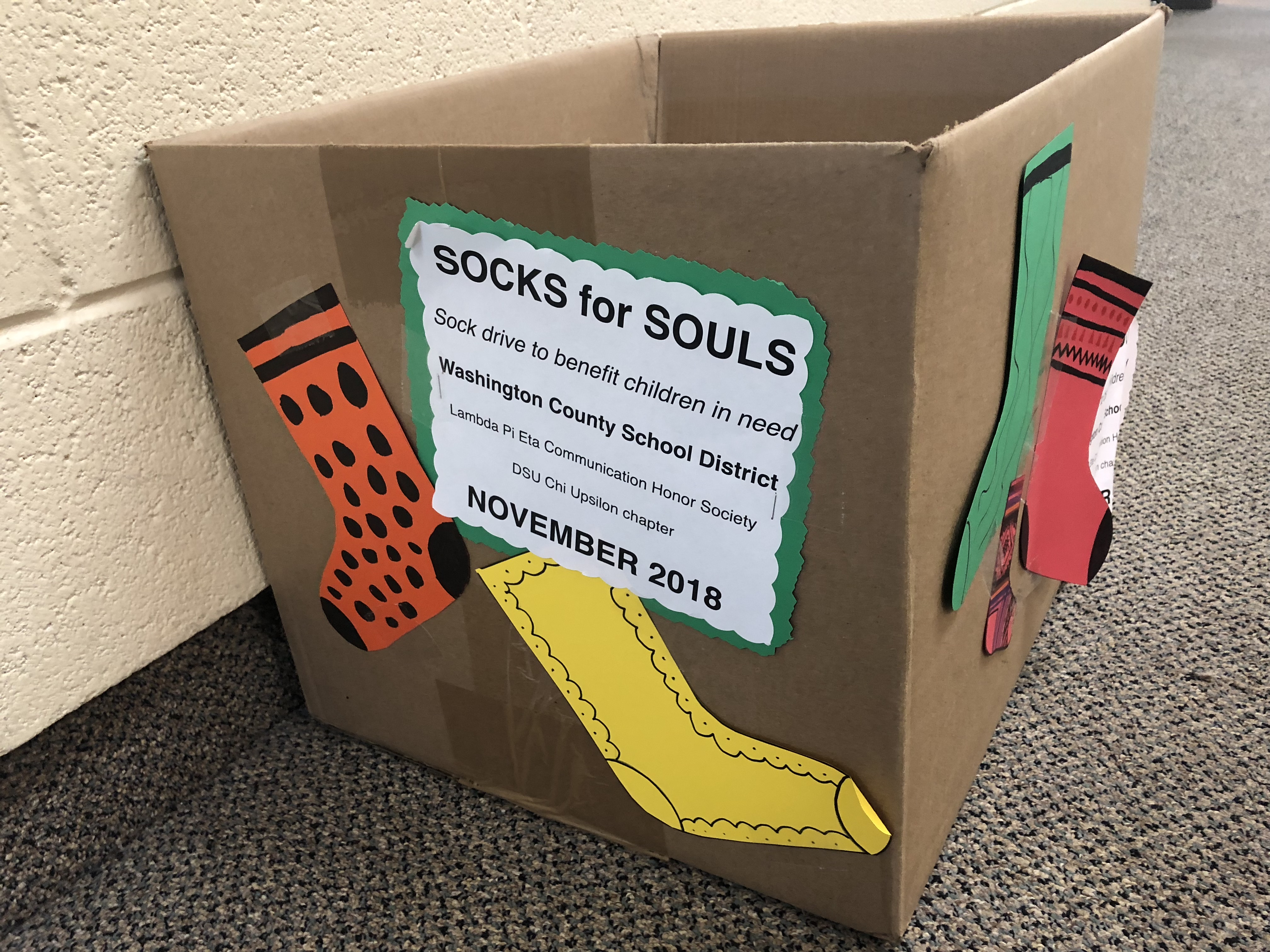 Photo by Monique Chavez.
---
The Dixie State University Communication Honors Society has partnered up with the Socks For Souls organization by bringing donation boxes to DSU's campus for the entire month of November to collect socks, underwear and beanies for underprivileged students in the Washington County School District.
Chi Upsilon, the local chapter of the National Communication Organization's honor society, does two service projects during the school year, one for each semester. This fall, they teamed up with Socks For Souls by providing two donation boxes on campus; one box is located in the Jennings Communications Building and the other in the Kenneth N. Gardner Student Center. The additional boxes are at both Fabulous Freddy's Car Wash locations in St. George on Bluff St. and River Road.
"[The clothing drive] is for little folks here at home that live on the street by us, and go to school near us, and have some special needs that aren't getting met," club advisor Jennifer Kohler, said. "So we're excited that we can provide some new socks for these little folks."
Tyler Clingman, senior communication major and Chi Upsilon vice president from Stansbury Park, said, "Over 30 percent of the school district has students who live in low income to homeless standards, so that's where we decided it would be great for these donations to go for the community and kids who are really in need."
Socks For Souls was founded by Kelly Kendall and his wife, Colleen Kendall. Kelly Kendall is also an adjunct communication professor at DSU. The pair came up with the idea for the organization after helping a homeless man in Salt Lake City. They connected with him on Facebook and asked him to go out and find the one thing the homeless community felt they needed most. The homeless man responded: "Socks. We would rather have socks than food. Socks are gold."
Socks For Souls has distributed over 100,000 pairs of socks and underwear from Logan, Utah to Las Vegas. Recently, the organization took a shipment to an orphanage in Mexico. They do this for the homeless, the women's and children's center, like the DOVE center, places effected by earthquakes and hurricanes, and elementary school students.
"The exciting thing about working with [DSU] is that we have several hundred students right here on our campus who are homeless," Kendall said. "Some sleep on somebody's couch, some sleep in their car, and they are so tenaciously eager to get their education. I am so amazed at their tenacity in doing that, and we want to donate some of these [items to them] here locally."
Joining Lambda Pi Eta is the promise of a life-long membership. In addition to the social program and two service projects they do during the year, the club occasionally has speakers and communication conferences in Salt Lake City that members are able to attend.
For more information about the Communication Honors Society, contact Jennifer Kohler at kohler@dixie.edu. To read the full story about Socks For Souls, visit this website.