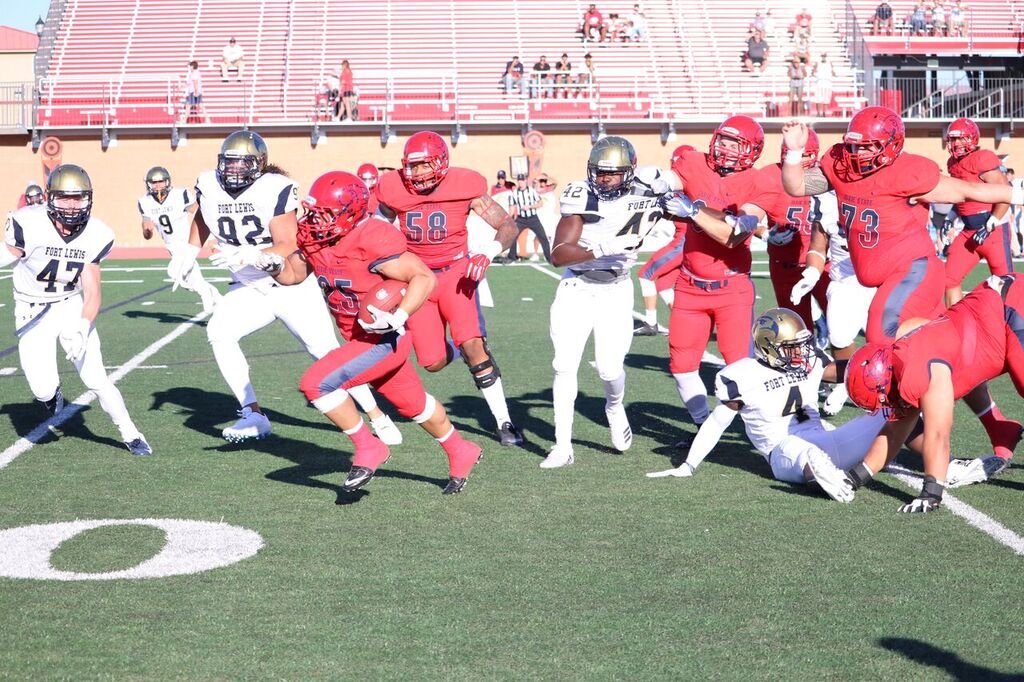 Sei-j Lauago, a junior, criminal justice major from Paramount, California, sprints towards the end zone against Fort Lewis College at the Trailblazer Stadium. While traveling the team tries to keep a business mindset to focus on the game. Photo by Madison Anderson.
---
As Homecoming week comes to a close, Dixie State University football players continue to celebrate.
DSU hosted their final football game of the season on Nov. 3 against Colorado School of Mines. The Trailblazers came out victorious over the No. 6 team in the nation. DSU is now 6-4 overall and 6-3 in the conference. This win marked the final home game, and left Trailblazers undefeated at home.
DSU honored seniors during a ceremony before the game. Head coach Shay McClure said it was exciting to take home such a memorable win.
"It feels great," McClure said. "And the best part is it feels great for these seniors, especially the guys who have been here four, five years. This is what we worked for."
Trayvon Watson, a senior communication major from Los Angeles, California, said he was both excited and emotional to play his last home game as a part of DSU football.
"I am blessed to be a [DSU] Trailblazer," Watson said. "This is my last year here and it was amazing to put on my [DSU] red in front of our fans. The team and fans here are everything; this is my family for life."
Watson started off the game with a 92-yard touchdown to tie Colorado School of Mines in the first quarter, 7-7.
"That first touchdown gave our team so much confidence and energy that was out of this world," Watson said. "Ninety-two yards, I mean that's crazy. It gave us so much motivation to keep that going, and we definitely kept it going."
The two teams battled back and forth throughout the game, with the final score of 52-45. The Trailblazers had been on a two-game win streak but never stopped fighting to win.
"We just made sure our energy was high," said redshirt kicker A.J. Yergensen, a sophomore business administration major from St. George. "After losing our last two games, we made sure everyone was positive and knew we still had something to play for."
The team went 5-0 for home games and players hope to set this as the standard for future seasons.
"We tried all season to be undefeated at home," Yergensen said. "That was something we knew we had to do. We are going to take that with us next year. No one is going to come into our house and beat us."
This is the best season DSU has had in the RMAC Conference, but for many players who will not be returning next year, it was a bittersweet moment, Watson said.
"I'm at a loss for words," Watson said. "We came out to play, and to set a legacy for our boys. I'm a senior so I won't be here next year but we went undefeated at home and we want that to continue for our boys in the years to come. I'm excited to see what this program continues to do."