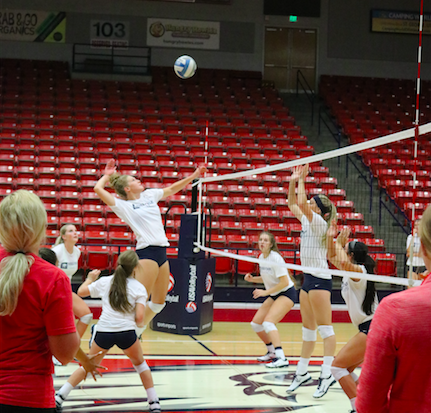 DSU volleyball practices in the Burns Arena before their first match. The team made the move to the Burns Arena this season, but continues to utilize the Student Activity Center when necessary. Photo by Madison Anderson.
---
Dixie State Volleyball came to the RMAC conference to do one thing, win.
DSU is currently ranked second in the RMAC conference in volleyball, is 4-0 this season, and 9-2 overall. Head Coach Felder and some highlighted players are happy to report that the season has begun even better than expected.
Head Coach Robyn Felder said, "Our incoming freshman looked fantastic playing with the rest of the upperclassmen. Within the first week of practice we could see where we needed to get better, and we have since then gotten better."
Rocky Mountain Athletic Conference awards have already been given to two players from DSU volleyball. Megan Treanor, a sophomore from Salem, was named the RMAC player of the week based off her performance against Colorado Mesa University.
"I was a late addition to the team, I transferred from Salt Lake Community College, but I am happy to be here," Treanor said.
Lauren Gammell has been named defensive player of the week two times in the last three weeks. She also leads the nation in blocks per set.
"The difference this year is we have so much depth," Gammell said. "Our team has twenty-one players which means four people per position. The opportunity to compete against each other before the actual game helps this team be more competitive this season compared to the previous seasons."
DSU volleyball continues the fight to keep their winning streak as they take on Colorado School of Mines, Friday at 7 p.m. in Golden, Colorado.