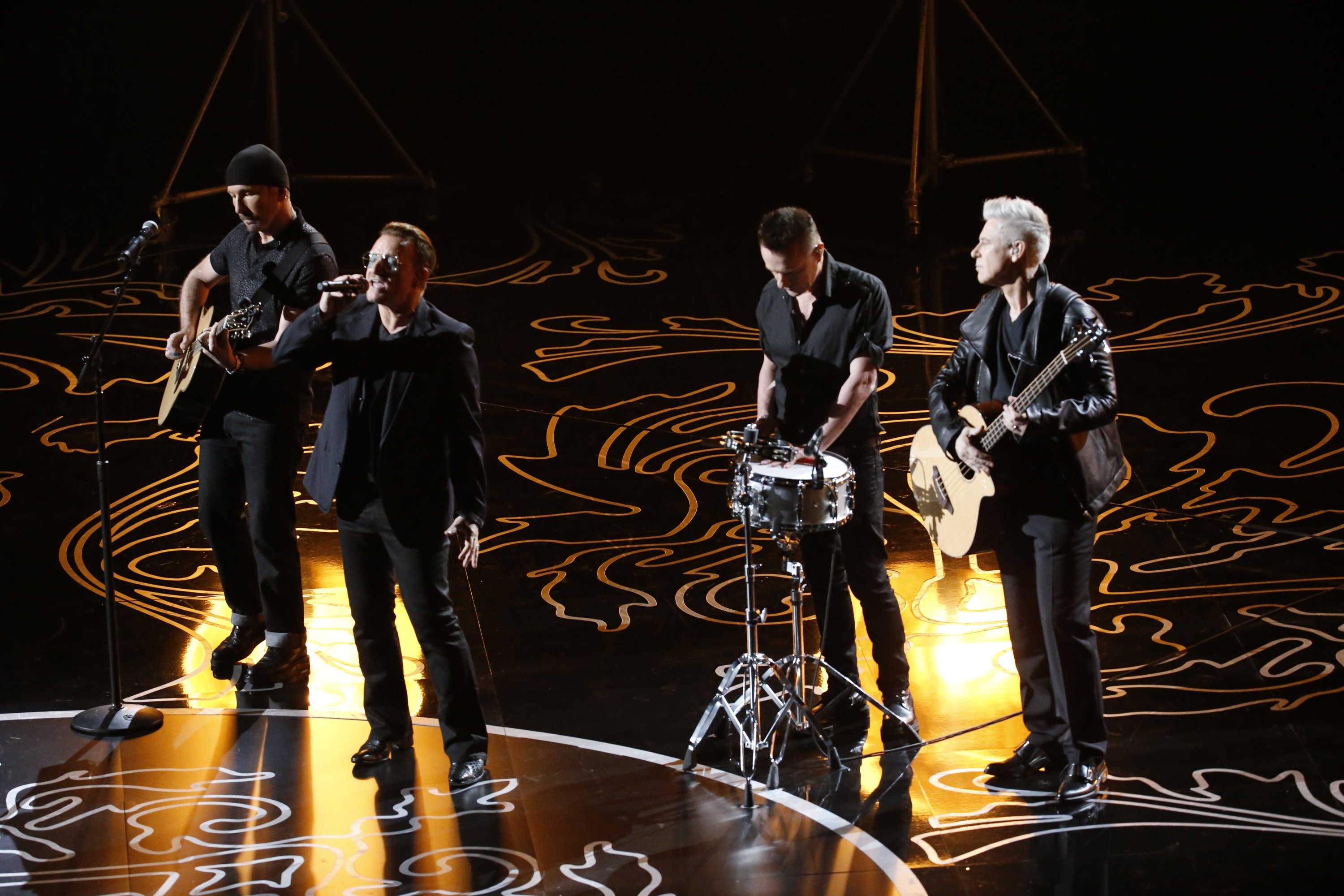 U2 performs during the 86th annual Academy Awards on March 2, 2014, at the Dolby Theatre at Hollywood and Highland Center in Los Angeles. TNS
---
By Stephen B. Armstrong
"You Can't Stop Rock 'n' Roll" is a bi-weekly column by Stephen B. Armstrong, a professor of English at DSU who teaches in the Professional and Technical Writing emphasis. The series focuses on culturally significant rock 'n' roll albums released over the past 50 years.
In the late '80s, U2 was the biggest band on the planet. The back-to-back releases of "The Joshua Tree" (1987) and "Rattle and Hum" (1988) had yielded smashes like "With or Without You" and "When Loves Comes to Town," which dominated popular radio upon their release and continue to this day to get airplay.
U2's success wasn't simply commercial. Lead singer Bono, whose voice could shoot through the octaves like an opera singer's, was (and remains) the band's lyricist, and his readiness to take on politics, God and the problems of the human heart in his words not only won over demanding music writers like Kurt Loder and Robert Christgau, but also Allen Ginsberg, the great American poet.
Also during this period, critics routinely compared the band's guitarist, the Edge, to Jimi Hendrix for his reverb-heavy approach to playing as bassist Adam Clayton and drummer Larry Mullen, Jr. drew plaudits for building percussive patterns that enhanced and synthesized Bono's and the Edge's soaring melodies.
Yet as the '90s commenced, U2 faced a creative block. The band's four members had grown tired of the often somber, anthemic songs they'd been writing and recording for a decade. They wanted a new sound and turned for inspiration to the dance-oriented rock that was then flourishing in Western Europe, in particular the big beat industrial noise of German bands KMFDM, Pig and Einstürzende Neubauten.
In turn, the band elected to cut its next album in Berlin in October 1990, just eleven months after that city's notorious wall had come down. With little in terms of new material on hand, Bono, Edge, Adam and Larry set up in an old ballroom that had been converted into a recording space, jamming and improvising as the tapes rolled. Assisting them were producers Daniel Lanois and Brian Eno.
The album that resulted from this labor, "Achtung Baby" (1991), stands out today as probably the band's most profound—an avant-garde party record worked up with pounding percussion, bubblegum hooks and guitar riffs that plow into your guts.
The lead track, "Zoo Station," for instance, starts with a series of pinging notes tapped out on the guitar followed by an onslaught of wrenching power chords. Bono's inimitable voice eventually appears over a bed of drum beats and bass notes—just moans and sighs at first—before crying out: "I'm ready for the laughing gas / I'm ready / Ready for what's next." Its title taken from a subway stop in Berlin, the song proceeds to hurl itself forward like a train that's running too fast; not yet out of control, but threatening all the same.
While block-rocking beats and layers and layers of electronic distortion similarly distinguish "The Fly," "Mysterious Ways" and "Ultraviolet (Light my Way)," "Achtung Baby" includes several softer pieces, too. Most famously, there is "One," with Bono declaring to his lover—or is it a sibling?—that the two are "one but not the same" as the Edge's fuzzed-out guitar flits about in the background, buzzing like hummingbird wings.
The influence of hip-hop asserts itself in some of these quieter songs, too. Old-school scratching permeates "So Cruel." On "Throw Your Arms around the World," Bono coyly copies LL Cool J's gliding flow, dropping pretty rhymes like "You've been falling off the sidewalk / Your lips move but you can't talk."
"Achtung Baby", historically speaking, belongs to another era—back when George H. W. Bush was president and the Cold War ended. But the album still sounds hip. Perhaps this is because Bono never wrote better lyrics than he did on these songs. And the serpentine melodies the Edge worked up for his guitar display a balance of technical deftness and melancholy that has often eluded him ever since.
This is not to say, though, that U2 went into decline after "Achtung Baby": there are tracks on "Zooropa" (1993), "All That you Can't Leave Behind" (2000) and "How to Dismantle an Atomic Bomb" (2004) that rival, even surpass, in terms of beauty and interest, many of the songs featured here.
But of all the really great records U2 has released over the last forty years, it is "Achtung Baby," and only "Achtung Baby," that shreds from start to finish.
Stephen B. Armstrong co-hosts "Maximum Rock 'n' Roll with Katie 'n' Steve" Thursdays at noon on Radio Dixie 91.3.