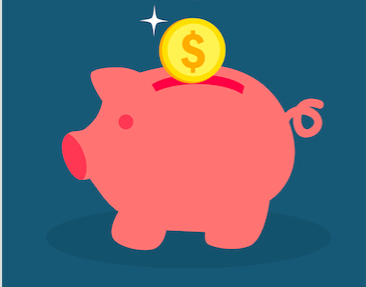 Graphic by Valerie De La O.
---
I moved to St. George four years ago thinking I could live on my own with a minimum wage job. Instead, I ended up living with my parents.
I'm not the only person in this position, either. There are other single adults who have to resort to living with their family because the cost of living alone is too high. This is due to the minimum wage being too low, forcing people to live with family or get a second job.
An article written for Washington Post  from June claims that a minimum wage worker cannot afford a two bedroom apartment anywhere in the country. This doesn't just affect single individuals. It affects families too. A married couple with a child cannot afford a two bedroom apartment on a single, minimum wage income. Both spouses would need to work full time to afford an adequate home.
Working full time at $7.25 an hour, I made approximately $15,000 a year. This was not enough for an apartment, food, clothes, gas and other expenses. The average cost of a one-bedroom apartment in St. George is approximately $700-$900. Grocery prices can also add up quickly. A gallon of milk at Walmart costs $2.29, eggs are around $1.18 and wheat bread can be as high as $2.78. Gas costs about $3 per gallon. To fill an average 12 gallon tank, that's about $36.
Even when earning $11.50 an hour, I had a hard time financially due to credit card debt and past school loans to pay off. Once I went back to school, full-time employment didn't work out. I had to cut my hours down to 20 hours a week. I was bringing home a little over $200 per pay check after taxes and benefits were taken out.
The one bedroom apartment I was dreamed of getting was definitely out of my price range. My parents were going to have me as a housemate for quite a while longer.
Living with family does cut down on expenses, such as rent, utilities and food. However, with my current debt, I would need to make around $1,000  a month to pay bills and still live comfortably. A job paying $20 an hour with a 30 hour–work week would provide $600 per week. That comes to $1,200 a month on a bi-weekly payday. There aren't any restaurants, retail or customer service jobs in St. George that pay employees $20 per hour. This information and wages for other occupations can be found on the Bureau of Labor Statistic's website.
My thoughts turn to college students who live away from home and are typically the ones working at restaurants, fast food establishments and movie theaters, which all pay minimum wage. One exception is In–N–Out, which starts employees at $11 – $12 an hour depending on the position you are hired for.
At $7.25 an hour, the annual income of a college student working part time comes to an estimated $10,000. If you figure in the average cost of expenses, along with college fees, it's a wonder how these students are able to manage.
At the very least, the minimum wage could be raised to $11 per hour to meet the cost of living for one adult in St. George. According to the website livingwage.mit.edu, that amount is an estimated $23,000 each year.
One argument against raising the minimum wage is that it will affect small businesses. An article on Quickbooks says that even a $1 increase would make turning a profit difficult for small businesses, with some business owners saying they would need to lay off employees should the minimum wage increase.
That may be true for some small business owners, but one of the reasons small businesses have difficulty retaining employees is due to lack of pay. Therefore, an increase in employee pay would lower the retention rates for businesses and increase morale. An increase in morale among employees would effect how well they do their job, which would in turn, effect customer retention and attract more business.
If the goal is to improve people's ability to live in this economy, then raising the minimum wage is a good option. It can make it easier to live in a city like St. George, where the cost of living is higher than what minimum wage provides. It would give people an opportunity to live in a way where they don't have to search the grocery store for discounts, turn to low income housing, or even apply for welfare.