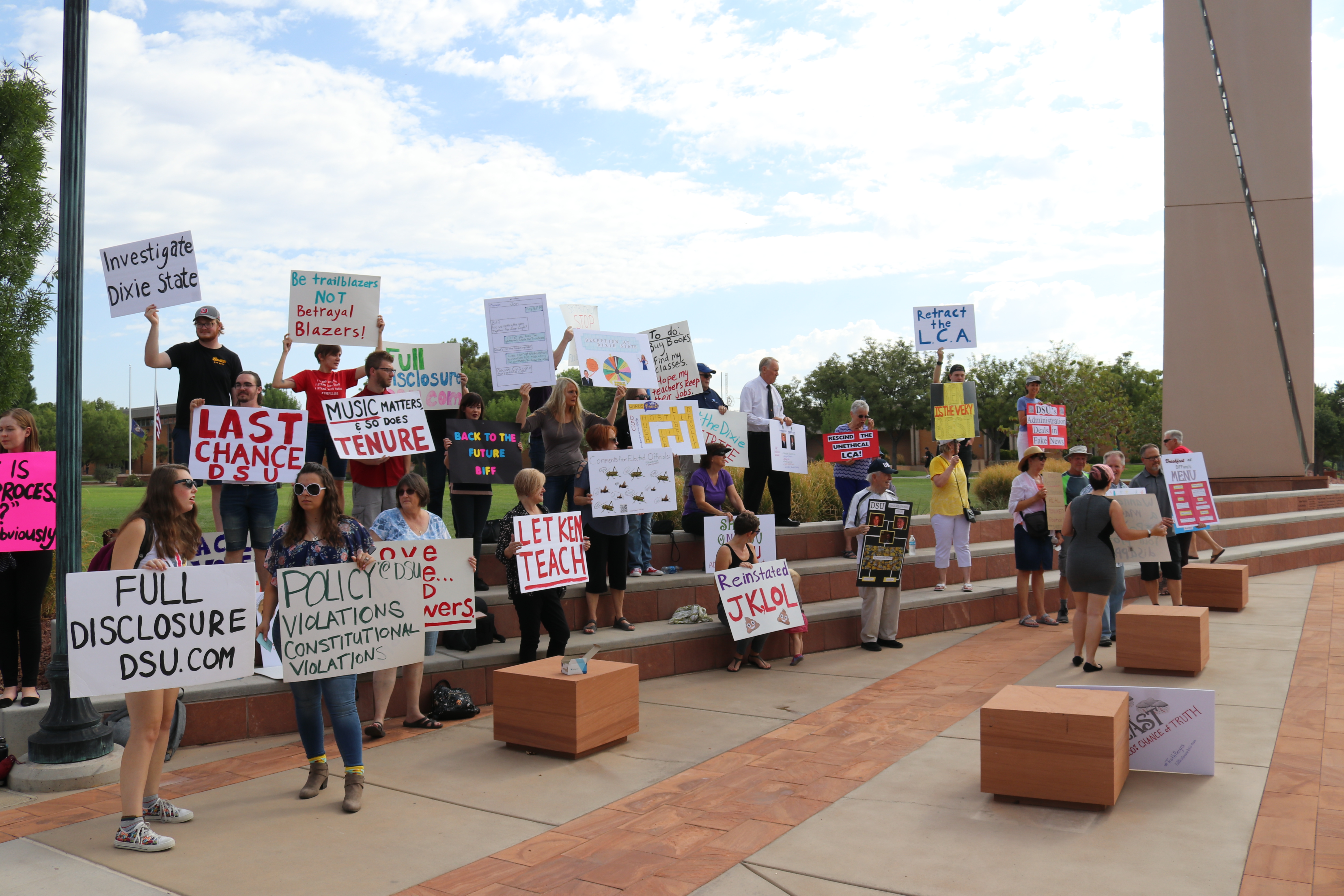 Photo by Madison Anderson.
---
As Dixie State University rings in a new semester, a crowd of protesters took residence on the steps across from the Jeffrey R. Holland Centennial Commons building early Monday morning.
DSU alumna Corinne McFerran organized the protest to call attention to the sudden termination and reinstatement of professors Ken Peterson and Glenn Webb last spring. McFerran has been following the  administration's activities since the termination of Varlo Davenport in 2014, and she believes the administration has been disrespecting its professors for years without any checks and balances.
"Their ego must be so strong because they have no ability to apologize, to recognize when they are wrong, and that's not the kind of administration you want," McFerran said. "You need an administration that is able to live up to their faults…and, you know, what kind of employer treats their respected tenured employees this way?"
Amanda Morrill, an adjunct professor for the school of music, took over Webb's classes when he was placed on leave, and she said she was at the protest because what the administration is doing to the professors has a large impact on students, and she feels someone needs to advocate for them.
"I would like to see discipline procedures followed, neither [Peterson] nor [Webb] had ever been disciplined before at [DSU]," Morrill said. "This could have been any number of like probationary measures, it did not need to jump to termination, it definitely didn't need to jump to termination mid-semester, the timing seems like no one took students into account when they were pursuing this."
Nick Lanners, a DSU alumni and one of the first students to ever graduate from DSU with a music degree, was also in attendances and he said he would not be where he is today without both Webb and Peterson. Lanners is a band and choir teacher at Pineview Middle School, and he said even after he graduated the professors supported him in his career and had been known to visit his class and help teach lessons on occasion.
"It's an awesome school and when I was here it was great and it had a lot of great teachers and those people shaped who I am and basically allowed me to succeed, helped me to succeed and get a job right out of college," Lanners said. "All of this nonsense going along with Peterson and Webb getting fired and everything, it bums me out because it is killing a great program that was thriving and growing."
McFerran said she plans on continuing to shed a light on the administration and hold them accountable for the choices they make.
"We want to show them that we are not going to forget about this, this isn't going to get swept under the rug, and I remember, I remember everything you did Varlo Davenport I remember what you've done to Glenn Webb, I remember what you are doing to Ken Peterson and we are not going to forget about it," McFerran said.