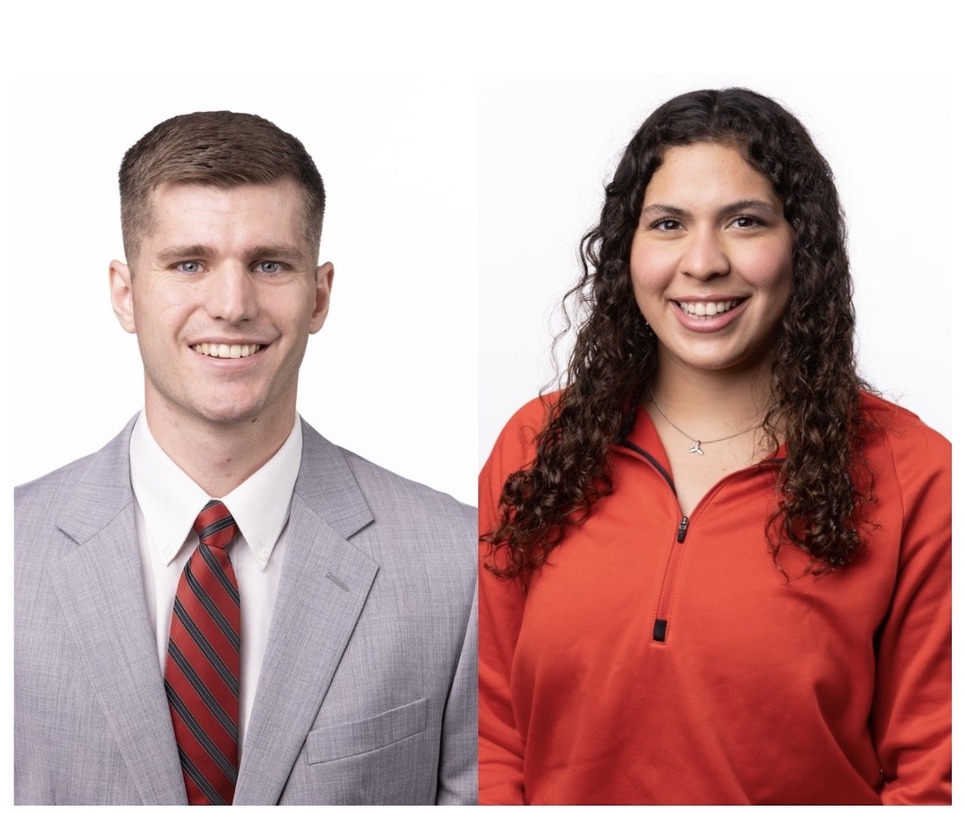 Hunter Schofield is a senior exercise science major from Spanish Fork, who is #44 on the Men's Basketball team. Paulina Sansores is a freshman buisness management major from Queretaro, Mexico who is on the Women's Swim team. They were both awarded athletes of the month for this month of Feb. Photo Courtesy of UMAC
---
Dixie State University's athletes Paulina Sansores and Hunter Schofield continued to go the extra mile while carrying their teams.
Paulina Sansores
Paulina Sansores, a freshman business management major from Queretaro, Mexico, started swimming when she was 4-years-old and has been racing since she was 7-years-old.
Sansores has performed exceptionally during the 2021-2022 swimming season. During the Idaho Dual meet, she went three for three in her events. These events were the 500 yard freestyle, 1,000 free and the 200 IM.
Head Coach Dan Kesler said it was big for the team to beat Idaho because they are in the WAC championship.
With those achievements along with the rest of her victories during the season, Sansores was recognized as athlete of the month.
Sansores said being athlete of the month as a freshman is "crazy" and is a confidence booster for her.
The athlete of the month award shows the hard work Sansores has put in throughout the season.
Along with the hard work and effort Sansores puts into her sport, her teammates are a big part of the athlete she is today. Sansores said one of Kesler's goals is to have a supportive team no matter what.
"When I took down the school record, they were all cheering right next to me," Sansores said.
Kesler said when you are involved in a group with a common goal, you are unstoppable.
Sanores is looking forward to the WAC championship on Feb. 23-26 in Houston, Texas.
"I really want to be on the podium and take down my own school record," said Sanores.
She has been preparing to beat her 1000 by working on her heart rate and tempo the past three months.
Hunter Schofield
Hunter Schofield, a senior exercise science major from Spanish Fork, has had many accomplishments throughout his basketball career. His performance and hard work this season resulted in him being selected as an athlete of the month.
During Schofield's 2019-21 season, he broke two of DSU's records and averaged 16.4 points a game, which put him at fourth on DSU's single season list.
His 2020-21 season consisted of earning Academic All-WAC Honors, finishing the season with 5.9 rebounds per game (9th in the WAC), and becoming the third player in NCAA era to earn CoSIDA Academic All-American second team.
Schofield is currently leading the Trailblazers in points, rebounds and blocks this season with 399 points, 161 rebounds and 15 blocks.
"It's cool to be honored like that, but really all I'm trying to do is go out there and do what it takes to win for my team, but it's good to be honored for the hard work I've put in,"Schofield said.
On Feb. 19, Schofield led the Trailblazers in scoring against UVU. Schofield moved up to fourth in career points and rebounds during this game.
"I've had the best teammates. Teammates that trust me and I trust them, when we do that we can get a really good game," Schofield said.
Along with Schofield's athletic success, he recently became a two-time CoSIDA Academic All-American District 8 honoree.
Schofield and the Trailblazers will be back in the Burns Arena Feb. 24 to take on California Baptist University.