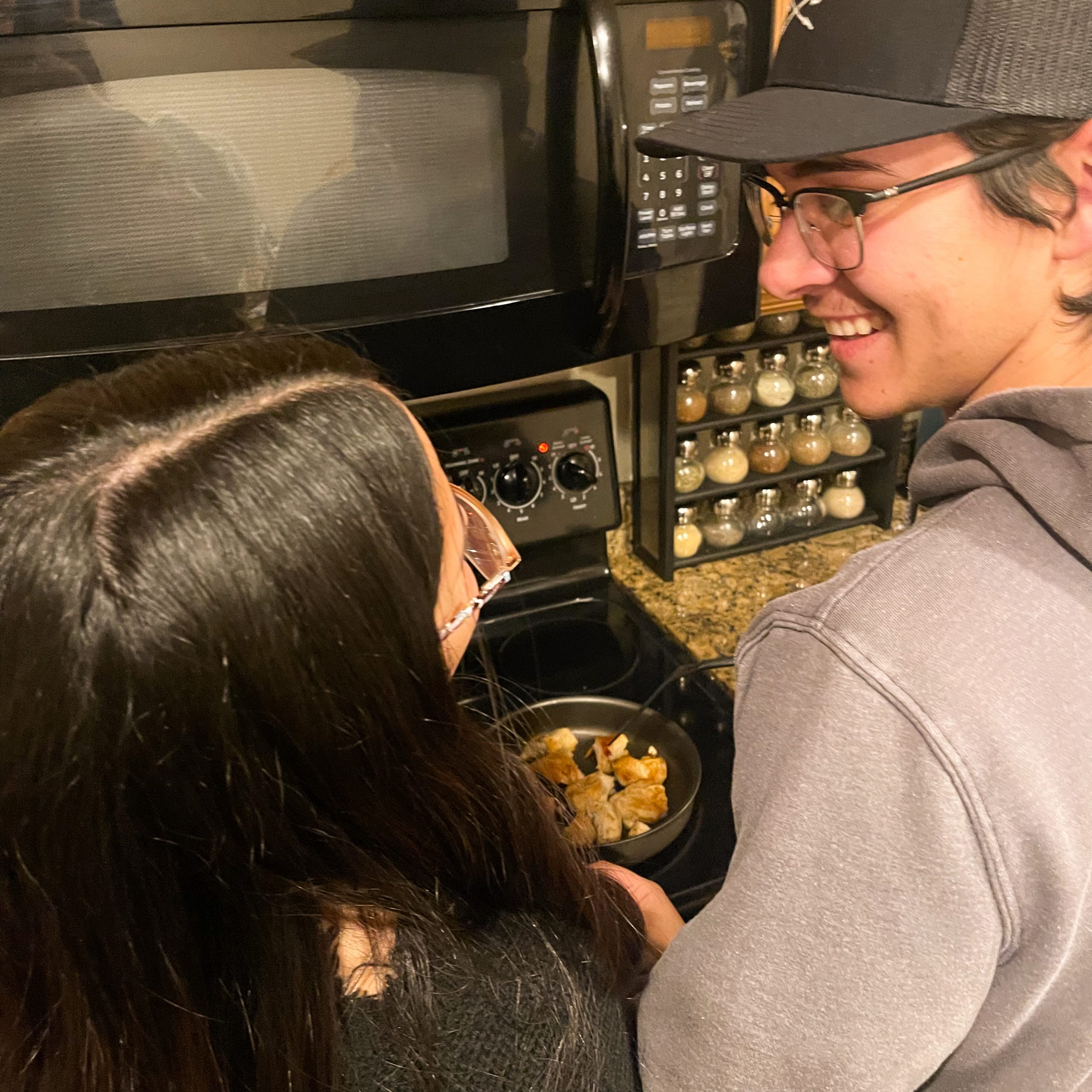 Cooking does not always need to be boring. With the right one or your favorite people, it can be fun, exciting, and something to look forward to. Photo by Frankie Medina.
---
With Valentine's Day coming up, there is no better way to celebrate than to make plans with your friends, family or significant other.
Here are fun and affordable date ideas you can do in St. George during the pink and red holiday.
Fiesta Fun Family Fun Center
Fiesta Fun has lots of activities to do at various price ranges. They have mini golf, bumper boats, bowling, a full arcade and more. This is a fun and diverse option for anyone.
The arcade offers classic games from air hockey to Skee-Ball. It also has games like Deal or No Deal and virtual reality games like King Kong of Skull Island. (Hint: the more tickets you win in the arcade, the bigger the prize.) This atmosphere will be what you make it to be. Whether you attend with friends, family or your significant other, it is sure to bring enjoyment.
Snacks and a movie
If you're a homebody and like staying indoors, you can never go wrong with snacks and a movie with your favorite person. Go to the grocery store, grab your favorite snacks and stay in for the night to watch your favorite shows and movies.
Staying in can be just as fun as going out. Take it one step further with red and pink Valentine's Day decorations, buy some heart shaped cookies and watch a romantic movie. This is appropriate for friends and family or with your significant other.
Smash Labs Rage Rooms and Axe Throwing
Smash labs and axe throwing are a perfect way to add fun to your Valentine's Day. This place has different options of things to throw, there are axes, throwing cards and ninja stars. The smash labs have different objects to smash like TVs, glass and stoves. They have various price options depending on time, people and activity you choose.
Although they may not have Valentine's decorations, this makes for a good first date or if you want sentimental time with your loved ones.
Cooking dinner
When in doubt, cook dinner together. This can be baking goods or trying a new recipe. This allows you to create something delicious with your loved ones while also having bonding time. The best part is it you get to enjoy it afterwards. You can find a new recipe to try or stick with a family favorite.
Cooking dinner is always a plus, you get to have quality time while also having the satisfaction of creating something together. Try making heart-shaped cupcakes or frost cookies together.
Game night
There are many different kinds of games for a game night. Play music, grab your loved ones, a few snacks and enjoy a fun night full of laughter.
You can go for a classic game like Monopoly, or you can make your own games. A couple of ideas are balloon tennis, hopscotch and a paper plane contest that will take game night to the next level.
Picnic
Picnics are a great way to bring everyone together. Make it more interesting by making it a potluck and have everyone bring their favorite dish.
Decorate for the holiday by using blankets with hearts on them. The cheesier, the better. You can even take it one step further and add painting activities and games.
Hike
St. George has hikes all around town that are perfect for a Valentine's Day date. If you love the outdoors then grab your friends and head to a trail in Snow Canyon State Park or Zion's National Park.
The best part of this idea is that you can go with more than one person. Go in a group of your family and friends, and if you have a special someone, take them too. The more, the merrier.
Virtual date for long distance
Whether your significant other is two hours or two states away, this is the perfect option. Treat this like an actual date, the more serious you take it, the more real and enjoyable it will feel.
This can also be done with your family. If you can't make it home for this Valentine's Day, make it through the screen. Put a lovely Valentine's backdrop up and celebrate with your family or significant other.
There are endless possibilities for Valentine's Day this year. Gather your favorite people and put your creative minds together and something memorable and fun will come about.