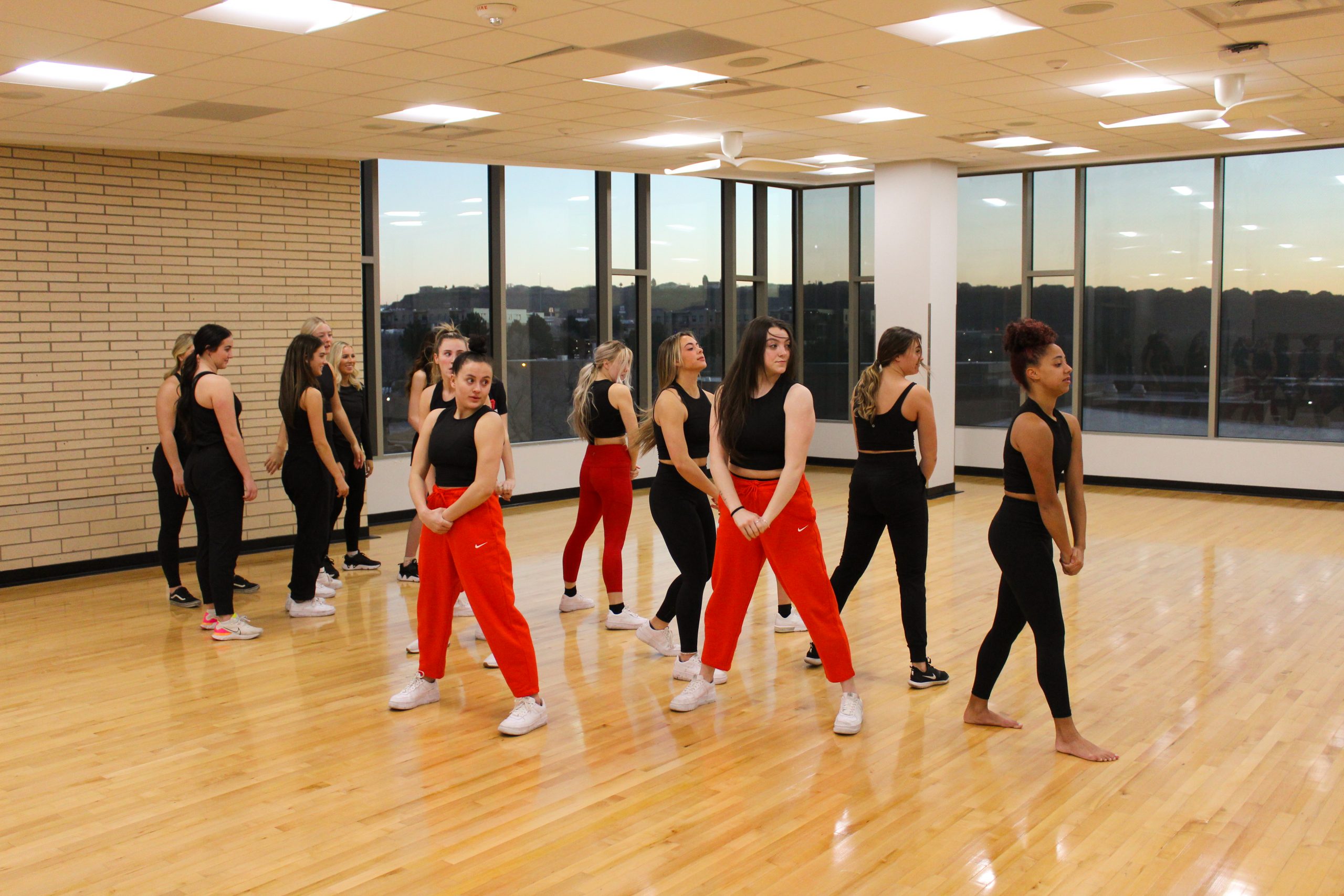 Dixie State Blaze Dance team prepares for competition season by practicing their new routine. They continue to work hard by getting up early for their 7a.m. practice on Friday, Jan. 28. Photo by Trey Urban.
---
The Dixie Blaze Dance Team finally has its first opportunity to compete against other Division I dance teams.
Dixie State University recently transitioned to DI athletics in July 2020, providing sports teams opportunities to compete at a higher level. For the first time ever, the Dixie Blaze will represent DSU as a DI dance team on Feb. 26-27 in Anaheim, California.
The team will be competing for nationals in the category of hip-hop against other teams who are also competing for the chance to bring home a first place nationals title.
The Dixie Blaze started their 2021-2022 season performing at half time shows at DSU football and basketball games. As the competition gets closer, the team is focusing most of their practices on choreography, mental preparations and motivational encouragement.
Ruby Thorsen, a freshman management major from Draper, said practices are going well as the team prepares for the upcoming competitions. One main factor the team relies on after practice is their motivational speeches.
Zaylie Parkin, a sophomore integrated studies major from West Jordan, said the motivational speeches are anything to lift the team up. This includes quotes, videos and pictures that the dancers find. The team attempts to relate these to what the team is struggling with at that practice.
"These motivational speeches help us stay motivated and encourage us to keep pushing to our end goal," Thorsen said.
Thorsen said she plans on rehearsing outside of practice to help prepare for the stress the competition brings. Thorsen takes every opportunity she has to rehearse the routines and choreography. She spends time practicing at the Human Performance Center (HPC) training rooms in front of mirrors.
"My personal goals for the competitions are to go 110% during the practices and performances," Thorsen said.
Brooklin Pace, a junior business administration major from Herriman said, the team is like a family and they are each others biggest supporters, everything they do is for each other.
A few members of the Dixie Blaze said their nerves are intensifying as the first competition is transpiring.
Parkin said she is nervous because the team has a lot to prove this year, and they want to give a good first impression.
"It is nerve racking going into a competition like this knowing that we are going to be competing against other experienced DI teams," Parkin said. "It is also scary knowing that we are representing DSU as a DI dance team for the first time ever."
Pace said the scariest thing about going into these competitions is competing itself. She finds she is most nervous about being on the mat and performing.
"Being DI is crazy, we are so excited to cheer on the other teams and show them that we are ready for what is ahead," Pace said.
Thorsen said she is most nervous for the performance with her team. "I don't want to let my team down since we have worked so hard and we continue to put in the work."
The Dixie Blaze, representing DSU as a DI dance team, will finish out its season with its newest opportunity to compete at a higher level.