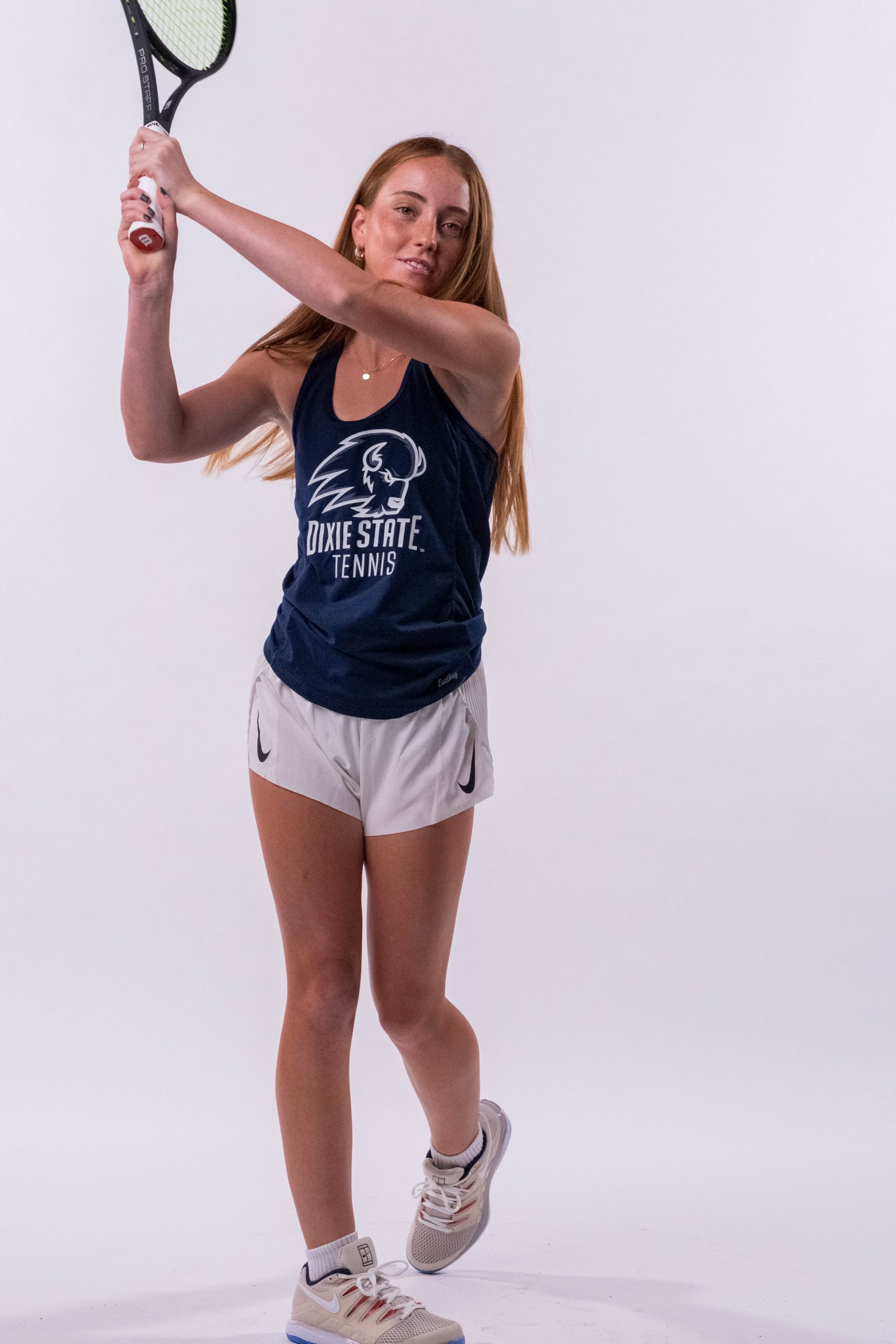 Showcasing her swing is freshman Jane Dorny, from Draper. We can't wait to see what the women's tennis season brings this year. Photo courtesy of University Marketing & Communications.
---
The Dixie State University women's tennis team had a slow start to the season, losing both of its first two matches.
The team played against the University of Utah on Jan. 15, losing 0-7 during both matches. Last season, the team finished 5-15 with two of its winning matches coming from its conference matches.
Head Coach Eric Pelton said since moving to Division 1 the team was able to finish fifth in the conference last year. He said he hopes the team can keep moving up in the conference this season.
With a D1 season under the team's belt, Pelton said they are more aware of what to expect going into this season. The players are figuring out what they need to be doing during practice to be able to overcome the competition during matches.
"We need to be more effective at closing out games and being able to win more of the big points," Pelton said. "That's the big thing we've been working on in practice is just being able to finish off in the big moments."
COVID-19 altered the nature of the team's performance when the players had their season cut short in 2020 due to the onset of the pandemic. Pelton said the players had their practice time reduced, causing them to produce the same results in less time. This season, however, has been less restrictive, allowing the team more time to practice on the court.
Sabrina Longson, a senior dental hygiene major from Salt Lake City, said it was difficult to keep up with tennis when their season was abruptly canceled.
"Now that things have calmed down a little bit I feel like it hasn't changed too much, but definitely figuring out how to practice on your own has been tough," Longson said.
Juliana Honczaruk, a senior business administration major from Corrientes, Argentina, said her goal during her final season on the team is to take in every moment of practice and matches. Honczaruk said a major goal for all the players this season is to work on building team chemistry.
Longson said the players also want to concentrate on supporting each other as much as they can during their matches. Along with team connection, the team is focused on improving their doubles.
With conference matches approaching in April, Pelton said the team is currently focused on preparing for the competition that awaits them toward the end of the season. The team will play against New Mexico State University, Grand Canyon University, Seattle University and Chicago State University during the conference.
"Those [pre-conference matches] are more of an opportunity to prepare us to be able to win more of the conference matches and to be able to finish in the top of the conference," Pelton said.
Longson said she is looking forward to the team's conference matches in Seattle against New Mexico State University and Grand Canyon University. She has never traveled to Seattle, so she is excited to explore the city.
Honczaruk said she doesn't have a specific match she is looking forward to playing; instead she just does not want the team to lose 0-19 this season.
"We lost a lot because of the transition to D1, but I'm going to try my best to win as much as I can while enjoying it," Honczaruk said.
The Trailblazers play their next match on Jan. 22 at 10 a.m. against Weber State University in Ogden. The team plays their next home match on Feb. 11 at 11 a.m. against Utah State University at the Trailblazer Tennis Courts.