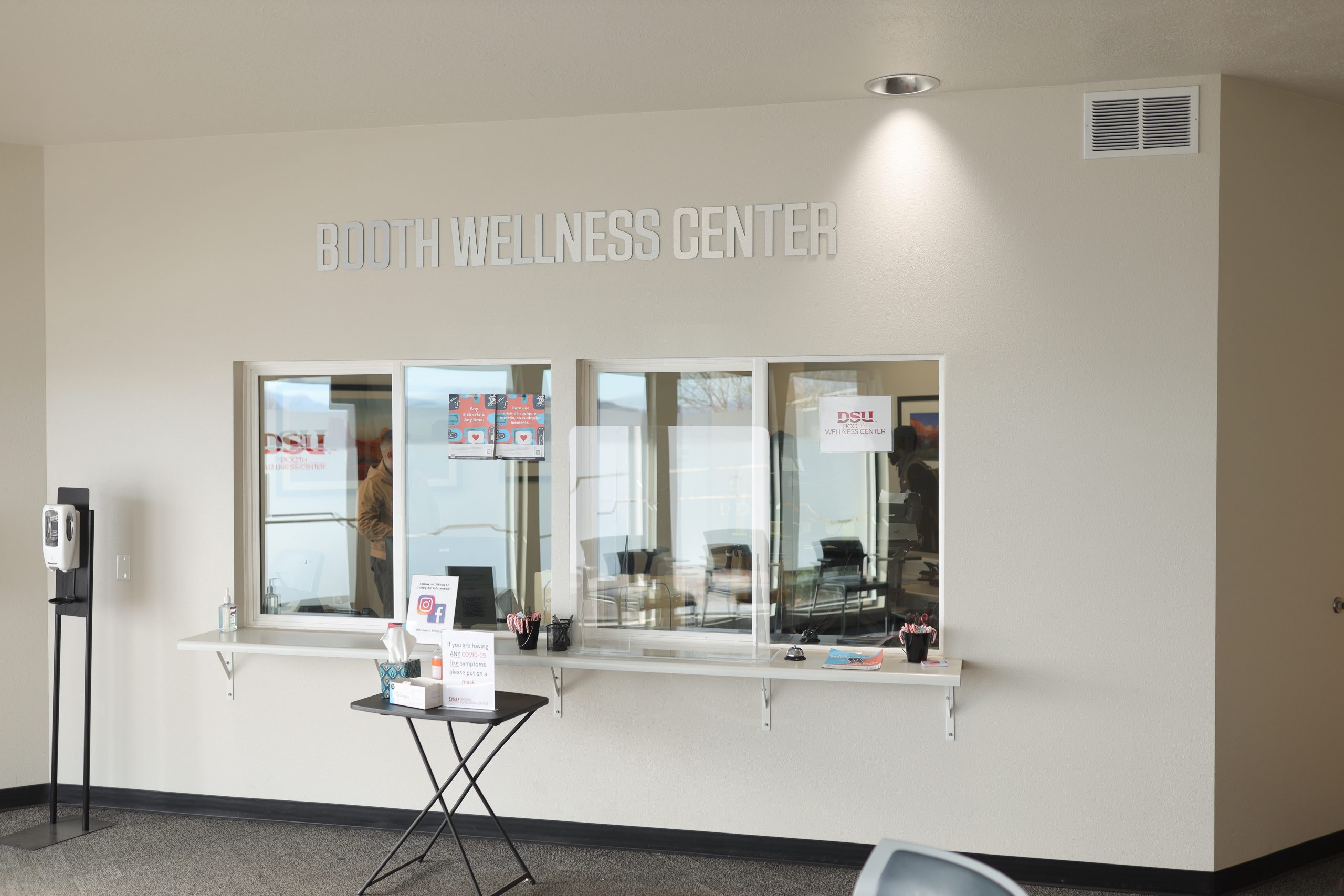 There are a few resources on campus that help students combat mental health issues. The Booth Wellness Center, DSU PD, and the dean of students are a few examples. Photo by Misha Mosiichuk.
---
Dixie State University's Booth Wellness Center is adding more staff because of the rise in anxiety, depression and substance abuse issues amongst college students.
The BWC hired a part-time psychiatric nurse, Janel Hillstrom, just a few months before school started.
"More and more we are finding students coming to school having previous psychiatric care [and] needing medications," Garyn Gulbranson, director of the BWC said. "Some [out-of-state students] may not have insurance in the state of Utah. If you are not able to get your medication it helps to have these psychiatric resources on-campus."
Gulbranson said any local psychiatric nurse will take four to six months to book an appointment, but students can book an appointment with Hillstrom within two weeks. Gulbranson hopes to make the position full time in the next few years.
Gulbranson said, "We've received an increase in demand for student services (student counseling) [and] we are working on developing budgetary plans to promote more staff."
In the future the BWC plans to hire more medical professionals; psychiatric nurses, psychologists, and interns. With more medical professionals the center will be able to acquire practicum students, this further expands mental health services for students.
The BWC also offers counseling for faculty or staff who may be struggling with mental health issues for a fee of $35 per visit.
Gulbranson suggested faculty and staff use the Bloomquist Hale life assistant counseling through the HR department. This allows employees to contact counselors, crisis counselors and people they can talk to 24/7 in case of a mental health crisis. QPR training is also recommended for faculty and staff.
The BWC also encourages all students, faculty and staff to complete mental health first aid training. This is a skill-based training course to teach individuals about mental health and substance abuse issues.
How DSU police can help
Blair Barfuss, DSUs chief of police, said if DSU police come across someone who is showing signs of mental health trauma, or if they are expressing suicidal ideations, they will contact the BWC.
If you think a friend might be suffering from a substance abuse or any mental health issues, Gulbranson encourages you to ask their friend if they are OK or if they need help.
Signs of someone who is struggling with mental health issues or any kind of substance abuse include, but are not limited to, anxiety, depression, social withdrawal, fatigue, irritability, mood swings, and/or dramatic changes in eating or sleeping habits.
If a student thinks their friend is struggling students can download the DSU Safe app or SafeUT app to contact police with a non-emergency report.
Both DSU police and the St. George Police Department will be notified and decide who will perform a wellness check on the student of concern.
Other campus resources
Ali Threet, dean of students, explained DSU has set up resources to take care of students' basic needs to help alleviate stress. Threet said the food pantry is available to students at any time as often as needed.
"If students are worried about their basic needs… it's just going to escalate their problems," Threet said. "I am trying to figure what are the barriers that are adding to the difficulties students face on a day-to-day basis."
Threet is also helping students' mental health by working with the BWC to help evaluate the risk score of each individual student, then determine the best treatment option for them.
Threet explained that each person is at a different point in their stage in their mental health and she wants to be able to help all students.
Any DSU students who may be struggling with a mental illness and/or substance abuse problem should contact or visit the Booth Wellness Center at (435) 652-7755.