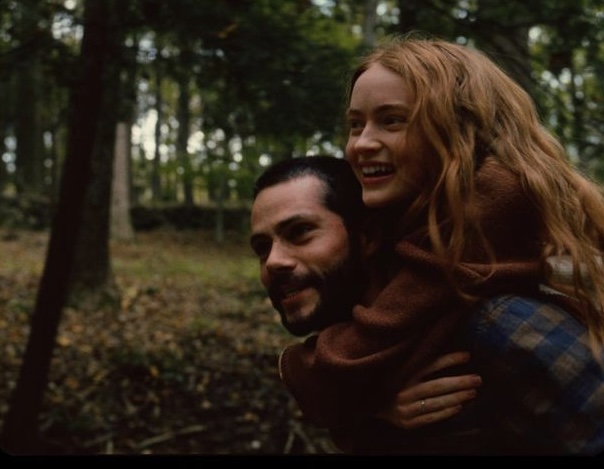 Dylan O'Brien and Sadie Sink star in Taylor Swift's short film, All Too Well, that accompanies a song of the same name off her new album, Red (Taylor's Version). Swift's re-release of her old album Red has her fans all in their feelings as they relive her famous breakup album. Photo courtesy of Taylor Swift's album.
---
Next in the series of re-released and re-recorded albums, Taylor Swift has released Red (Taylor's Version) much to the delight of her fans across the world.
Swift is currently re-recording her previous six albums after the masters to her albums were purchased by Scooter Braun in 2019. Red (Taylor's Version) is Swift's latest release and according to Paper Magazine, the album has become the "most-streamed album in a single day by a female on Spotify."
Swift broke her own previously held record by receiving a total of 90.8 million global streams in one day for Red (Taylor's Version). The previous record was also held by Swift for her album, Folklore, which received 80.6 million streams in one day.
Similar to her release of Fearless (Taylor's Version), Swift included songs on the album that were not released in the original version of Red. Swift also brought on well-known singers, like Phoebe Bridgers, Ed Sheeran and Chris Stapleton, to perform songs with her for the album.
One of the songs from the album, "All Too Well (10 Minute Version) (Taylor's Version)" has become a fan favorite despite being a 10-minute and 13-second long song. According to Guinness World Records, Swift's 10-minute song has become "the longest song to reach No. 1 on the Billboard Hot 100."
Swift accompanied the release of the song with a 14-minute short film, All Too Well, starring Dylan O'Brien and Sadie Sink. Swift directed the film and within less than a month since its release, the short film has gained more than 50 million views on YouTube.
I'm not usually one to enjoy long songs, but "All Too Well (10 Minute Version) (Taylor's Version)" has quickly become one of my favorite songs on the album. The song is much angrier and less restrained than the previous version of "All Too Well" that was released on the original Red album. Swift doesn't hold back and everyone is thanking her for it. The song resonates with people who know all too well (pun intended) the painful experience of reliving memories from a past relationship after a heart-wrenching breakup.
Another song that I've been playing on repeat is "Nothing New (Taylor's Version)." Swift performed the song with Phoebe Bridgers, one of my favorite artists who is known for her songs "Motion Sickness" and "Kyoto." The song discusses the naivety of being young and the unnerving burden of growing older. The lyrics, "How can a person know everything at 18, but nothing at 22," adequately captures the sense of competence we have when we're young that we lose when we grow older and realize we aren't sure of anything anymore.
If you're searching for a more spiteful song to help you enter your post-breakup era, I suggest listening to "I Bet You Think About Me (Taylor's Version). Chris Stapleton, known for "Tennessee Whiskey" or "You Should Probably Leave," can be heard performing alongside Swift on this track.
Swift told Billboard she wrote this song to serve as a "tongue-in-cheek" take on a breakup to balance out the more "stoic and heartbreaking" songs on her album. She said this song highlights the stage you arrive at after a breakup where you just lose the ability to care about what anyone thinks about you. Swift released a music video for the song featuring herself and Miles Teller in a playful revenge sequence that takes place at a wedding.
Red (Taylor's Version) re-establishes Swift as a lyrical genius who has managed to reinvigorate old songs with new meaning. Whether you are mourning the loss of a romantic relationship, feeling bitter after a nasty breakup, or you are simply a self-proclaimed Swiftie, Red (Taylor's Version) has a song that everyone can jam to, or more likely, cry to.