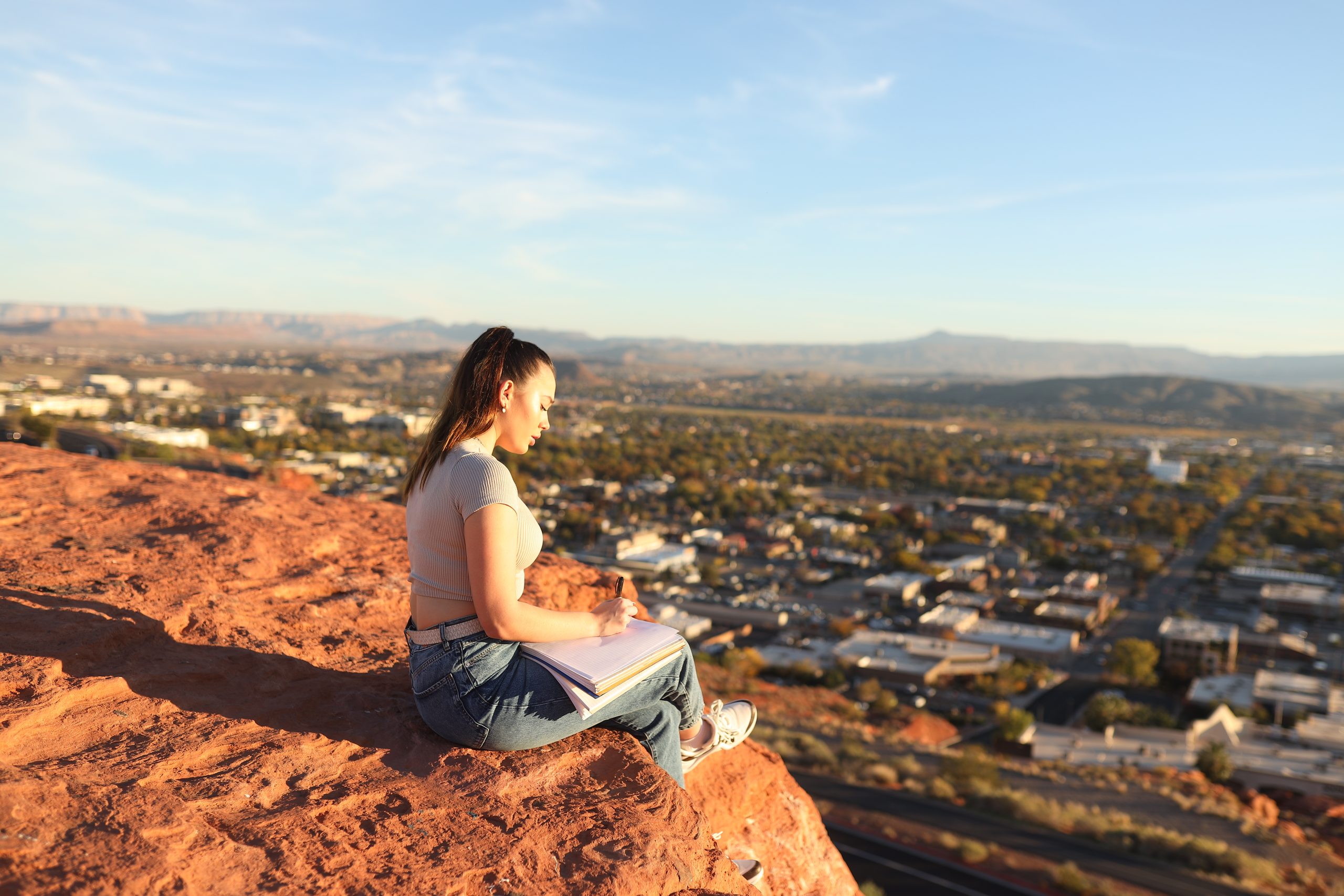 Selena Thalia Barbera Moyano, a freshman double majoring in communication studies and business management from Sotogrande, Spain, does homework on Dixie rock. Writer Bailey Chism argues that DSU doesn't offer enough summer courses for students. Photo by Misha Mosiichuk.
---
Dixie State University isn't giving its students the opportunity to take required courses for our majors over the summer.
The summer course catalog for DSU is small, and because of this, we don't get a lot of options as students. Mostly 1000 and 2000 level classes are offered, but no upper-division ones. If students had more options for summer courses, more students would enroll in them. By doing this, it can help graduation rates or help students graduate early.
While summer is usually a reset for students, there are people who would like to get ahead in their studies to graduate on time if not early. But, when looking at the courses offered, students find they won't be able to take the classes they need for their specific major.
Summer classes aren't for everyone; it's a much-needed break for some but an opportunity for others.
According to an article by Affordable Colleges Online, "… with more and more summer classes being offered online, students can pursue coursework in the offseason without give [sic] up their summer break to earn extra credits, make up courses, pursue an early graduation or focus on an especially difficult course."
I took a class over the summer and it got me one step closer to being able to graduate early, but there was only one class I could take. It's hard taking a class over the summer because it doesn't feel like we get a break, but looking back, I still had a fun summer while taking it. I didn't lose the vacation time and I worked on my degree at the same time. I'm glad I did it because it gave me a chance to take my required courses for my major instead of being stuck in general education classes.
Taking summer classes doesn't mean we lose our vacation time. We can still have a fun summer while pursuing our degrees.
DSU's retention rate continues to rise and they can help it grow even more by offering more summer courses.
"The pandemic appears to be accelerating a trend that was already underway," The Hechinger Report stated. "Compared to students who entered four-year colleges and universities in 2008 and switched to two-year institutions at some point in their college careers, those who entered in 2011 were significantly more likely to make that switch only in the summer."
Summer classes generally cost less than your typical semester, and for Utah residents, it will depend on your residency rate. They also aren't as long as fall or spring semester classes. It can make the classes more intense, but you'll get it done sooner and not have to worry about it later on.
By taking summer courses, we can get our degree faster and still have fun while doing it. Summer school doesn't have to be dreaded because it's during our vacation, we still get to have a fun break.
DSU needs to look at the university's summer enrollment rate and compare the classes they offer to what students need. If they were to offer more upper division courses for majors during the summer, DSU may see an increase in their enrollment and graduation rates.