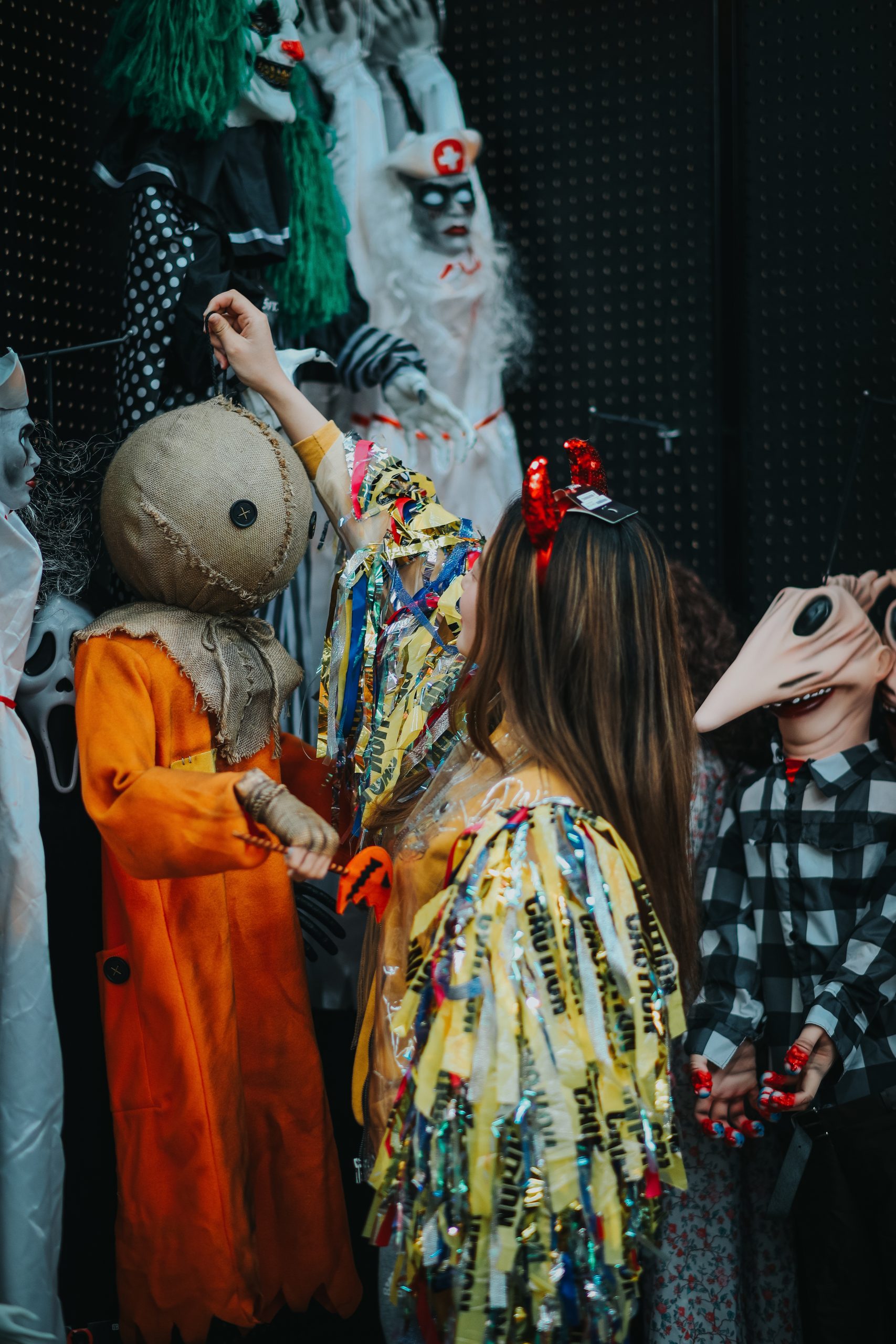 Seina Toyama, a sophomore Environmental science major from Aichi, Japan looks for a costume for Chaos. There are easy costumes you can wear with the clothes in your closet. Photo by Misha Mosiichuk.
---
Not saying your clothes are scary, but with a little creativity, your closet could make costumes that will not break the bank.
Here is a list of five trendy ideas for your Halloween costume.
Cavemen
All you need is animal print, crazy hair and makeup or paint.
Even if you do not own any type of animal print, this costume is still convenient. Purchasing animal print fabric from a craft store such as Hobby Lobby can be made into a quick top, bottom or headband.
No sewing is required for this look. Cutting the fabric to fit how you want and the ability to tie it will create the perfect wild caveman look.
The last touch for this costume could be achieved with makeup or paint. Use any makeup to create the look of dirt or mud that would be unavoidable for a caveman. Paint could be used to add warrior or tribal type markings.
Backcombing your hair is a technique that can be used to achieve the wild hair look. Adding braids through the crazy hair is an option for those with long hair.
Coachella
This trendy music festival in California is known for it's over-the-top outfits. This costume can be unique depending on your individual style.
Keep in mind that bandanas, glitter and fringe are key to obtaining the classic Coachella look. There are many blogs and articles about Coachella outfit ideas such as this one from Chic Pursuit.
Face jewels and glitter bring out the over-the-top look such as this pack from Amazon. Sunglasses and bandanas show the necessity to protect yourself from the California sun and dust which is prevalent during Coachella.
One style category that is prevalent during Coachella is bohemian. This style is created by different patterns, textures, and color. Usually, different layers create a more loose and flowy look.
According to an article by Vevano Home: "The core of the bohemian aesthetic is that it's personal and relaxed. Boho styles are not styled for any other person's enjoyment but your own."
This costume can reflect your personal style in a more head-turning way, so have fun with it.
Student Loans
This costume idea came from the costume shop manager in the theatre department.
"A college student adjacent costume is student loans, being the scariest costume of all," said Emma Daniels, Dixie State University alumna.
This costume has a comedic aspect that is shown in an obvious way. A T-shirt or even a paper taped onto a shirt which says "college debt" or "student loans" will showcase the irony for this costume.
Wounded

Boxer
Any athletic top, bottoms and shoes will complete this costume. The parts of this costume that make it unique is the fake wounds, silk robe and boxer gloves.
Fake wounds are achieved with makeup to create a bruised look. Band-Aids are also an easy way to add fake wounds.
Any silk short robe of any color would work but Amazon also carries them at an inexpensive price.
Boxer gloves are not necessary for this costume but will take it to the next level.
For those with long hair, boxer braids are perfect for this costume.
Lonely Ghost
Very trendy on social media is the store created by influencer Indy Blue and Bronson Christensen called Lonely Ghost. The store's logo is an iconic ghost.
This costume has been done by the company in years past and is available for purchase.
A cheaper way to achieve this look is by taking a white sheet and either drawing eyes or cutting out eyes that resemble the ghost. Arm holes could be cut for a more practical feel if desired.
Pairing the costume with your trendiest tennis shoes will showcase the Lonely Ghost brand best. For example, Converse's Chuck Taylor high-tops are one of the top trends and are showcased on Lonely Ghost's Instagram numerous times.
The sheet ghost is a classic costume that has been done throughout the years. Creating the Lonely Ghost costume is a trendy twist.
Items for any of these costumes could also be found at dollar stores or thrift stores.
Daniels said: "When it comes to making your costume, thrift stores are your best friend. At the thrift store, look for items that you can convert into other items such as a sheet that you can make a toga or taking unconventional items like books, cookware or toys, deconstructing them, and making them something new."
Don't be intimidated by creating your costumes from scratch because they have the ability to stand out from the crowd. Most importantly, be creative and have fun.