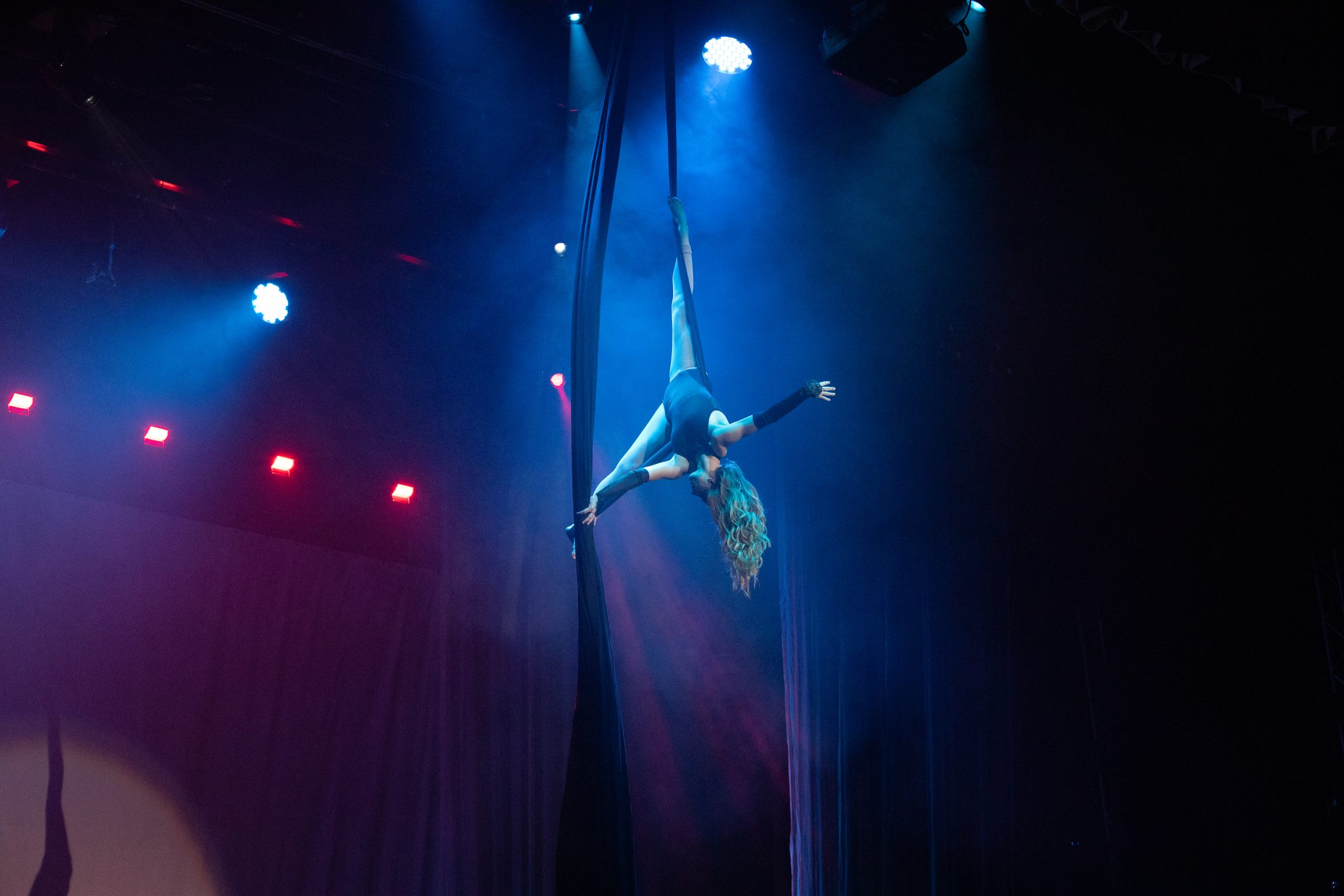 One student showcases her talent at Dixie's Got talent 2020 event. Photo courtesy of UMAC.
---
Southern Utah residents can show the community they GOT what it takes.
Dixie's Got Talent 2022 auditions are open and waiting for you to show your skills. DGT is a chance for performers to showcase their skills to the community. The event is hosted by the Dixie State University Alumni Association. DGT is open to any performers from southern Utah currently living in Washington County geographic boundaries. The showcase helps raise money for DSU student scholarships.
To audition for DGT, submit your video to the alumni website. Submissions are due by Nov. 11 at 11:59 p.m. The submission fees range from $10 for a current DSU student, $15 for an individual or pair, and $30 for a group of three or more.
DGT will host callbacks at DSU Saturday, Dec. 4. You will be provided with all the information regarding the callbacks after you audition. The final show will be held on Thursday, January 27, 2022 in the M.K Cox Performing Arts Center. The finalists are required to participate in a photoshoot, bootcamp and rehearsals.
The people's choice finalist callback round opens Nov. 17 and closes Dec. 4 at 10 p.m. People's Choice is an opportunity for community members, family and friends to pick their finalist for DGT. People can donate to their favorite callback round candidate to automatically advance them to the DTG Finale Show.
Jefferson Beatty, a junior communication studies major from St. George, said he encourages people to audition as every step of the competition is a blast. He said his favorite part of getting to compete was performing in the final round because it was like performing professionally with the lights and technical elements.
"I became more confident in myself as a musician," Beatty said. " It gave me the experience of working hard to achieve something."
Karley Garrett, DGT 2021 Adult Winner, gave a performance with the song "Never Enough" from the hit movie "The Greatest Showman." Garrett said competing and winning DGT has excelled her music career immensely. She has been able to secure a job teaching musical theater classes at multiple studios.
Garrett said DGT is a unique way to to meet community members who all enjoy performing. She said she will never forget the moment of gratitude she felt performing her talent in front of an audience.
"No matter your talent, singing, dancing, juggling or comedy," Garrett said. "You have just as much as anyone else. The community deserves to see you shine."
Del Beatty, vice president of student affairs, said he sees a multitude of incredible talents each year. Ranging from youth, middle school, high school, college and adult performers. He said for the last 10 years this event has become one of the largest events in the area and a community favorite. Beatty said it gives them a chance to showcase their talents and skills while learning to perform in front of a vast audience.
"When someone chooses to submit a video for Dixie's Got Talent auditions, they are not only showcasing their own talent, they are supporting a fundraiser as well," Beatty said.
There will be a 2022 adult winner and runner-up as well as a 2022 youth winner and runner-up. Each winner and runner up will receive cash prizes while gaining cherished experiences in front of a live audience.
Have any more questions? Visit this link to view frequent FAQ's or contact the DSU Alumni Association at (435) 879-4400 or alumni@dixie.edu and follow @DixiesGotTalent on social media for updates.