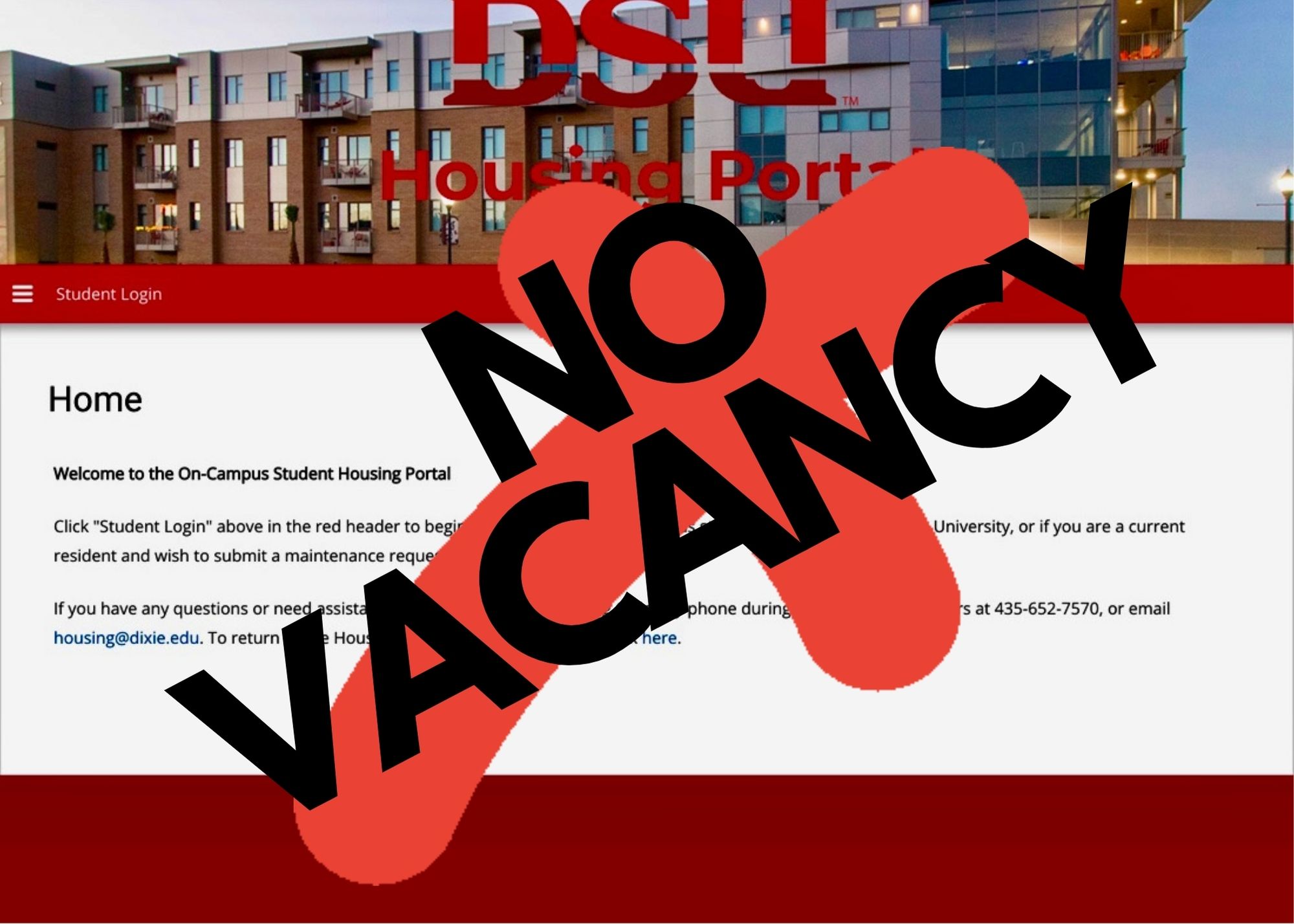 Dixie State University had no on-campus housing available at the beginning of the Fall 2021 semester. Campus View Suites I & II are filled up as the talk about an option for a Campus View Suites III is being discussed. Graphic by Madisyn Dwiggins.
---
Dixie State University experienced on-campus housing shortages before the fall 2021 semester began.
Seth Gubler, director of housing and resident life, said Campus View Suites I holds 352 beds and Campus View Suites II holds 534 beds. When including other on-campus housing, DSU provides approximately 1,200 beds for students to live on campus.
Gubler explained the week before the fall 2021 semester began, CVS I housing applications had been unavailable due to housing filling up quickly before the semester.
Gubler said they had enough beds for any females who wanted housing, and during the first week of the semester is when very limited spots opened up for male housing.
Gubler said the week before the semester started, all on-campus and off-campus housing looked full because at the time every bed was accounted for; however, as the semester started, some people did not show up for check-in day and/or decided school was not for them.
"If people were willing to stick around mid-way through that first week, there was housing for students, but leading up to it [the semester] it looked like there wasn't any," Gubler said.
DSU has a high demand for more on-campus housing because of the resources students have access to when living in dorms like CVS I or CVS II.
"The most significant difference [between on-campus and off-campus housing] is our live-in professional staff," Gubler said. "We have full-time resident life professionals and resident assistants who provide a variety of services to the students."
Gubler said currently 74.2% of students who live in CVS are freshman, 13% are sophomores, 7% are juniors, and 5% are seniors. Gubler recommends first-year students to live in the dorms so they are able to get any help they may need throughout the semester.
Gubler explained what kind of services resident life professionals and resident assistants provide for the students who live in CVS I and II.
"They provide cleaning checks, activities, hosting a resident hall association, and also act as a voice for students to try and help resolve any concerns or issues they might have," Gubler said.
Kenedy Edwards, a sophomore photography major from Twin Falls, Idaho, is currently serving as a resident assistant in CVS II.
Edwards said: "I really like to interact with the students on my floor…I love to just be able to help out because there are a lot of things that I personally struggled with when I was a freshman. It is nice to be able to help them figure out things I struggled with when I first started here."
CVS II is now full and Gubler said the university has started creating a plan for CVS III.
Gubler said CVS III would take place where the Nisson Towers are currently located. Gubler explains the process DSU has to go through in order to get the plan for CVS III approved.
Gubler said: "This process has to be vetted through local officials, state officials and ultimately the state legislature. So, things are in the works; it is a matter of whether or not people at the state level will allow us to move forward."
CVS III could take years to build as they would have to demolish the Nisson Towers first, but Gulber estimates it would take about three years to finish.
DSU started building CVS II because of high demand of on-campus housing, so as CVS II was done being built DSU decided to get a head start on the plans for CVS III.
Katie Hauck, a general studies freshman from Saratoga Springs, said she got lucky with on-campus housing for the fall 2021 semester.
"I chose to come to Dixie last minute… so when I came here I was just on a bunch of waitlists and wasn't really expecting anything, but then I got super lucky and got into CVS II," Hauck said.
Hauck said she loves how CVS II is within close proximity from her classes and how the dorms are a great place to meet and make new friends.
DSU recommends students to find on-campus housing a few weeks if not longer before the semester starts to prevent any unavailable housing issues. With the spring 2021 semester coming up shortly, make sure to renew your on-campus housing application.