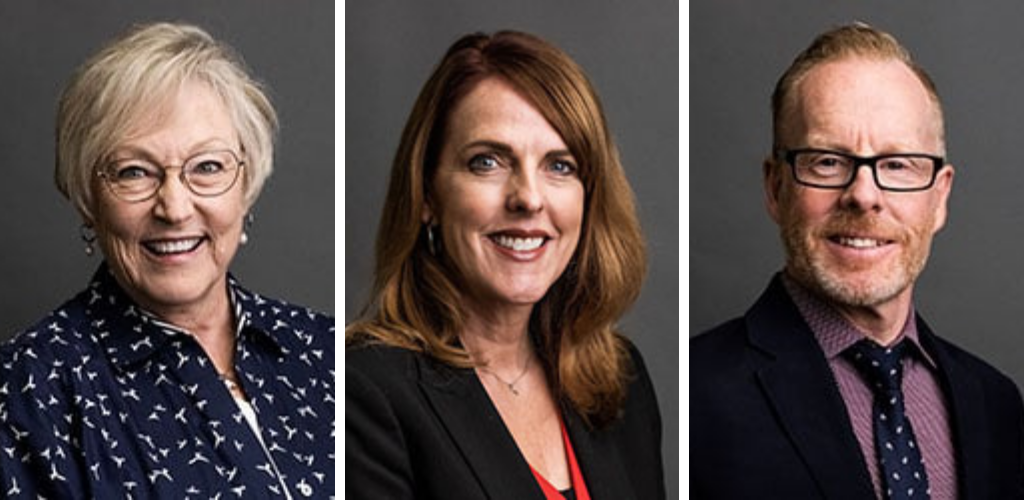 DSU board of trustees gained three new members: Betty Barnum, Ginger Chinn, and Mitch Cloward. Photos courtesy of DSU.
---
The Dixie State University Board of Trustees has undergone seven changes since August 2021.
The Board of Trustees welcomed five new members in August. Betty Barnum, Ginger Chinn, Mitch Cloward, David Elkington, and Danny Ipson, are experiencing their first year on the board during a time of increased growth for the university.
Tiffany Wilson has been elected to serve as the chair of the board and Colleen Kvetko has been elected as the vice-chair.
According to DSU's website, the governor of Utah selects eight of the members with the consent of the Senate. The president of the DSU Alumni Association and the president of DSU Student Association are two additional members for a total of 10.
Alumni Board President Betty Barnum said, "Board of Trustees is a team of dedicated individuals not employed by the university that provide support, consistency, transparency and success at DSU."
The board also consults with the Utah Board of Higher Education on behalf of DSU, facilitates communication with the community regarding university traditions and goals, approves candidates and earned diplomas given by DSU, and executes fundraising and projects to supplement the university.
"Everyone on the board volunteers their time, talents and even their money to help establish, support and monitor the goals of the university and its commitment to the students," Barnum said.
Each member of the board brings with them individual talents and passions. The diversity of the members helps the board to make decisions with multiple facets in mind.
Barnum said: "My career as an educator has instilled in me a passion for working for the students. No matter what age or background, we need to provide the best teachers and the best environments to foster their
learning."
Mitch Cloward and Ginger Chinn bring new important aspects to the board as well that will help them to be the best they can for the students at DSU.
Cloward has extensive life experience in insurance, physician practice management and hospital management. As a school with 14 healthcare majors, his knowledge will assist DSU in growing those programs.
Chinn coordinates with government policies in her career and DSU's continual growth will use her expertise.
Vice-chair Colleen Kvetko said: " I have been in the financial business my entire life (since age 16) and have banking and investment experience that greatly benefits the University. It is a true honor to serve as vice-chair."
Chair of the Board of Trustees Tiffany Wilson has been on the board since 2017. She was voted into the position of chair in 2021 after serving as vice-chair for one year.
The board meets throughout the year to discuss developments for future growth at DSU.