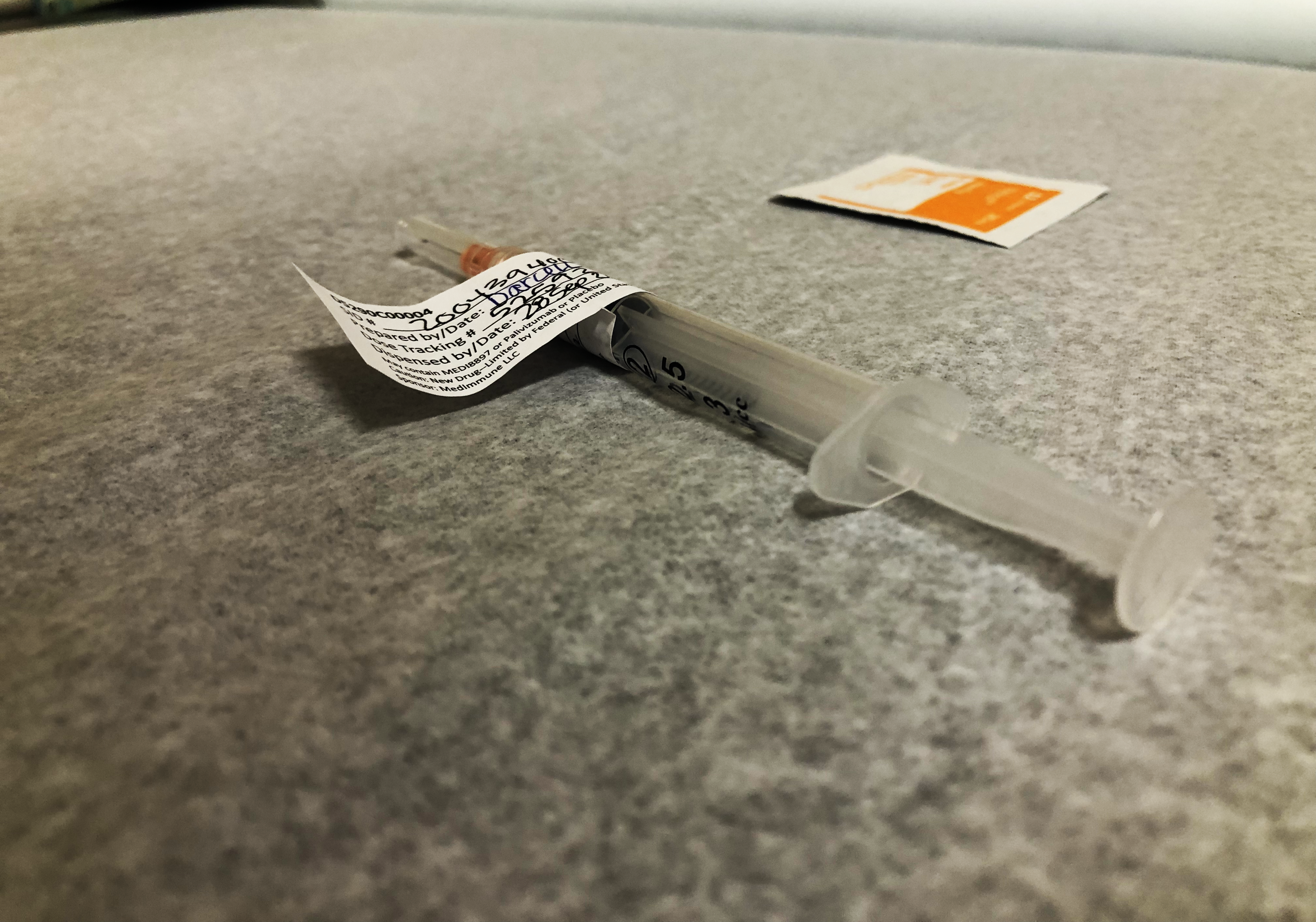 A nurse prepares to administer a vaccine to a patient. Kristi Shields says it's not right for authorities to require the COVID-19 vaccination to attend activities or cross state borders. Photo by Kristi Shields.
---
Authorities of universities, businesses, airlines, states, etc. should not be allowed to require someone to have the COVID-19 vaccination to enter their premises or use their services.
Now, I'm not an anti-vaccination person. I get all my vaccinations and my 4-month-old son has gotten all of his so far and will continue to; however, under the circumstances of the COVID-19 vaccines, it's not right to force someone to get one.
These vaccinations are new and although the Pfizer-BioNTech vaccine is approved by the U.S. Food and Drug Association, not every person is going to react the same to a vaccine; therefore should not be forced to get it. The Centers for Disease Control stated symptoms from the vaccine include pain, redness and swelling at the injection site, fatigue, headache, muscle pain, chills, nausea and fever.
Additionally, the FDA collected data following the administration of the Pfizer-BioNTech COVID-19 Vaccine, which determined increased risk within a week following the second shot.
According to the FDA website: "The observed risk is higher among males under 40 years of age compared to females and older males. The observed risk is highest in males 12 through 17 years of age. Available data from short-term follow-up suggest that most individuals have had resolution of symptoms. However, some individuals required intensive care support."
If the risk is highest among a young age group of males, and individuals from 17-49 years old only make up 25% of the hospitalizations and 5% of the deaths — which we don't know the percentage who were immunocompromised — then I don't see the point in healthy young individuals needing the vaccine.
I personally have not gotten the vaccine because I was nervous about how it would affect me while being pregnant. My husband got a high fever from his second shot and I didn't want to risk getting a fever and harming my baby. I am currently breastfeeding and have been told by a few mothers that their babies didn't want their breastmilk for a short period of time after they got the vaccine.
I am now considering getting it because it will be easier to attend a concert in October and visit Hawaii in December — two things I've had planned since the pandemic began.
I either have the option to get the vaccine or have a negative COVID test within 48 hours of the concert or travel. Hawaii even sets specific guidelines as to where you get the COVID-19 test and which one you can get.
It is unfair to push people into a corner like this just to be able to live their lives.
That being said, the vaccine is not overall bad. It can definitely benefit people, like the elderly or those who are immunocompromised. My mom is diabetic and shortly after she got the vaccine, she contracted COVID-19; her only symptoms were fatigue and a headache. I'm relieved she got the vaccine because who knows how bad her case would have been without it.
This leads to my next point: The vaccine does not prevent you from getting the virus or spreading it, it is merely a prevention treatment. The fact that it doesn't actually prevent you from getting or spreading it, why should it be required? Yes, it should be encouraged, especially for those who are at higher risk, but for a healthy teenager who likely will not get a bad case of it if they contract it at all, it should not be forced on them.
We all have the agency to make our own choices. We live in a free country — or what's supposed to be a free country. Something like a vaccine that we are putting in our own bodies should not be required.