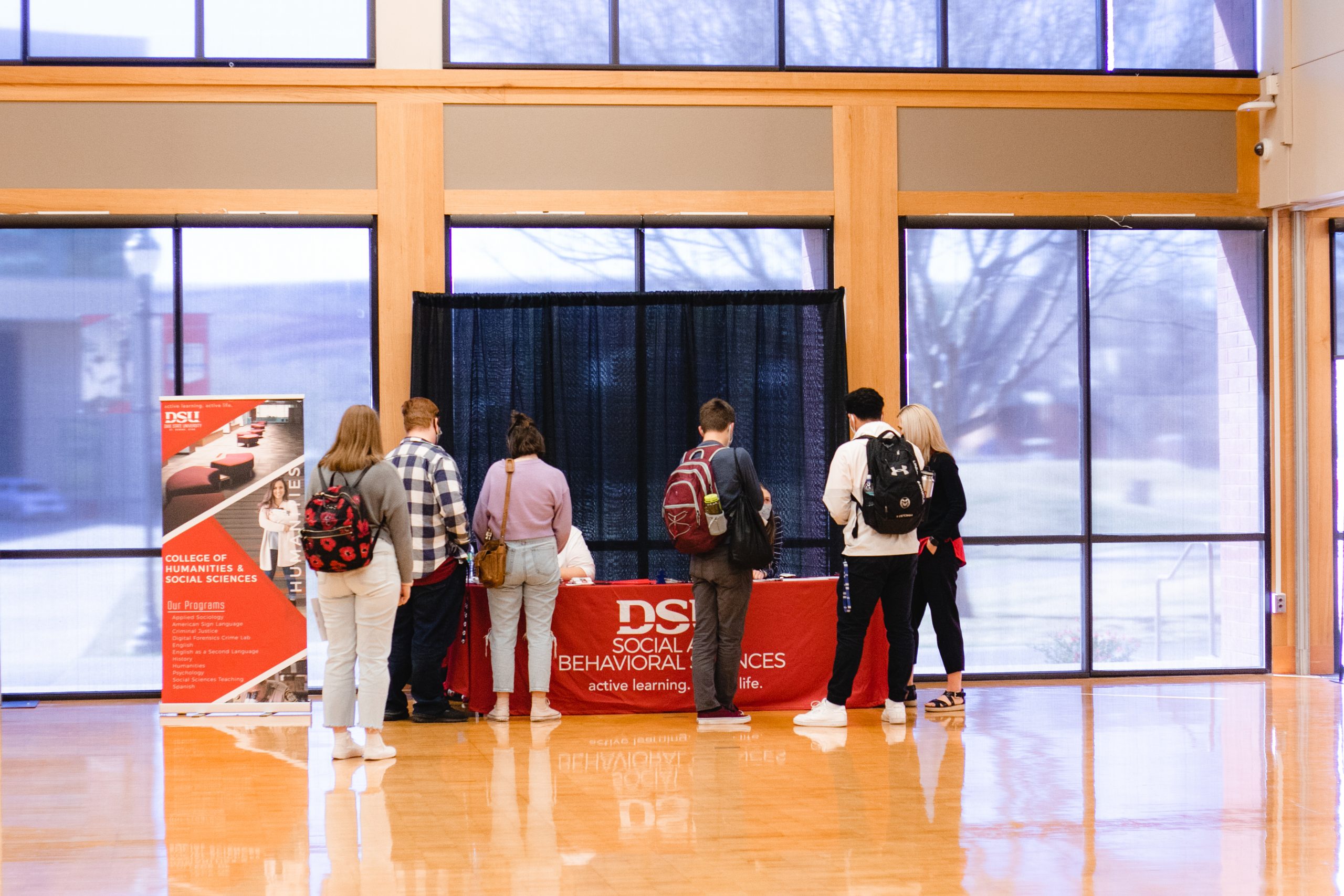 DSU's Career Center and Academic Advisement held a COVID-friendly fair last year to preview the different majors and minors DSU has to offer. This year all of DSU's colleges will be at the fair with academic advisers ready to advise students. Photo by Bailey Chamberlain.
---
Trailblazers should get ready to blaze their own career trails with the Major and Minor Exploration Fair.
Students can explore the Major and Minor Exploration Fair Sept. 29 from 1-4 p.m., in the Gardner Center Ballroom. DSU offers 71 different majors, 45 minors and 51 different certificates.
At this event, students can plan to visit academic advisers and career coaches to discuss the academic opportunities available to students. Academic advisers and career coaches will be able to help with all career planning questions. This fair is for prospective and current students that have considerations about exploring different majors, minors or certificates.
Senior career counselor Rochelle Blatter talked about how beneficial the fair can be to all students. Blatter wants students to understand that even though they might already know their major, this fair can help if they want to add a minor or certificate in addition to their major. Blatter said students should consider adding minors into their degree as it gives students extra expertise.
Blatter advises students to look into the certificate programs DSU has to offer as they require fewer credits; this gives students more opportunities without committing to a major or minor. Blatter says that students can take certificates to job interviews, have on their resumes and that it sets students apart. Blatter also said any level of student can benefit from attending.
"You make a lot of decisions right now with your career and future," Blatter said. "In order to do that you really need to have the right information and see what opportunities are available. Anything you engage and interact with now is going to help you in your future."
Brooks Brunke, a senior theater major from Austin, Texas, said he wishes he would have explored a minor in combination with his major because it would have given him a broader idea for careers and work. Brunke said with an added minor it would have given him more knowledge within his field. Brunke said students can broaden their horizons by going to the fair.
"I don't think anybody should be stuck to one thing," Brunke said. "If you're passionate about multiple things, keep going for it. Don't just limit yourself to one thing."
Academic advisers from each DSU college will be at the fair ready to advise students in the right direction. Bryan Jacobs, senior program adviser for communication and media studies, said the fair is full of information that he calls a great big shopping mall of opportunities. Jacobs said students can embellish their degrees with minors.
"If you're not sure what the long-term goals are, it's a really good way to test things out," Jacobs said. "A minor can offer students more skill sets while building and preparing for more versatility when you graduate. This fair is a good time in your life to feel empowered to explore."
Jacobs said he wants students to feel safe in this environment to come to look and explore a variety of opportunities.
Get signed up today by registering through Handshake or by visiting the Career Services on the fifth floor of the Jeffrey R. Holland Centennial Commons or by calling 435-652-7737.