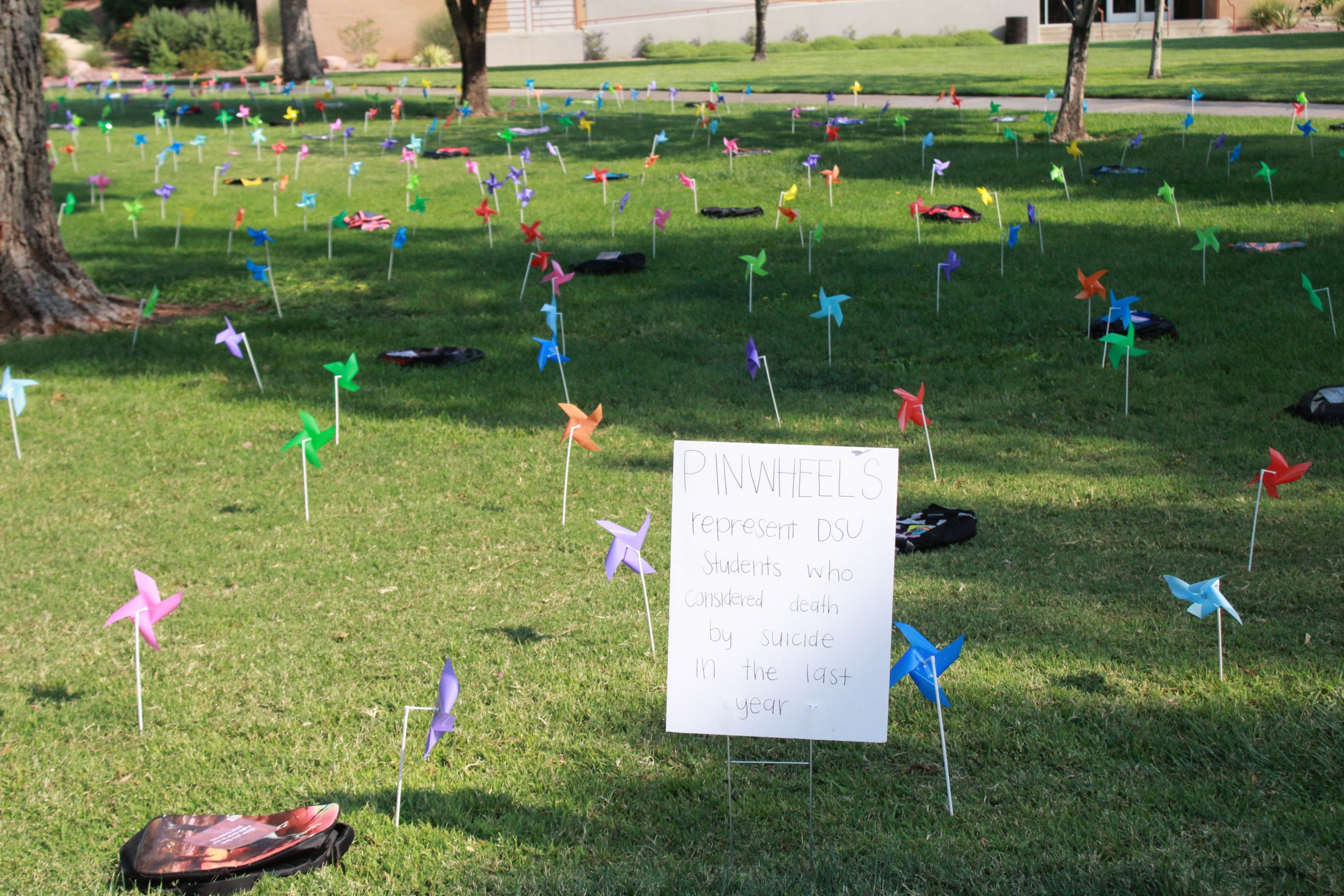 Pinwheels and backpacks on campus during suicide awareness week were used to show how many are affected by mental health. Photo by Isabella Perrello.
---
September is suicide prevention month and Dixie State University has different ways to bring awareness to the struggles of dealing with mental health.
The Booth Wellness Center held an event on campus on Sept. 9th. There were pinwheels and backpacks placed in the grass to represent students who have been affected by suicidal thoughts. They also left messages of hope through sidewalk chalk and by hanging ornaments on the trees.
Cameron Wimmer, a freshman psychology major from Pleasant Grove, said, "I'm a visual person and having that display out showing pinwheels for every student who had contemplated [suicide] and backpacks for every student who had actually attempted [suicide] was so moving to see."
Another event about suicide prevention was held on Sept. 10. The university's performing group that travels around the world, Raging Red, performed their set about mental wellness at the Question, Persuade, and Refer training which is a training for instructors on the warning signs of a suicidal person.
Raging Red Director Geoffrey Reynolds said, "We perform our Impact set because that is a topic that needs more conversation. . . around 1 in 4 people struggle with mental health."
The Impact set performed by Raging Red focuses on spreading messages about mental wellness, anti-bullying and kindness.
Reynolds said, "It is very impactful for the schools we perform it for, and it raises important conversations about mental health."
Talking about mental health is a reminder that everyone is going through their own problems. The Hope Squad is a student-focused club trained to look for signs of struggling students and guide them to professional help.
Wimmer said, "Spreading awareness is incredibly important because the more we make it something people feel like they can talk about, the more likely it is that someone who is struggling is going to feel more comfortable speaking up and asking for help."
Wimmer was nominated in high school to be on the Hope Squad. She never had actual experiences dealing with suicide until a month after getting voted in, she witnessed a public suicide.
"Treat everyone as if you know they are going through something really difficult because chances are, they really are," Wimmer said.
Another method of suicide prevention DSU has is uplifting messages on the mirrors in vinyl in the campus bathrooms. Those messages are from the company See Your Strength that was created by DSU alumnus Amber Murray.
Murray went through times of feeling suicidal and would write in soap on her mirror positive phrases to help her keep going. This led to her company which DSU and 800 other schools and universities use in their bathrooms.
Murray said, "It is extremely beneficial to see the phrases written out because they can stay with you and remind you of your worth when you need it most."
The events from the Booth Wellness Center, the Raging Red performance, Hope Squad, and the See Your Strength vinyl are all on campus to raise awareness for suicide in hopes that students who are struggling will reach out for help.
If you or a loved one is struggling with mental health reach out to the Booth Wellness Center at 435-652-7755.