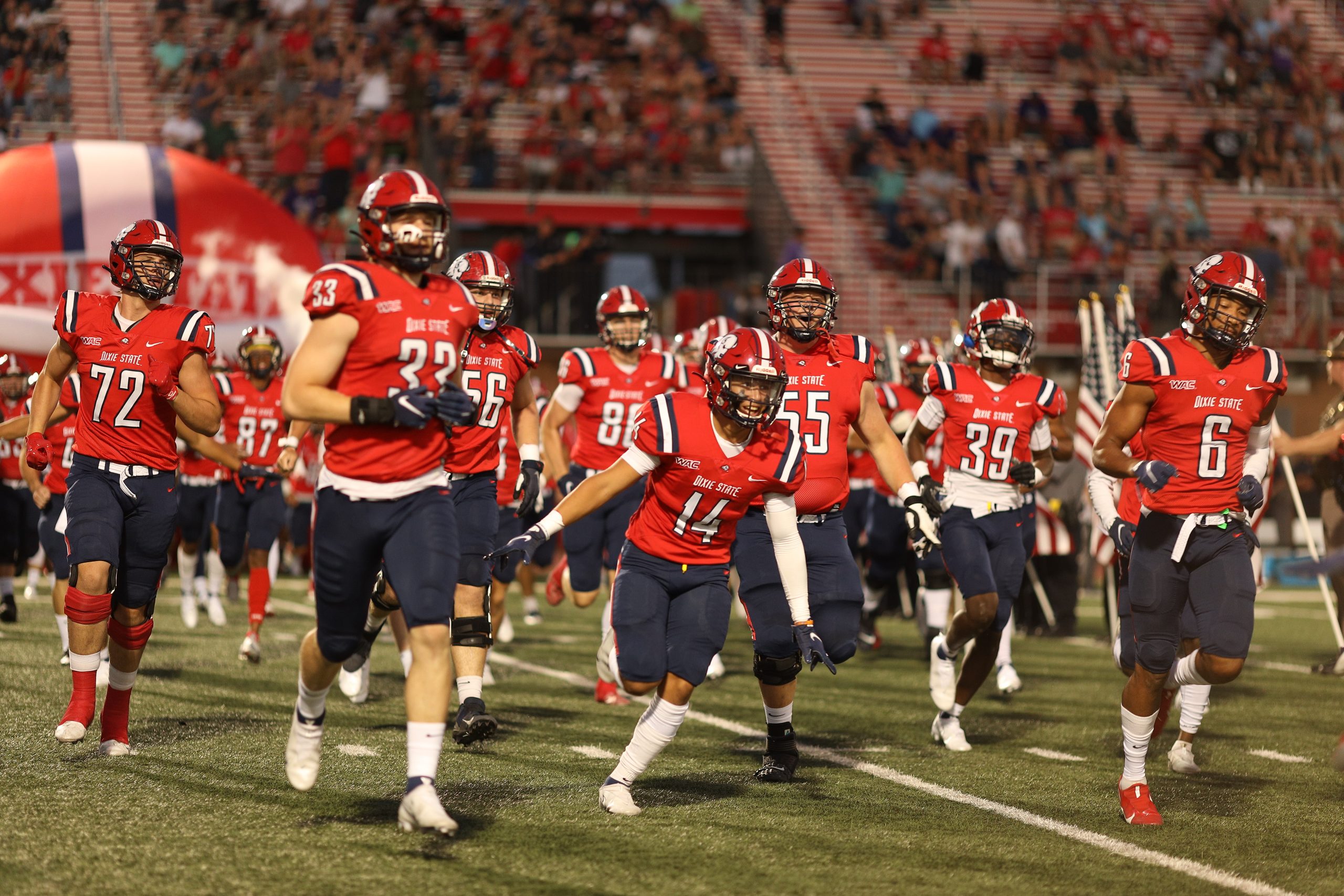 The DSU football team enters the field for Saturday's game against Weber State. Writer Brock Doman suggests that the team is realizing how tough the transition to D1 is, after being handed two losses early in the season. Photo by Misha Mosiichuk.
---
The learning curve: we all know what it is and have experienced it in one way or another. From the first few weeks of a new job to figuring out your new technological gadget, and in this case, moving up a division and competing against high caliber DI opponents.
The Dixie State University football team has been handed back-to-back losses from Sacramento State and Weber State; this team is understanding just how difficult and large the learning curve can be. Looking back on these past two weeks, there are definitely pros for the Trailblazers to build upon. Let's recap the first two games and see what DSU football fans can reflect on
#1 – The Trailblazers Are Here
There is no more waiting and anticipation for DSU football. After only five games last season because of COVID-19, DSU can finally see what it's like to compete in a full, regular season of DI football. This is beneficial for the program because they have a better understanding of what it's like to face elite FCS opponents each week. The Weber State Wildcats came to town on Sept. 12, and even though the game wasn't much of a contest, the Trailblazers got a taste of what it's like to play a team that consistently makes it to the FCS playoffs.
#2 – No "Offense", But…
There's no denying that the Trailblazer offense has struggled to put up points on the board. DSU has been outscored 60-10 this season which means they have only reached the end zone just once this season. Compared to last season, DSU had put up 55 points through their first two games. If a team fails to score and score frequently, it is difficult to win football games. Again, the level of competition is far higher than DSU has ever played before, but it's hard to believe this is what they'd hope to see offensively this season.
#3 – Experience is Key
It's safe to say the schedule so far has been no cake-walk. After DSU heals from the No. 10 ranked WSU Wildcats, they then go on to square up against No. 12 the University of California Davis, No. 3 South Dakota State, and No. 5 Montana. To make this next stretch of games even more difficult, these games are all played on the road. Regardless of the result of these games, DSU is getting much-needed FCS experience. Later in the season, the Trailblazers travel to No. 6 Delaware and then will compete against the current No. 1 team in the nation being Sam Houston State University. If the Trailblazers can learn from these top-ranked teams in the nation, the experience DSU is getting will be a pivotal building point for the program.
Moving Forward
DSU's football hopes the season definitely isn't over. There are still nine games left in the season, and the first few games are always the hardest.

For the Trailblazers to begin seeing better results, and the learning curve to have a smaller slope, the offense needs to find a way to punch it into the endzone and convert crucial drives into points on the board.
Keep Your Head Up
Upperclassmen play a major role in the foundation of a team. As most juniors and seniors were recruited to DSU when the university was DII, these recruits are going up against fourth and fifth-year seniors recruited to many DI institutions. Along with this, their opponents have this experience DSU is getting just this season.
The Trailblazer's next home game is Oct. 16 as the Tarleton State Texan Riders make their way to town. Last year, the two teams battled twice and the series was split 1:1.