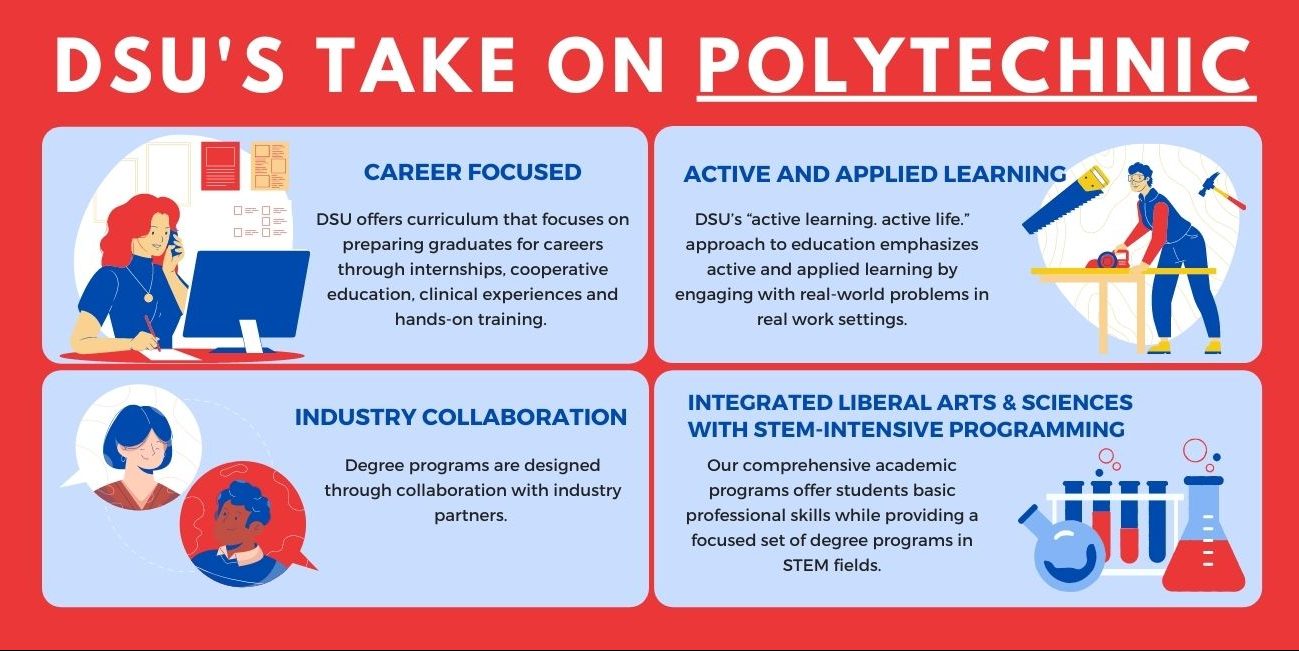 Information from https://dixie.edu/polytech/. Infographic by Emily Wight.
---
As Dixie State University takes on a new approach to the academic focus, there are questions in place as to what exactly a polytechnic education means.
"A polytechnic education has been around for decades," said Michael Lacourse, provost and vice president of academic affairs. "It's a model that is based on several fundamental characteristics of learning."
The characteristics of a polytechnic education include active, applied and authentic learning, meaning a more hands-on approach to the education setting as opposed to the traditional aspects of learning.
"If you're in a classroom where you're just sitting there, the professors talking [and] you're taking notes, that's passive learning," Lacourse said. "Active learning means you're doing something [and] you're part of the process of learning and through that, you're engaging and we know that you learn better when you do that."
Allowing students to have a more active learning environment where they have to face real-world problems puts in place an applied learning experience.
Lacourse said, "[A polytechnic education] is very much focused in on career preparation and throughout the course of your educational experience, our objectives are to provide multiple opportunities for you to practice what you are learning in a real-world setting."
This form of learning style will not only help students in the classroom setting but in future endeavors as well.
Polytechnic education has been in the midst of DSU for about five of six years now, Lacourse said. The main goal the university has in place for its students is to better prepare them for life after college.
With the new academic focus, there are questions that have surfaced in regards to what this means for those degrees that lie outside of the tech discipline.
"The polytechnic model is really not limited," Lacourse said. "There is an emphasis in STEM areas, but it's non-exclusive to everyone else. It's applied learning [and] career-focused, it's working with companies and organizations and it's a combination of liberal arts and sciences and professional preparation. All of that applies to everybody, it's not just STEM."
Stephen Lee, Dean for College of Humanities and Social Sciences, said non-tech disciplines should attempt to view said changes differently, rather than feeling less important.
Lee said: "I believe the new mission requires the non-tech disciplines to imagine their roles differently. The way programs in my college will do this is to interdisciplinary learning and collaboration across disciplines."
The new direction that DSU is heading in is not to seclude any department by any means, but to grow the university and develop a strong reputation as a new polytechnic school.
"This will help the university grow and to develop a strong reputation as a comprehensive polytechnic university," Lee said. "A human-centered approach to technology is our working plan for our new university. It has tremendous potential to serve our students well."
Susan Ertel, associate professor of English, said the direction the school is taking will greater enhance future possibilities for not only the students but everyone on campus and our community as well.
"The new strategic plan and the new mission for the university offer some exciting opportunities for faculty, staff, and students to look at how our majors, our jobs, and our professional lives exist across many boundaries," Ertel said. "Having a polytechnic mission allows us to foster partnerships among the seven colleges on campus, across departments, and with community members to offer innovative curriculum to our students and to further the goals of the strategic plan."
Because of the new focus being put into place, DSU will have a much greater opportunity to grow into the university that it is striving to be. DSU will be able to appropriately apply the school motto, "active learning. active life.," with the new focus, all while maintaining the inclusivity that it represents.
"Any time a university can laser-focus its mission, it will grow," Ertel said. "Right now, we are a general, public state university. With a polytechnic mission, we can attract resources, employees, and students who are focused. We can reward innovation, creativeness and scholarship in ways that have not been possible before."
DSU will be undergoing changes because of the new academic focus which will better the future possibilities of current and future students who attend the university.