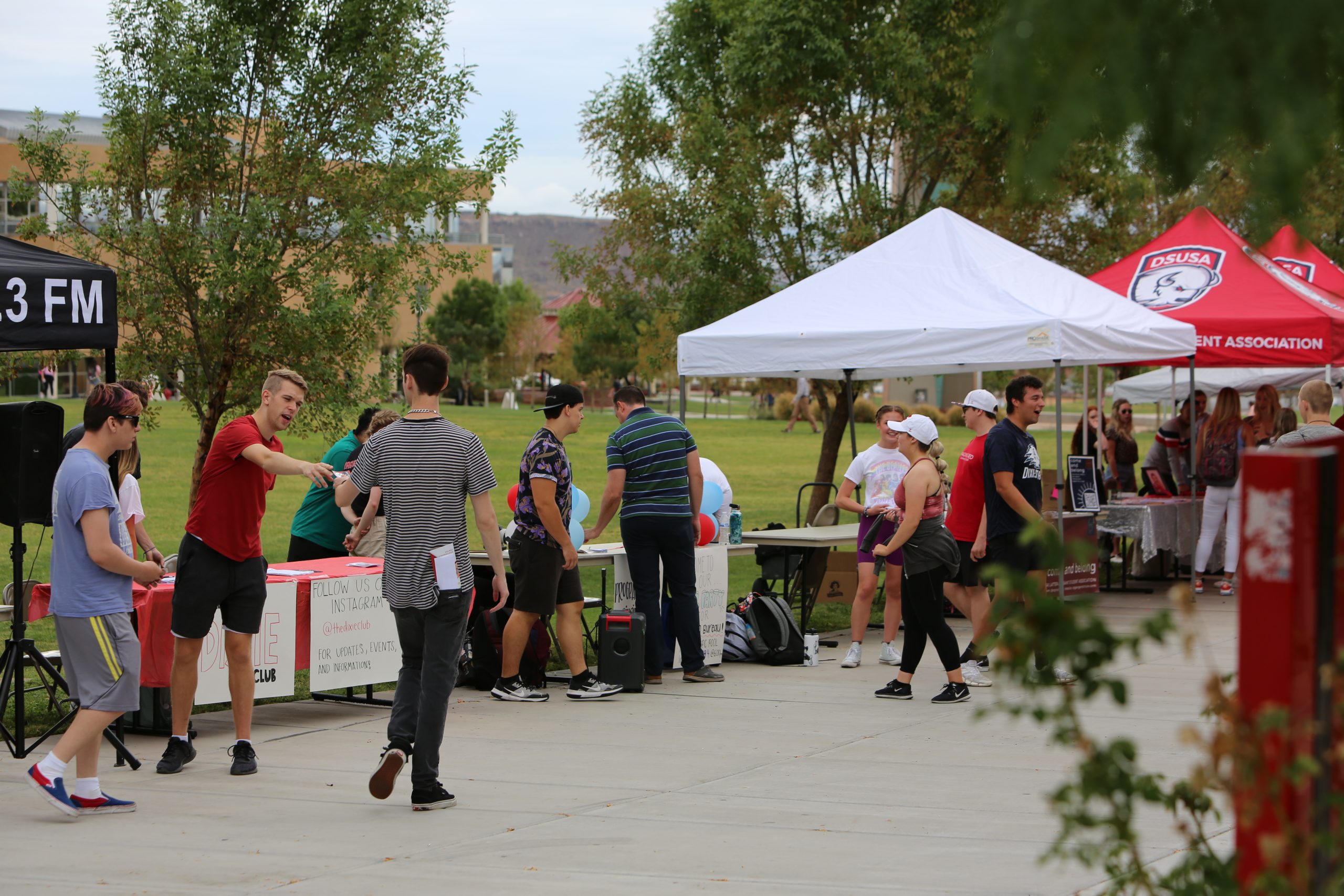 Students interact with one another during club rush. Yara Al-Badri brings up her concerns of having too many activities on-campus with COVID-19 still prevalent. Photo by Brock Doman
---
While scholastic activities are on the rise at Dixie State University, so is COVID-19.
An important part of college is meeting new people, attending parties, and experiencing new walks of life, but how do you navigate giving students a proper college experience during a worldwide pandemic?
As we know, the state of Utah no longer mandates masks, leaving the choice of safety in the hands of students. We all miss person-to-person interaction, and seeing the familiar faces of our peers, but have we rushed into normalcy all too quickly?
As the first week of school rolled around we held one of the most iconic DSU events: The Foam Dance. This is a party all students look forward to, and although it may be fun, how exciting is being sick in two weeks? Students have labeled the foam dance as a super spreader event, myself included.
"I don't think they're holding too many events, I kind of think it's time to start doing things again since COVID-19 is settling down," said Charity Snow, a junior general studies major from St. George. "I don't think my health is at risk because the chances of getting COVID at my age is slim to none."
I worry events like this as well as the job fair, drive-ins and sports will hinder my ability to attend classes physically for the rest of the year. In the first week alone we have recorded 27 positive cases on campus, and these are just the students that have been tested and self-reported.
As young adults, we have a responsibility not only to ourselves but staff and families of staff who are at risk. When attending classes and school events it is important to remember COVID-19 is not a thing of the past. You personally may get an easy cold and recover just fine, but you never know who you're interacting with in class.
The state is no longer responsible for COVID pay; you may knock a fellow student out of two weeks of work, hindering their ability to pay for basic necessities such as food, rent, and most importantly, school.
Our educators have been incredibly vocal about their concerns. Guidelines vary from classroom to classroom, but it's important to remember masks are still strongly encouraged.
The Booth Wellness Center said, "DSU is strongly encouraging vaccines and mask usage along with providing free vaccinations clinics for all students, faculty, and staff."
Our educators provide us with the tools we need to become the adults we aspire to be. Their safety is more important than our reluctance towards the mask.
University of Utah, Utah State University, Utah Valley University and Weber State will be requiring a vaccine starting spring 2022.
According to Fox 13 News, "Dixie State said they will not mandate vaccines for students, faculty, and staff but strongly encourages them along with mask wearing."
It's time for DSU to take action and ensure the safety of our staff and students. I urge the the reconsideration of mandating a vaccine. Staff and students could benefit from the FDA approval of COVID-19 vaccines.