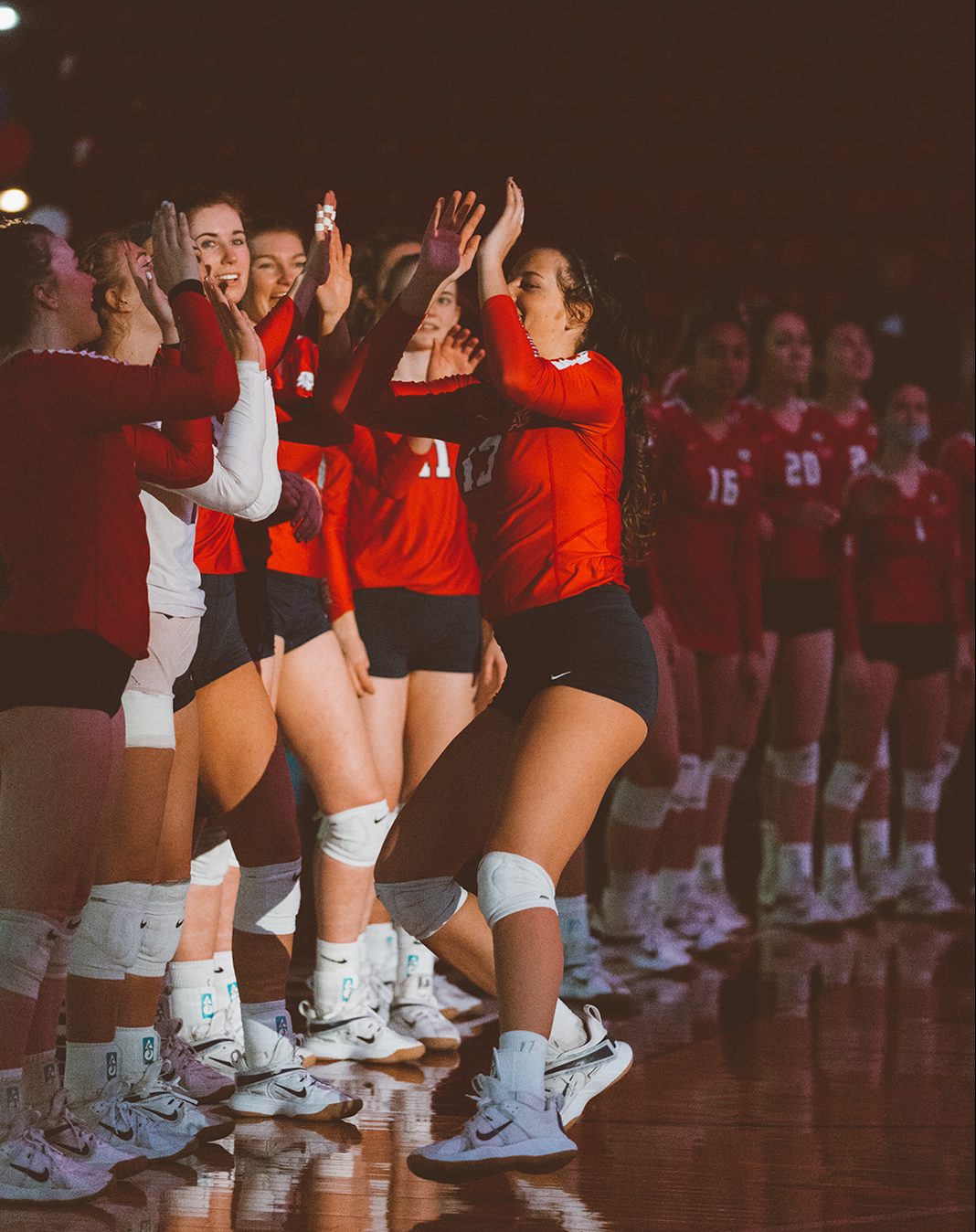 Megan Treanor, a senior communication/media studies major from Salem Hills, high fives her teammates at the start of a match. Treanor is hopeful to have a successful final season after receiving an all-WAC preseason player award. Photo by Emily Wight.
---
A new fall semester is back on campus at Dixie State University, but for Megan Treanor, a senior communication/media studies major from Salem Hills, this semester comes unprecedented as she was recently awarded an all-WAC preseason player. This award is only earned by 14 other players throughout the conference.
"The first time I actually saw [I won the award] was on Instagram when one of our trainers reposted it," Treanor said. "I was excited; I definitely wasn't expecting it and was very humbled."
In the 2020 season, Treanor co-led the WAC in aces (25), finished top 5 in the conference in kills (171), and top 15 in the conference in assists, digs, and blocks.
"[Treanor] is a dynamic player," first-year head coach Camilla Hafoka said. "When opposing teams scout or watch film on Dixie State, they are all going to say 'Oh, it's Megan Treanor.'"
Treanor's legacy at DSU is cemented and backed up by the record books. Treanor is entering the season third in DSU history for total kills (715), fourth in kills/set (2.98), seventh in blocks (718), block assists (168), and solo blocks (19).
"Last year wasn't my best, but I had some games where I showed what I can do and the potential I had," Treanor said. "I think the [award] was given to me because they saw the type of player I was capable of becoming."
With 22 scheduled games left in Treanor's career, it can be expected for her to continue climbing the leaderboards and winning more awards; however, Treanor credited everyone but herself when asked about why she felt she won the award.
"My coaches, trainers and teammates have pushed me to be my best every single day, and this award goes to them just as much as it does to me," Treanor said. "I can't thank anyone more than them and my family for this."
As the Trailblazers take the court Aug. 27, they will face the Boise State Broncos at the helm of coach Camilla Hafoka. This is Hafoka's first year as head coach for the Trailblazers but has been an assistant coach for the previous two seasons.
"As I went from an assistant coach to a head coach, there were some things I wanted to come in and change," Hafoka said. "I wanted to keep some of the things that Robin Felder, [DSU volleyball coach 20'] had, but also change to make it my culture."
Adjustments include a change in mindset from thinking of themselves as a DII player to now a DI player who can compete, matching the mindset that DI programs have, and changing the culture of what they could get away with at the DII level but can no longer get away with at DI level.
"One of the biggest things I wanted to accomplish during fall camp was to get [the players] to believe [they can compete] at the DI level," Hafoka said. "I can believe in you all day long, but if you don't believe in yourself, there is really nothing that can be done about that."
Lizzy Clark, a senior exercise science major from Sandy, gave insight into what this pre-season has looked like and how the transition has gone.
"It's been really nice to have [coach Hafoka] already here last year, so it wasn't so much as getting used to a new face," Clark said. "[Hafoka] has been extremely supportive, but she also is making sure she's not making it easy for us."
The Trailblazers must hit the ground running as they are competing against nationally recognized schools in the preseason. Teams like Boise State University, Michigan State University, and Brigham Young University are all foes who cross the Trailblazers' path before WAC play begins.
"We've been progressing really well," Clark said. "We are playing a lot of good teams which are nationally recognized, which we see as an awesome opportunity for us to get better in preparation for conference play."