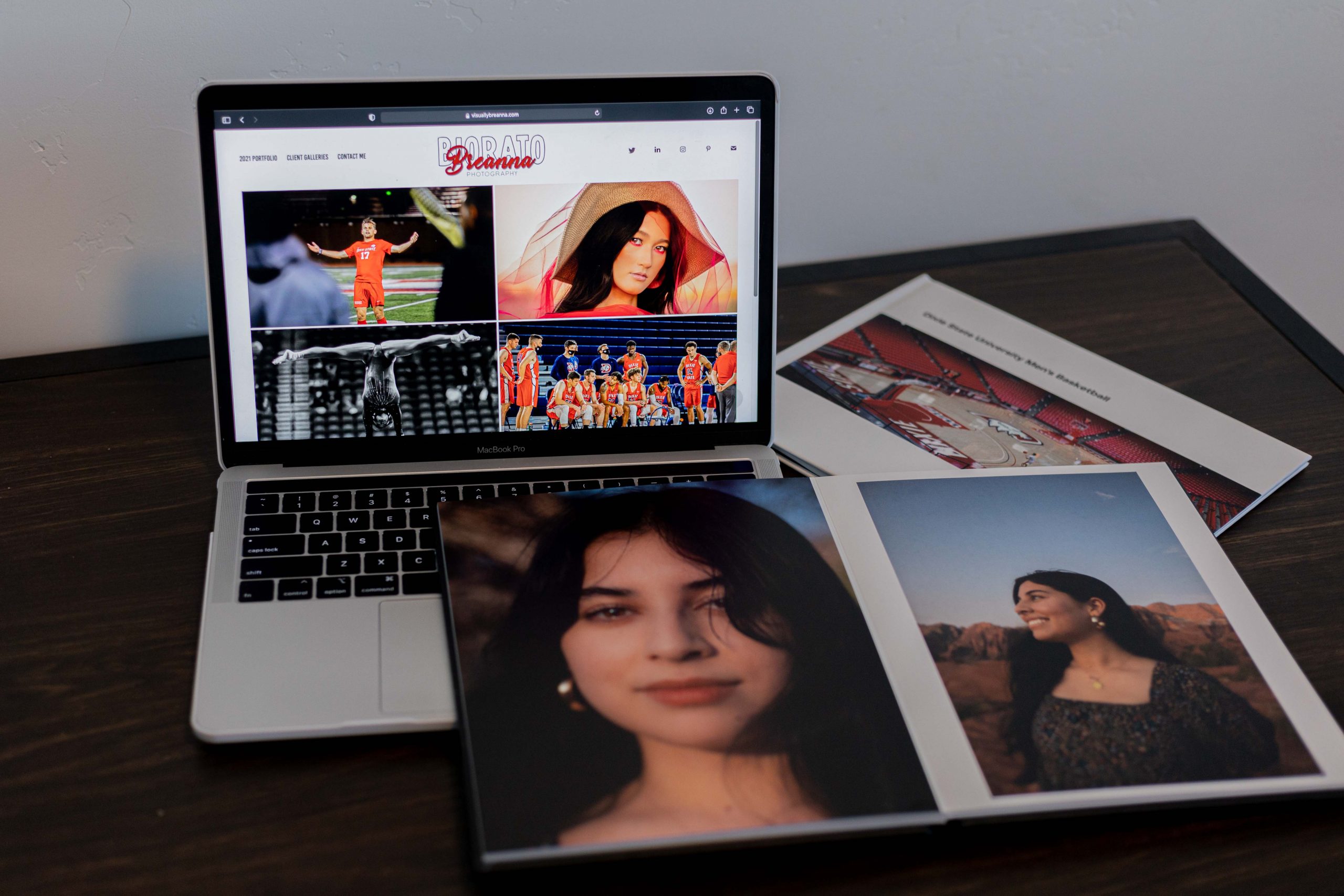 Creating a digital portfolio is critical for many careers. It's best to have multiple portfolios available for in-person interviews or when you're submitting your application online. Photo by Breanna Biorato.
---
Getting a job is seemingly becoming harder than ever. Employers get a good deal of applicants for one position, so you need to stand out. The key is designing a striking online portfolio to catch employers' eyes.
The workplace has become increasingly digital over the past few years, now more than ever with the COVID-19 pandemic. Back in the "old days," college students would send out a paper resume to highlight their achievements, qualifications and work skills.
Now, in addition to a physical copy, students can send a colorful collection of their academic experiences, achievements, and professional skills at the click of a button.
The Muse's Aja Frost said it is better to show than tell when creating an online portfolio. She said it is important to present your professional development rather than talking yourself up.
Dixie State University's Career Services offers students a variety of professional coaches to assist students in creating an online portfolio based on their major.
Do your research
Kathryn Carter, a freshman nursing major from Waldorf, Maryland, got ahead of the game when she created her portfolio.
Carter said she had a difficult time creating her first portfolio because she had little help from her professor and had no idea where to start.
"A tip I would give to other students is to go into the process knowing exactly what you want on there and to ask for guidance," Carter said.
Carter ended up browsing the web for examples of online portfolios and looking at other students' work to get an idea of what she needed to put on hers.
"The whole process was eye-opening for me," Carter said, "I realized that this is one of the steps of applying for a job down the line and I needed to stand out."
Carter learned a lot from her research and also created an online portfolio for her photography.
Compile a resume
Before showcasing your breathtaking skills, create a resume to sell yourself.
Career coach Gina Gottfredson said it is crucial to compile a detailed resume before highlighting your work.
Gottfredson said a good resume includes a comprehensive list of your skills, abilities, qualities and accomplishments. All of those basic elements then need to be transferred to your online portfolio.
Career services said it is essential for employers to know who you are and why you would make a good employee.
Find the website that works for you
Career coach Rochelle Blatter said putting your resume on the web allows employers to find you easily.
"Anything that you put online is live and needs to reflect you as a professional," Blatter said.
Carter recommends the websites Weebly and WordPress to create an online portfolio.
Weebly gives students the ability to build an online portfolio with modern and unique themes to make them stand out. The website also allows students to connect their website to a custom domain, add image galleries, blog, and so much more. Carter said this is the best site for beginners and college students.
According to WordPress, its free version is perfect for the average student.
Jacob Nicolds, a junior business major from Gilbert, Arizona, said WordPress offers sleek and professional themes, but it is more on the complicated side.
"You have to be well-rounded in technology and code to use WordPress," Nicolds said.
However, he was able to figure out the site fairly quickly with a few how-to Google searches.
Showcase your work
Every portfolio will look different based on your major. An art major's portfolio will likely showcase clever artwork while a psychology major will likely publish research papers.
Blatter said designers, artists and entrepreneurs should use their portfolios to showcase their products. In contrast, students in other studies should use social media platforms such as LinkedIn to showcase their experiences.
Things to show off include:
Art pieces
Videos
Written articles
Presentations
Research papers
Nicolds used an online portfolio to get hired at ZAGG Cell Phone Repair.
"I made an online portfolio when I was a sophomore and wanted to show my professional business skills in action."Nicolds said.
Nicolds' portfolio stood out to the owner, and he is now planning to manage multiple branches of the franchise when he graduates from college.
Hyperlink your portfolio
Career Services recommends keeping your online portfolio hyperlinked and up to date. Potential employers need to find your latest and greatest work easily.
"I recommend adding a hyperlink to your online portfolio and your resume so an employer will go there first instead of other social media options," Blatter said.
When Carter made her photography portfolio on Weebly, she realized her website is only assessible if a person has the full link. She later placed the link in her Instagram bio for more people to be able to access her work.
Carter said that when she is in the process of getting hired for a job, she will always supply employers with her full link to her portfolio.